The wheelchair thief 通緝犯坐輪椅拐路人愛心 判刑六個月
Wanted by the police, fraud offender Tsai Han-ting jumped from five stories up while fleeing arrest and broke his legs, leaving him in a wheelchair. He then took advantage of people's sympathy by lying to them about having no money to return home, by which he successfully scammed two people for NT$10,000, one of whom was even kind enough to push Tsai's wheelchair to the post office and withdraw money to give him. The New Taipei District Court sentenced Tsai to six months in prison for fraud, with leave to appeal.
According to police investigations, Tsai had previously fractured his leg while attempting to escape arrest and has recently used a wheelchair. However, as he lacks spending money, he uses his twisted mind to swindle people while taking advantage of their compassion.
The verdict states that in December last year Tsai approached a woman surnamed Chang, to whom he pretended that he had no money and needed NT$3,000 to get a ride home. Tsai gave her a fake ring as collateral, and, out of compassion, Chang took the bait. In March this year, Tsai tried the same trick at Banqiao Train Station by lying that he had been robbed at home. He approached a man surnamed Hung to borrow NT$5,000 and gave him a fake ring as collateral. Hung had the courtesy to push him to an ATM machine and lent him an extra NT$2,000.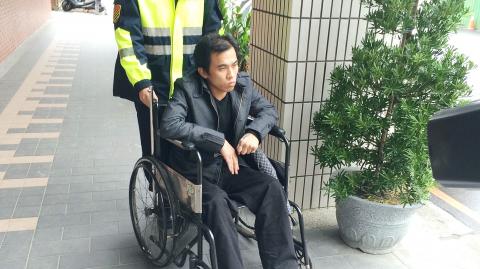 A police officer pushes repeat offender Tsai Han-ting in his wheelchair in New Taipei City on March 12. 警察推著累犯蔡瀚霆的輪椅。攝於三月十二日,新北市。
Photo: Wu Jen-chieh, Liberty Times
照片:自由時報記者吳仁捷
The judge was very critical of Tsai, in that he already had numerous prior convictions, including possession of drugs, theft, violating military code by malingering, embezzlement and intimidation, and while Tsai was currently under investigation and prosecution in relation to another fraud case, he took advantage of people's compassion and made kindhearted people fall victim to fraud again, which could severely damage interpersonal trust in society.
(Liberty Times, translated by Zane Kheir)
詐欺通緝犯蔡瀚霆因逃避追緝,從五樓跳下摔斷腿以輪椅代步,卻濫用民眾同情心,佯稱欠缺返鄉旅費,向兩名民眾詐騙得手一萬元,其中一人還好心推著坐輪椅的蔡去郵局領錢給他。新北地院依詐欺罪,判他六個月徒刑,可上訴。
警方調查,蔡瀚霆之前因逃避查緝,腿部骨折受傷,近來以輪椅代步,但他缺錢花用下,把歪腦筋動到利用民眾惻隱之心詐財。
判決書指出,去年十二月間,蔡男向張姓女子佯稱身上沒錢,要借三千元搭車回家,提供假戒指擔保,張女好心借款受騙。今年三月間,蔡男故技重施,在板橋車站以家中遭竊為由向洪姓男子借五千元,提供假戒指擔保,洪還好心推他到提款機旁,多借二千給他。
法官斥責蔡有毒品、竊盜、違反兵役、侵占、恐嚇等多項前科,另案因詐欺罪嫌而遭偵查、起訴之際,竟又利用他人同情心施詐,使善心民眾受騙,嚴重破壞人際信賴。
(自由時報記者王定傳)
Publication Notes
TODAY'S WORDS
今日單字
1. collateral n.
擔保;抵押 (dan1 bao3 ; di3 ya1)
例: Please accept my car keys as collateral.
(請接受我用車鑰匙當擔保。)
2. take the bait phr.
受騙;上鉤 (shou4 pian4 ; shang4 gou1)
例: Although the salesman was clearly tricking him, he still took the bait.
(雖然這個推銷員很明顯在詐騙,他還是上鉤了。)
3. interpersonal adj.
人際 (ren2 ji4)
例: A team leader must have great interpersonal skills.
(團隊領袖必須具備優秀的人際關係技巧。)
Comments will be moderated. Keep comments relevant to the article. Remarks containing abusive and obscene language, personal attacks of any kind or promotion will be removed and the user banned. Final decision will be at the discretion of the Taipei Times.