Virginia man plants flag, claims African country, calling it 'Kingdom of North Sudan' 維吉尼亞州男子插旗建立非洲國 名為「北蘇丹王國」
Jeremiah Heaton was playing with his daughter in their Abingdon, Virginia home last winter when she asked whether she could be a real princess.
Heaton, a father of three who works in the mining industry, didn't want to make any false promises to Emily, then 6, who was "big on being a princess," but he still said yes.
Within months, Heaton was journeying through the desolate southern stretches of Egypt and into an unclaimed 207,200-hectare patch of arid desert.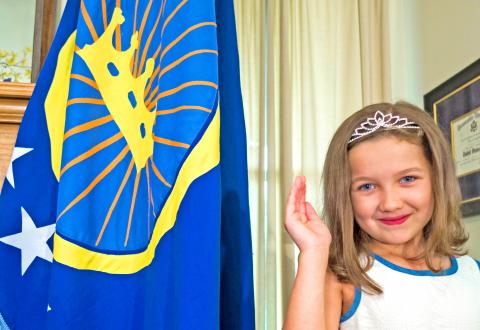 Seven-year-old Emily Heaton poses next to the flag of the territory between Egypt and Sudan her father claimed for her at her home in Abingdon, Virginia on July 19. 七歲的艾蜜莉七月十九日在維吉尼亞州艾賓頓自宅與其父親為她取得界於埃及與蘇丹之間領土的旗子合影。
Photo: AFP
照片:法新社
There, on June 16 — Emily's seventh birthday — he planted a blue flag with four stars and a crown on a rocky hill. The area, a sandy expanse sitting along the Sudanese border, morphed from what locals call Bir Tawil into what Heaton and his family call the "Kingdom of North Sudan."
There, Heaton is the self-described king and Emily is his princess.
"I wanted to show my kids I will literally go to the ends of the Earth to make their wishes and dreams come true," Heaton said.
(Courtesy of Liberty Times)
去年冬天,耶利米.希頓在位於維吉尼亞州艾賓頓的自宅與女兒玩耍時,女兒問他,她能否成為真正的公主。
有三個小孩、任職礦業的希頓,不想對當時六歲、「真的很想當公主」的艾蜜莉,許下虛假的承諾,但他還是答應女兒了。
用好幾個月的時間,希頓穿過埃及南部的廣袤荒地,來到一塊面積二十萬七千兩百公頃的無主不毛沙漠。
六月十六日,也就是艾蜜莉七歲生日當天,他在那塊土地的一座石丘上,插上一面有四個星星與一個皇冠圖案的藍色旗幟。這塊沿著蘇丹邊界的廣闊沙地,就此從當地人口中的比爾泰維勒,搖身一變成為希頓及其家人所稱的「北蘇丹王國」。
希頓在此自立為王,艾蜜莉就是他的公主。
希頓說:「我要讓我的孩子們知道,我真的會拚了老命實現他們的希望與夢想。」
(自由時報提供/翻譯:張沛元)
Publication Notes
TODAY'S WORDS
今日單字
1. be big on phr.
非常喜歡某物 (fei1 chang2 xi3 huan1 mou3 wu4)
例: I'm not very big on hip hop music.
(我並不是很喜歡嘻哈音樂。)
2. literally adv.
按字面地;實在地 (an4 zi4 mian4 de5; shi2 zai4 de5)
例: The house was literally demolished.
(那棟房子真的被拆除了。)
3. go to the ends of the Earth idiom
竭盡所能 (jie2 jin4 suo3 neng2)
例: Most parents in Taiwan would go to the ends of the Earth to make sure their children have access to higher education.
(大多數台灣家長會想盡辦法讓子女接受高等教育。)
Comments will be moderated. Keep comments relevant to the article. Remarks containing abusive and obscene language, personal attacks of any kind or promotion will be removed and the user banned. Final decision will be at the discretion of the Taipei Times.