National Palace Museum's southern branch to have soft opening end of 2015 故宮南院上樑 明年底試營運
A beam-laying ceremony was held on June 5 for the southern branch of the National Palace Museum, which is currently under construction. Vice President Wu Den-yih and local officials attended the ceremony, offering incense and praying for the construction project to go smoothly. The words "Golden cup of eternal stability; the jade candle holder burns forever" were inscribed on the primary steel beam. The inscription refers to the nation being protected throughout the ages and overall hopes for favorable conditions. The branch is set to have its soft opening at the end of December next year, says museum director Fung Ming-chu.
The branch project, located in Chiayi County's Taibao City, was originally set when the Democratic Progressive Party government was still in power. The Chinese Nationalist Party (KMT) has continued pushing the project forward and despite the occasional setback construction began on Feb. 6 last year. The total budget for construction is NT$7.9 billion (US$263 million).
Wu, Executive Yuan Deputy Secretary-General Hsiao Chia-chi, Chiayi County Commissioner Helen Chang, Chiayi City Mayor Huang Min-hui, construction company officials and local personalities were all in attendance at the ceremony.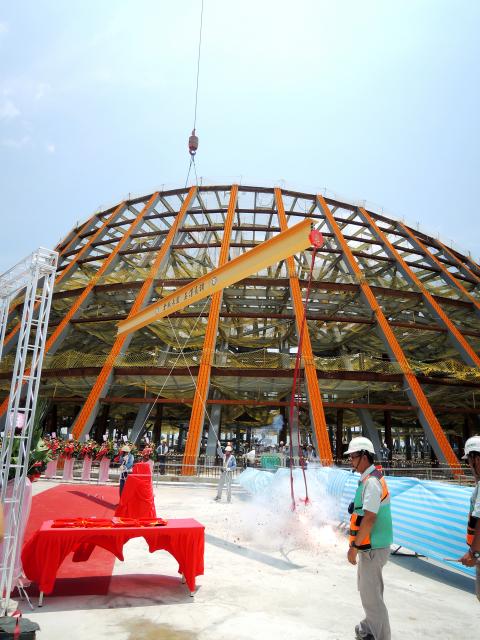 Firecrackers go off in the background during a beam-laying ceremony for the southern branch of the National Palace Museum in Chiayi County on June 5. 六月五日嘉義縣故宮南院的上樑典禮燃放鞭炮。
Photo: Wu Shih-tsung, Liberty Times
照片:自由時報記者吳世聰
After the attendees offered incense during prayers for good fortune, fastened bolts ceremoniously and gave their autographs, the primary beam was lifted up as firecrackers went off around it and was safely placed on the main structure, all without a hitch.
Fung says that she envisions the branch becoming an internationally renowned museum for Asian art and culture — a bright shining star alongside the main Taipei branch helping to promote cultural tourism in Taiwan.
(Liberty Times, Translated by Kyle Jeffcoat)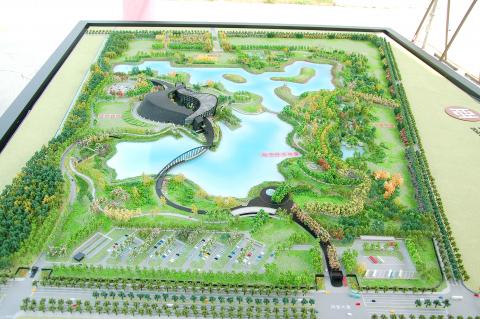 A building model of the National Palace Museum's southern branch is pictured in Chiayi County on March 19. 這是三月十九日攝於嘉義縣的故宮南院實體模型。
Photo: Wu Shih-tsung, Liberty Times
照片:自由時報記者吳世聰
故宮南院博物館建築工程,六月五日舉行上樑典禮,副總統吳敦義及地方人士齊聚,上香祈求工程進行順利,主鋼樑題句「金甌永固,玉燭長調」,是保佑國家千秋萬代、風調雨順之意。故宮院長馮明珠表示,故宮南院在明年十二月底開館試營運。
座落於嘉義縣太保市的故宮南院是民進黨執政時代所核定,國民黨繼續推動,期間雖有波折,但還是在去年二月六日動土,工程總經費新台幣七十九億元(兩億六千三百萬美元)。
當天舉行的上樑典禮,副總統吳敦義、行政院副秘書長蕭家淇、嘉義縣長張花冠、嘉義市長黃敏惠、施工單位及地方人士參與。
與會人士上香祈福、栓螺絲及簽名之後,主鋼樑在鞭炮聲中吊起升空安放在結構上,過程順利。
馮明珠表示,故宮南院的願景是打造一座國際級的亞洲藝術文化博物館,與台北本院相輝映,創造「南北雙星」文化觀光雙亮點。
(自由時報記者吳世聰)
Publication Notes
TODAY'S WORDS
今日單字
1. favorable adj. 有利的;順利的;適合的 (you3 li4 de5; shun4 li4 de5; shi4 he2 de5)
例: The captain says conditions aren't favorable for sailing today.
(船長說今天的條件不宜航行。)
2. setback n. 波折;挫折 (bo1 zhe2; cuo4 zhe2)
例: The loss was a major setback in her career.
(這場輸球在她生涯中是頗大的挫折。)
3. fasten v. 紮牢;繫緊;釘牢 (za1 lao2; ji4 jin3; ding1 lao2)
例: Be sure to securely fasten the lid so it doesn't leak.
(記得把蓋子蓋緊一點,以免外漏。)
Comments will be moderated. Keep comments relevant to the article. Remarks containing abusive and obscene language, personal attacks of any kind or promotion will be removed and the user banned. Final decision will be at the discretion of the Taipei Times.