Another Greater Kaohsiung factory shut down for dumping toxic wastewater 鳳山溪又一廠商 排廢水違法被停工
Yet another edible oil plant near the Fongshan River watershed in Greater Kaohsiung has officially been shut down. The local government found that Chang Guann Co was dumping toxic water in the river, which makes it the third company in half a year to be shut down for illegal dumping. The highest fine possible of NT$600,000 was handed down to the factory, which was forced to halt operations.
Greater Kaohsiung's Environmental Protection Bureau says that since 2011 refined edible oils' manufacturer Chang Guann Co has a record of causing water pollution four times. On April 18 it was also discovered that the company's disposed toxic wastewater is taking a toll on the water flowing in Fongshan River. The company has been punished and its plant has been closed in accordance with the Water Pollution Control Act.
Yang Han-tsung, head of the bureau's Environmental Inspection Division, says that the test results for chemical oxygen demand and biochemical oxygen demand were relatively high. Water quality tests were completed on April 25, and fines were issued according to the law, Yang says, adding that the company has not made any statements.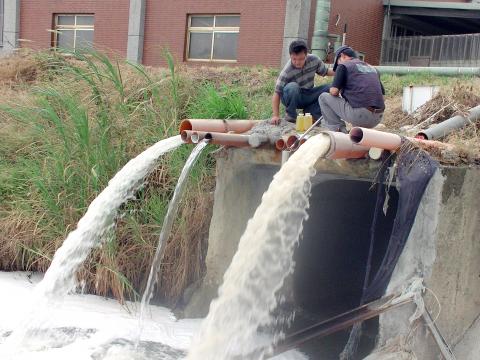 Environmental workers take water quality samples in Taoyuan County's Dayuan Township on Oct. 17, 2012. 環保局員工二0一二年十月十七日在桃園縣大園鄉抽水質樣本。
Photo: Lee Jung-ping, Liberty Times
照片:自由時報記者李容萍
It was reported at the beginning of April this year that Fongshan River-based Golden Brand shredded squid-maker Chin Chi Shun Industrial Co was allegedly also illegally dumping toxic wastewater. A vast amount of milky white wastewater was released after the factory finished cleaning squid and other seafood. The company was fined NT$600,000 and the factory was forced to shut down.
Bureau director Derek Chen says that over the past year four companies operating plants at the Fongshan watershed have been forced to shut down, adding that nearly 20 companies operating around Greater Kaohsiung watersheds have been shut down. Chen hopes that these companies will be proactive about improving their treatment of wastewater and properly operate treatment facilities to avoid polluting rivers and harming local residents' health.
(Liberty Times, Translated by Kyle Jeffcoat)
高雄鳳山溪流域又一食用油廠被勒令停工,市府查獲「強冠企業股份有限公司」放流水超標,為半年來第三次廢水超標,處以最高罰鍰六十萬元並勒令停工。
Greater Kaohsiung Environmental Protection Bureau workers take soil samples from Houjin River for a toxic wastewater investigation in Greater Kaohsiung on Dec. 10 last year. 高雄縣環保局員工去年十二月十日在高雄抽泥土樣本調查排廢水污染。
Photo: Fang Chih-hsien, Liberty Times
照片:自由時報記者方志賢
高雄環保局表示,強冠企業製造食品加工用油,二0一一年後有四次違反水污染紀錄,今年四月十八日又發現放流水超標,影響鳳山溪水體,依水污染防治法規定裁處並勒令停工。
環境稽查科長楊漢宗表示,查獲化學需養量、生物需養量濃度偏高,水質檢測於四月二十五日完成,依規定開罰,廠商未表示意見。
今年四月初,鳳山溪生產金牌魷魚絲的金吉順公司,被檢舉涉嫌偷排廢水,工廠清洗魷魚等海產後流出大量乳白色廢水,被罰六十萬元並勒令停工。
環保局局長陳金德強調,近一年來,鳳山溪流域列管事業已陸續稽查四家事業單位停工,而全高雄市各流域停工近二十家,希望相關業者能積極改善廢水處理並妥善操作處理設備,避免污染河川損及市民健康。
(自由時報記者黃旭磊)
Publication Notes
TODAY'S WORDS
今日單字
1. edible adj.
食用的 (shi2 yong4 de5)
例: Have you ever eaten edible underwear?
(你吃過食用內衣嗎?)
2. take a toll idiom
造成不良影響 (zao4 cheng2 bu4 liang2 ying2 xiang3)
例: This job has really taken a toll on my health.
(這份工作對我健康實在造成很大的損害。)
3. proactive adj.
積極的 (ji1 ji2 de5)
例: You should be proactive about protecting your rights.
(你應該積極保護你的權利。)
Comments will be moderated. Keep comments relevant to the article. Remarks containing abusive and obscene language, personal attacks of any kind or promotion will be removed and the user banned. Final decision will be at the discretion of the Taipei Times.