Vet recommends medical marijuana for pets in pain 獸醫師建議給痛苦中的寵物藥用大麻
Until she introduced "magic cheese" to her sick and aging bulldog, Laura Bugni-Daniel watched him suffer for two years. He would spend his days lying down or throwing up.
Today, at age 12, he plays like a puppy through the day, his fur is soft and he sleeps at night, soothed not by magic, but by the dose of marijuana in that cheese.
Bugni-Daniel is part of a growing movement to give medical marijuana to pets in pain. Many urge caution until there's better science behind it. Stories abound, however, about changes in sick and dying pets after they have been given cannabis — even though it is not a proven pain killer for man or mutt, and it is an illicit drug under federal law despite being legal for people in 19 states and the District of Columbia.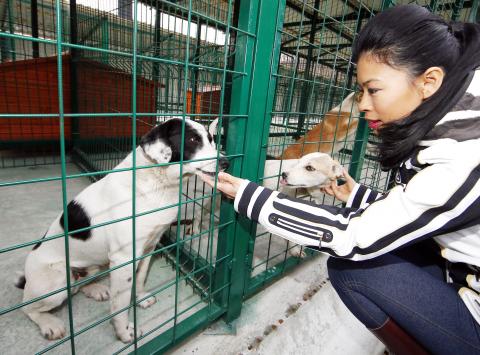 Violinist and Olympic skier Vanessa Mae pets dogs at the PovoDog dog shelter in Baranovka near Sochi during the 2014 Sochi Winter Olympics on Feb. 22. 小提琴家與奧運滑雪選手陳美二月二十二日在俄羅斯索契冬季奧運期間,在一間離索契巴拉諾夫卡城鎮不遠的一所流浪動物之家撫摸狗兒們。
Photo: Reuters
照片:路透
Leading the charge is Los Angeles veterinarian Doug Kramer, 36, known as the "Vet Guru," who felt it was his duty to speak out.
"I grew tired of euthanizing pets when I wasn't doing everything I could to make their lives better," he said. "I felt like I was letting them down."
(AP)
直到給予她老病的鬥牛犬「神奇乳酪」為止,蘿拉.布格妮--丹尼爾看著牠受苦兩年。牠整天躺著或嘔吐。
如今,十二歲的牠整天像個幼犬般玩耍,牠的毛髮柔軟,晚上安眠,牠不是因魔力獲得舒緩,而是乳酪裡的大麻。
給痛苦中的寵物藥用大麻是一項日益發展的運動,布格妮–丹尼爾是其中一員。許多人敦促謹慎,直到有更好的科學理據。但生病、垂死的寵物在服用大麻後改變的相關故事不勝枚舉——即使對人或犬類而言它還是未經驗證的止痛劑,並且它在聯邦法律之下屬於非法藥物,儘管美國十九州與哥倫比亞特區的居民可合法取得。
該運動的掌舵者是洛杉磯的三十六歲獸醫、被譽為「獸醫大師」的道格.克雷默,他覺得他有責任大膽宣揚。
「我越來越厭倦沒有盡我所能讓寵物的生命好轉,而將其安樂死,」他說,「我覺得我讓牠們失望。」
(美聯社/翻譯:魏國金)
Publication Notes
TODAY'S WORDS 今日單字
1. throw up v. phr.
嘔吐 (ou3 tu4)
例: He was in the bathroom throwing up all night.
(他整晚在浴室內嘔吐。)
2. lead the charge v. phr.
帶頭衝鋒;領導 (dai4 tou2 chong1 feng1; ling2 dao3)
例: He is leading the charge against childhood cancer.
(他領導對抗兒童癌症。)
3. let down v. phr.
使失望;使沮喪 (shi3 shi1 wang4; shi2 ju3 sang4)
例: She felt let down when he didn't phone her.
(他沒打電話給她讓她感到沮喪。)
Comments will be moderated. Keep comments relevant to the article. Remarks containing abusive and obscene language, personal attacks of any kind or promotion will be removed and the user banned. Final decision will be at the discretion of the Taipei Times.