Fewer companies holding annual banquets spells uphill battle for caterers 尾牙訂單減 外燴業打硬仗
The catering industry is suffering as businesses are reducing the scope of their annual banquets or simply deciding not to hold the events this year since the economy is doing so poorly. Some chefs, however, are insisting that quality not be affected and are refusing to lower prices to compete in the market, while some are creating new dishes to attract more customers and working hard to make it through these tough times.
Chi Jung-chun, a chef with Tainan's Formosa Chefs Association, says that catering orders from various companies usually come pouring in around the time annual banquets are held, typically bringing in anywhere from 400 to 500 tables for him. This year, however, orders for not even half that many tables are being made, evidence of an economic downturn.
Chi says that a lot of companies have canceled their annual parties due to poor sales and reduced profits, handing out red envelopes filled with cash to employees instead. Although a few companies are actually seeing profits, they feel that holding an annual banquet would be too lavish and contentious in these tough times as the economy is in a slump, so they are saving money by not holding the events and giving out cash to employees instead — a major blow to the catering industry.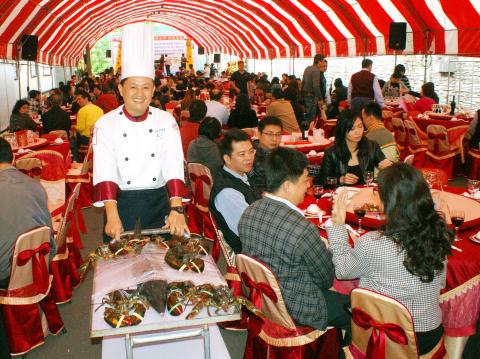 A caterer pushes a cart of lobsters around at an end-of-the-year party in Greater Tainan on Jan. 10. 一位外燴業者一月十日於台南市推出裝載龍蝦的推車。
Photo: Wu Chun-fong, Liberty Times
照片:自由時報記者吳俊鋒
Chen Ya-chia, another chef with Tainan's Formosa Chefs Association, says that since many companies are making less money yet would still like to hold annual banquets while also saving money at the same time, catering companies are facing the dilemma of either slashing prices to compete or choosing to continue offering quality catering.
In order to maintain the normal amount of catering orders, Lu Cheng-chih, a chef who won first prize at the World Golden Chef Competition, has teamed up with people working in other fields to enhance the performance arts aspect of his catering events, cooking up something fresh and lively for his customers. He is also giving performances while the food is being served and displays the catching of seafood during the events, highlighting the freshness of the ingredients used and improving the overall presentation of catering services, which has successfully attracted more customers and allowed his catering business not to be affected by the downturn.
(Liberty Times, Translated by Kyle Jeffcoat)
經濟差,景氣壞,廠商辦年終尾牙有的縮水、甚至停辦,外燴業者叫苦,但仍有主廚堅持品質,不願削價競爭,也有總舖師推出新菜色,爭取客源,努力捱過景氣寒冬。
台南市福爾摩沙廚藝協會的總舖師机榮俊說,以往尾牙期間,各公司行號的外燴訂單接踵而至,累計都有四、五百桌,今年卻一半還不到,顯見景氣之差。
机榮俊說,很多公司因業績衰退而取消尾牙,有的盈餘減少,僅發紅包應景,少數廠商雖然賺錢,但顧及景氣不佳的社會氛圍,擔心熱鬧辦桌太高調,引來炫富之議,將活動經費折算現金分給員工,導致外燴訂單大受衝擊。
協會另位總舖師陳亞家說,許多公司因獲利減少,想辦桌吃尾牙,卻希望壓低經費,若削價競爭,將無法兼顧餐宴,進退兩難。
在世界金廚爭霸賽獲得首獎的總舖師盧正治為了穩住尾牙業績,除與異業結盟,加強辦桌活動的綜藝表演,炒熱氣氛,更推出上菜秀,展示現撈的水產食材,凸顯料理的新鮮度,提升外燴的質感,成功吸客,今年尾牙業績影響不大。
(自由時報記者吳俊鋒)
Publication Notes
TODAY'S WORDS 今日單字
1. lavish adj.
浪費的;揮霍的
(lang4 fei4 de5; hui1 huo4 de5)
例: The politician's lavish lifestyle has been criticized in the media.
(這位政治人物揮霍的生活被媒體批評。)
2. contentious adj.
引起爭議的
(yin2 qi3 zheng1 yi4 de5)
例: The use of drones in combat is a contentious issue.
(打仗時採用無人駕駛飛機,是個引起爭議的議題。)
3. slump n.
衰退;不景氣
(shuai1 tui4; bu4 jing3 qi4)
例: There was a serious slump in the global economy in 2008.
(二00八年全球經濟嚴重衰退。)
Comments will be moderated. Keep comments relevant to the article. Remarks containing abusive and obscene language, personal attacks of any kind or promotion will be removed and the user banned. Final decision will be at the discretion of the Taipei Times.