New museum mixes fun, science and Chinese characters 台南全新藝術館 結合科技玩味漢字藝術
Established just a week ago, the 1,000-ping (approx. 3,300m2) Museum of Chinese Characters in downtown Greater Tainan is currently showing the exhibition The Creation and Memory of Chinese Characters. Though Chinese characters might seem natural enough to Chinese-speaking people, the exhibition is aimed at revitalizing their passion for Chinese characters so that they will not only have a communicative function. Using modern ideas, multimedia technology and installation art, the exhibition gives people a chance to rediscover the art of Chinese characters, which with their history spanning thousands of years remain inspiring today.
Aesthetician Chiang Hsun once said, "Writing Chinese characters is the truest ritual when I want to spend time with myself." Chinese characters have been passed down through the generations for thousands of years. Created based on the six principles of character formation — pictographic representation, ideographic representation, ideographic compounding, phono-semantic compounding, metaphorical extension and phonetic loan — they are filled with aesthetic beauty and continue to amaze people by their versatility. Visitors go beyond their normal role and are made a part of this exhibition through an interactive multimedia experience. After all, characters are a form of communication between people; therefore, interaction is one of the museum's key missions.
Founded by Nan-Ying Culture and Education Foundation President Lee Chuan-chiao, the museum has a dozen exhibition areas. One of the areas is the high-ceilinged "Time Theater," which uses a traditional Chinese architectural concept called "round heaven, square earth" to manifest the roundness of flowing Chinese characters and the stability and balance of their squareness. Exhibits on different themes ranging from history to the future are spread out over the museum's different exhibition areas. Exhibitors include Ultra Combos, Wang Hsin-yi, Huang Ya-ling + Titow, Saito + Ishizawa, Code Garden, Tsai Yu, Wang Yen-chung, OVO and Pong Lam.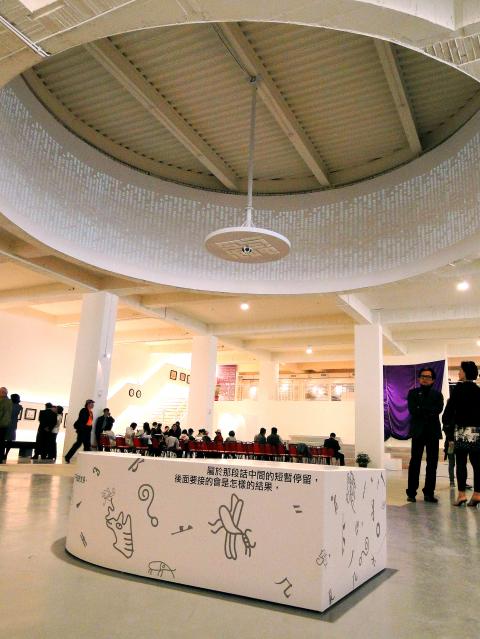 The "Time Theater" at the Museum of Chinese Characters uses a traditional Chinese architectural concept called "round heaven, square earth." 漢字文化藝術館內訴求「天圓地方」的時光劇場。
Photo: Hung Jui-chin, Taipei Times
照片:自由時報記者洪瑞琴
Lin Ping-hung, the foundation's executive director, said in a telephone interview with the Taipei Times last Tuesday that incorporating art, creative groups and technology has given the museum a multifunctionality that allows it to be used by art and literary circles in the hope of consolidating emerging creative forces in southern Taiwan. In line with the headline on the museum's Web site, "A character is cherished even deeper once you understand it," the museum will be holding hands-on workshops and lectures to give visitors an in-depth understanding of Chinese characters. The exhibition will run through the end of February next year.
(LIN YA-TI, TAIPEI TIMES)
上週甫於台南市區成立坐擁千坪(三千三百平方公尺)的「漢字文化藝術館」,目前正展出《漢字時光的創造與記憶》。華人可能對漢字習以為常,但該展覽旨在重新燃起人們對漢字的熱情,讓漢字不單只有文字溝通的功能,還能以現代思維,透過多媒體科技與裝置藝術等媒材,讓參觀者有機會重新玩味有數千年歷史且至今仍啟發人心的漢字藝術。
美學大師蔣勳曾說過:「漢字書寫,是我與自己相處最真實的一種儀式。」漢字已有數千年傳承,「六書」—包括象形、指事、會意、形聲、轉注與假借—的造字方法,賦予漢字形體之美,也讓人們對其變化多端的結構嘆為觀止。異於一般參觀者的角色,在此展覽中的訪客,透過多媒體互動樂趣,也成為參展的一員,畢竟文字是人與人之間溝通的媒介,因此互動成了該藝術館的宗旨之一。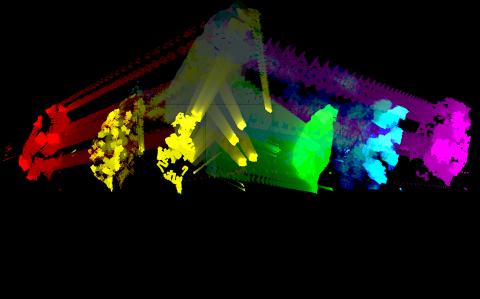 A work by Pong Lam. 林子邦作品。
Photo courtesy of Museum of Chinese Characters
照片由漢字文化藝術館提供
由南瀛文教基金會董事長李全教催生的藝術館,館內包含十來個展區,其中包括挑高的時光劇場。該劇場以中華傳統文化「天圓地方」的建築概念,表達漢字行雲流水的「圓」與漢字穩重均衡的「方」。從歷史以至未來等不同主題的參展作品,分散在各個展區。藝術家陣容有叁式、王心怡、黃雅玲+隨藝旅行創意發展團隊、abcs:齊藤達也+石澤太祥、程式美學實驗室、蔡漁、王彥成、OVO數位娛樂與林子邦。
南瀛文教基金會執行長林秉鋐上週二告訴《台北時報》表示,藝術館結合藝術、文創與科技,賦予全新藝術空間多元功能,開放藝文界使用,凝聚南部文創新勢力。正如藝術館網站首頁的標題「識字‧更惜字」,未來館內也將籌劃DIY與講座,讓一般民眾深化對漢字的理解。展覽將持續到明年二月底。
(台北時報記者林亞蒂)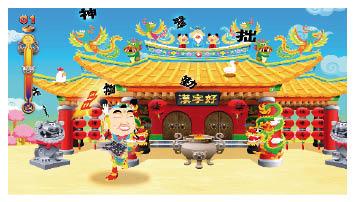 Ultra Combos' interactive digital product titled "Chinese-character Third Lotus Prince." 叁式作品「漢字三太子」透過參與者即時體感參與,進行玩漢字互動。
Photo courtesy of Museum of Chinese Characters
照片由漢字文化藝術館提供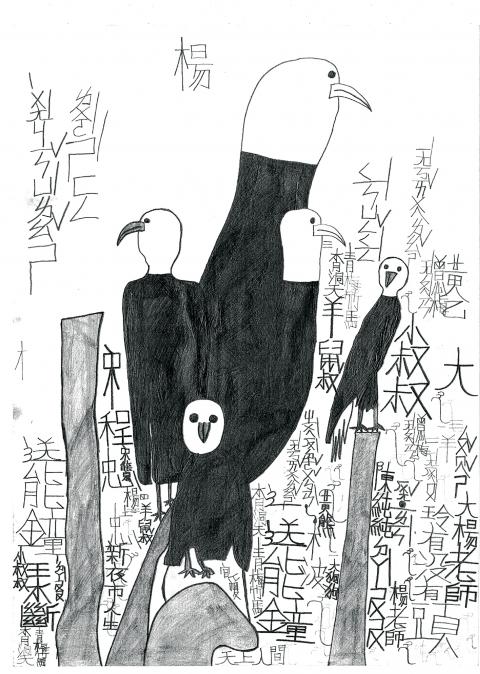 A work by Wang Yen-chung. 王彥成作品。
Photo courtesy of Museum of Chinese Characters
照片由漢字文化藝術館提供
Publication Notes
TODAY'S WORDS今日單字
1. revitalize v.
重燃 (chong2 ran2)
例: After languishing at the bottom of the league for several years, the club was revitalized by its new coach.
(多年在聯盟處於低迷狀態後,該運動俱樂部因新教練而重燃希望。)
2. passed down v. phr.
傳承 (chuan2 cheng2)
例: This recipe has been passed down in our family for several generations.
(此秘方在我們家族中已傳承數代了。)
3. mission n.
宗旨 (zong1 zhi3)
例: The company's mission is to sell one toothbrush to every person in China.
(公司的宗旨是賣給中國每個人一支牙刷。)
Comments will be moderated. Keep comments relevant to the article. Remarks containing abusive and obscene language, personal attacks of any kind or promotion will be removed and the user banned. Final decision will be at the discretion of the Taipei Times.