Singing Along the Path — Creative Photography by Timothy Huang 黃東明影像創作—行吟
For the average person, painting and photography are two disparate fields. Thanks to certain advances in technology, photographer Timothy Huang was able to combine the two, using a digital post-production technique called "stitching and mending," which has allowed him to express the beauty of what he sees.
Chen Chao-hsien, director of Sunny Art Museum where Huang's works are on display, said that Huang's natural landscape photos are like paintings and that they possess a very solid composition.
Chen said digital technology is helping traditional photography, and says Huang, for example, spent over a month photographing a single scenic spot dozens of times from different angles, and then puts the photos together using the digital process of "stitching and mending" to form one huge piece of art. Photos of flowing water, waterfalls or clouds, however, cannot be put together because the lines do not match.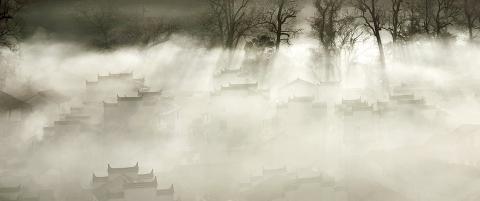 A series of Timothy Huang's photographs. 一系列黃東明攝影作品。
Photo: Courtesy of Timothy
照片:黃東明提供
Timothy Huang was born in Greater Kaohsiung's Meinong Town in 1954. He started to use his father's double lens reflex at the age of six, and had a 135mm camera by the age of 22. From that point on, he started taking documentary photos and doing street photography. Over the years he has accumulated a lot of pictures, but felt like there were too few pictures with sceneries he really liked.
When Huang saw the pictures Ansel Adams took in Yosemite Valley, he started to realize that making something no one has made before you requires one to carry around a lot of heavy equipment and that it also, necessitates an unyielding perseverance and a simultaneous veneration and fear of the divine creator while you wait for what Henri Cartier-Bresson calls "the decisive moment."
The exhibition is titled "Singing Along the Path," which is an allusion to the Song Dynasty painter Liang Kai's portrait of Tang Dynasty poet Li Bai. In the portrait, Li is depicted facing the wind and making a gesture that moves his sleeve while he recites a poem as he is about to enter the world of the immortals.

Photo: Courtesy of Timothy Huang.
照片:黃東明提供
When asked why he chooses landscapes as the main subject of his photographs, Huang replied that landscape painting has a very long history, especially Chinese landscape painting, and that it not only records sceneries, but is also filled with humanistic connotations. He said landscapes as subjects are the easiest way to communicate the author's thoughts and reach the realm of Chinese painting known as "fusing the immortal with the mortal."
The exhibition includes 42 photos. The biggest one is two meters high and 3.5m long.
(TRANSLATION AND ADDITIONAL REPORTING BY TAIJING WU, TAIPEI TIMES)
一般人的印象中,繪畫與攝影是兩個不同的領域。拜科技進步之賜,攝影家黃東明以數位後製將二者合一,以獨特的縫補技術,呈現所見的美。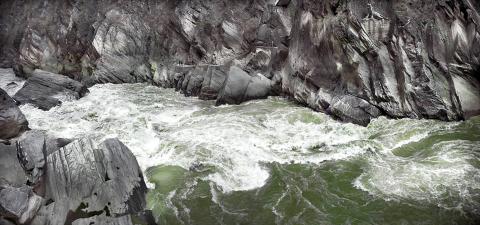 Photo: Courtesy of Timothy Huang.
照片:黃東明提供
目前展示黃東明作品的竹東鎮名冠藝術館總監陳昭賢表示,黃東明將自然美景拍成繪畫一樣,有很紮實的繪畫構圖。
陳昭賢說,數位化對傳統攝影有幫助,就像黃東明花一個多月時間,給一個景點以不同的角度拍了數十張照片,再以數位縫補技術將這些照片接起來,形成一幅很大的作品。但是遇到水流、瀑布,或雲彩就無法縫補,因為線條接不起來。
黃東明一九五四年生於高雄美濃。六歲開始接觸父親的雙鏡頭反射式相機,二十二歲擁有一部一三五相機,便開始追逐紀實與街頭攝影。不過隨著年紀增長,發現拍了許多照片卻沒有幾張可取的景色。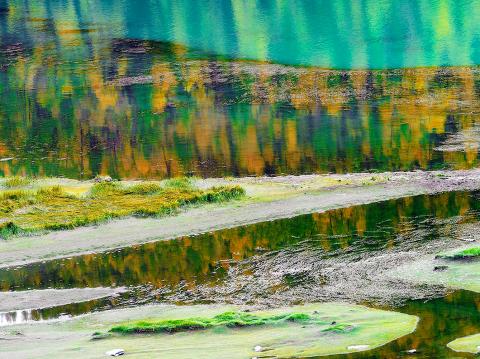 Photo: Courtesy of Timothy Huang.
照片:黃東明提供
黃東明看到安瑟‧亞當斯拍攝優勝美地峽谷的照片便想通了。他了解一幅震古鑠今的風景作品,需要背負沉重的器材,加上不屈不撓的毅力,更要懷著對造物者的敬畏,耐心等待著布列松所說的「決定性的瞬間」,才能拍攝寫真。
這次展覽定名為「行吟」,取自宋朝畫家梁楷的李白肖像畫,當中李白迎風而立,飄飄欲仙,拂袖涵詠。
人們問黃東明為何以風景為主題。他說風景畫有悠久歷史,尤其是中國山水畫。不只紀錄地景,更充滿人文意境。他認為風景的題材最容易表現創作者的想法,以及達到中國繪畫天人合一的境界。
本次展覽共有四十二幅作品,最大的尺寸為高二公尺,長三點五公尺。
(台北時報記者吳岱璟採訪整理)
Publication Notes
Information on the exhibition
展覽名稱:行吟—黃東明影像創作展
Title: "Singing Along the Path—Creative
Photography by Timothy Huang"
Date: Sept. 9 to Oct. 24, 2011
Where: Sunny Art Museum
No.95, Zhongxiao St., Zhudong Township, Hsinchu
County 310, Taiwan
03-5952515
www.sunnyart.com.tw
展出日期:2011/09/10~10/24
展覽地點:名冠藝術館
新竹縣竹東鎮忠孝街95號
03-5952515
www.sunnyart.com.tw
Comments will be moderated. Keep comments relevant to the article. Remarks containing abusive and obscene language, personal attacks of any kind or promotion will be removed and the user banned. Final decision will be at the discretion of the Taipei Times.