Burglar caught red-handed reading manga 束手就擒 小偷看漫畫欲罷不能
Earlier this month when a 27-year-old man surnamed Chen broke into an apartment in Tainan, he quickly spotted a pile of the weekly manga comic book Youth Express, which came out in Taiwan around a decade ago. After flipping through a couple of pages, the burglar was so enraptured that he read one after the other, entirely forgetting why he was there or that he was at risk of being caught at any moment. He read the manga for a full three hours until the owner of the house finally discovered him and alerted the police.
The second branch precinct of Greater Tainan received a report at noon on Aug. 14 that a burglar had intruded into an apartment in the area under their jurisdiction. As the police arrived on the scene, the owner of the house was chasing the suspect with a baseball bat and shouting at him not to run. The police immediately detained the suspect on the fifth floor staircase.
Chen, who has a criminal record for theft, admitted that he snuck into the basement of the building next door that morning, and had access to Chen's building because the basements of the two buildings are connected. Chen said he went straight to the sixth floor and walked into the apartment after noticing that the door was unlocked. Upon entering the apartment he saw a huge pile of Youth Express. He initially only wanted to flip through a couple of them, but he soon became increasingly intrigued and decided to sit down in a chair to read them one at a time. He even searched for the missing volumes in the series so he could read them consecutively. By noon he was detained by the police before he had time to steal anything.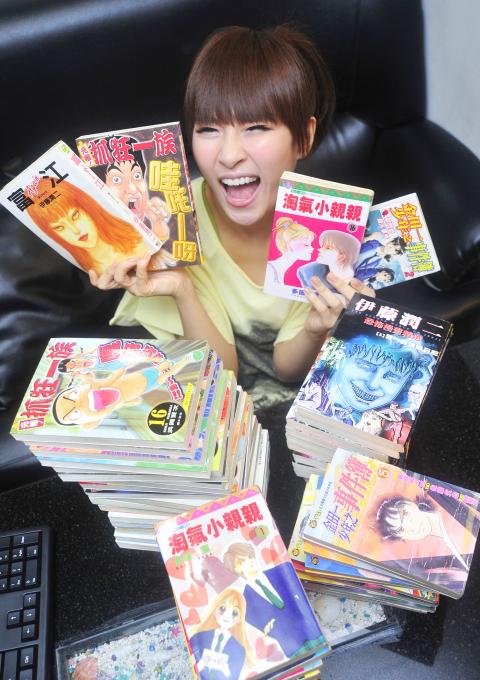 A woman smiles while holding manga in Taipei on June 29. 這張攝於六月二十九日的照片,是一位拿著漫畫書微笑的女性。
Photo: Pan Shao-tang, Taipei Times照片:自由時報記者潘少棠
The owner, who actually lives on the fifth floor, told the police that he enjoys reading manga and uses the sixth floor as a storage space for his manga collection and miscellaneous objects, but that no one lives there. Since the doors are without locks, other people had entered before Chen. The owner has heard the sound of people moving things around upstairs, and found that some books and pans were missing, but did not know who the previous perpetrator was.
(Liberty Times, Translated by Taijing Wu)
台南二十七歲陳姓男子本月稍早侵入住宅,發現一堆十餘年前的「少年快報」漫畫週刊,隨手翻兩頁,竟被吸引而一本接一本,很著迷地看下去,不但忘了偷,還忘了身在「險境」。他這一看就是三個鐘頭,直到屋主察覺報警,他才束手就擒。
八月十四日中午,台南市警二分局獲報,轄內公寓有竊嫌入侵,員警趕抵時,屋主拿出球棒,對嫌犯大喊「不要跑」。員警隨即在公寓五樓樓梯間逮捕嫌犯。
有強盜前科的陳嫌坦承,當天上午從隔壁棟地下室溜入,因相通而走到陳姓屋主這一棟。他直上六樓,見鐵門未鎖就走進去,見地上有一疊《少年快報》,原本只想隨手翻一下,不料愈看愈精彩,乾脆坐在椅子上,一集接一集地看下去,還去翻找缺漏的集數,直到中午,東西還沒偷,就被警察抓了。
屋主住五樓,他告訴警方,自己喜歡看漫畫,把六樓房間當置物間,堆放雜物與漫畫書,但沒人住。房門與外部鐵門都未上鎖,先前曾被人侵入,之前就有搬東西的聲響,後來發現被偷走一些書和鍋子,但不知何人所為。
(自由時報記者王俊忠)
Comments will be moderated. Keep comments relevant to the article. Remarks containing abusive and obscene language, personal attacks of any kind or promotion will be removed and the user banned. Final decision will be at the discretion of the Taipei Times.