Cross-eyed opossum makes German debut 鬥雞眼負鼠 德國公開亮相
Germany's latest animal sensation, Heidi the cross-eyed opossum, made her media debut on June 9, three weeks before her new tropical enclosure at Leipzig Zoo is revealed to the public.
Watched by a scrum of photographers and television cameras, Heidi briefly stuck her snout out of her box before being released by her keepers into the 60-million-euro (NT$2.5 trillion), 1.6-hectare "Gondwanaland."
The marsupial has become an Internet hit, winning some 326,000 admirers on social networking Web site Facebook, more than three times as many as German Chancellor Angela Merkel.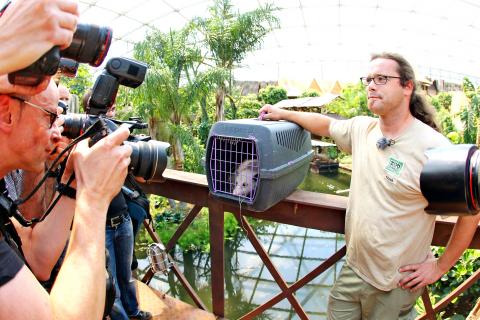 Opossum Heidi peers out of her transportation cage next to her keeper Michael Ernst during her relocation to her new home at Gondwanaland tropical experience world at the zoo in Leipzig, Germany on June 9. 在管理員麥可‧恩斯特的陪同下,負鼠海蒂六月九日在德國萊比錫動物園內的「岡瓦納古大陸」熱帶體驗世界,從運輸籠內向外張望。
Photo: EPA
照片:歐新社
The zoo hopes Heidi can ride the coattails of a Berlin polar bear called Knut, who as a cub became a worldwide media star and money-spinner in 2007, even featuring on the front page of Vanity Fair magazine.
He died in March aged just four.
Last year Paul the Octopus achieved nothing short of global fame from his tank in northern Germany for correctly "predicting" the outcome of the nation's matches in the football World Cup. He too has since died.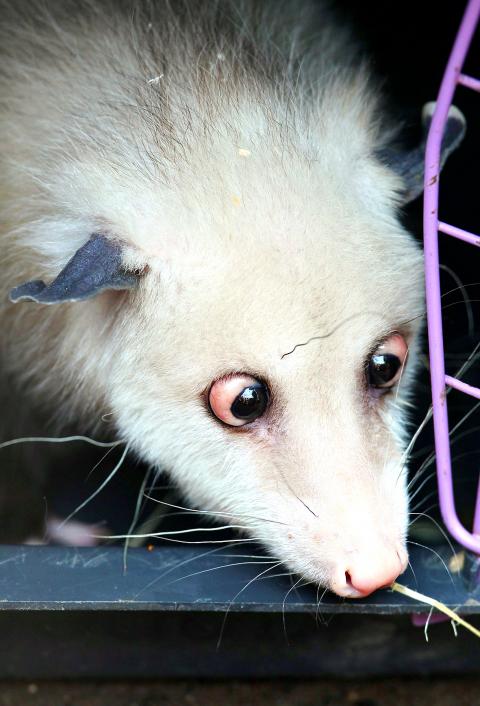 Opossum Heidi moves into her new home at Gondwanaland tropical experience world at the zoo in Leipzig, Germany on June 6. 負鼠海蒂六月六日,正搬入位於德國萊比錫動物園內的「岡瓦納古大陸」熱帶體驗世界的新家。
Photo: EPA
照片:歐新社
Heidi's eye problem is thought to be due to a poor diet before she was abandoned in the US, or because she is overweight, leading to fat deposits behind her eyes.
Since arriving at the eastern German zoo around a year ago together with sister Naira and a male called Teddy, Heidi has lost almost a kilo in weight but she remains cross-eyed.
Leipzig Zoo says that it is not planning any "active marketing" of Heidi, and that it would devote any income that it might earn from third parties to projects such as one supporting rhinos in Borneo.
Gondwanaland, which will also be home to around 17,000 exotic plants and some 300 animals, including ocelots, crocodiles and Germany's only Komodo dragon, opens to the public on July 1.
(AFP)
德國目前最轟動的動物─鬥雞眼負鼠海蒂,六月九日在媒體前首度現身。三週後她將在新家萊比錫動物園熱帶圈養區亮相。
在攝影記者與電視攝影機蜂擁爭睹下,海蒂被管理員釋放到造價六千萬歐元(新台幣二點五億元)、且腹地有一點六公頃的「岡瓦納古大陸」前,她只簡短地將其口鼻伸出籠外。
這隻有袋類動物已在網路上大受歡迎,在社群網站臉書上擁有約三十二萬六千名粉絲,比德國總理安潔拉‧梅克爾的粉絲還多三倍。
園方希望海蒂能搭上柏林動物園明星北極熊克努特的順風車。二零零七年,當克努特還是幼熊時,他曾是全世界媒體寵兒與搖錢樹,甚至登上《浮華世界》雜誌頭版。
他在三月過世,年僅三歲。
去年章魚哥保羅也不遑多讓,他從德國北部的水族箱內,正確預測世足賽勝出的國家而揚名世界。
海蒂的眼疾,可能與她在美國被遺棄前的飲食有關,也可能是因為體重過重,造成脂肪囤積在眼睛後方。
海蒂與姊妹奈拉和一隻雄性負鼠泰迪,一同在一年前抵達德國東部的動物園。至今,海蒂減重將近一公斤,不過她仍有鬥雞眼。
萊比錫動物園說,園方沒有針對海蒂做任何「積極行銷」的計畫,並且會將外界任何可能的收入用於像是支持婆羅洲的犀牛等行動。
即將在七月一日對外開放的「岡瓦納古大陸」,也將是約一萬七千種異國植物,與包含豹貓、鱷魚與德國唯一的科莫多龍等約三百種動物的家。
(法新社/翻譯:林亞蒂)
Comments will be moderated. Keep comments relevant to the article. Remarks containing abusive and obscene language, personal attacks of any kind or promotion will be removed and the user banned. Final decision will be at the discretion of the Taipei Times.