Given second chance, 24 percent of moms in Taiwan choose not to have children 若時光倒流 1/4母親不想生
"Would you still have children if you were given a second chance?" About 24 percent of the mothers that participated in a recent survey answered "no" when asked this question, and the less happy a mother was, the more likely she was to say "no."
Mother's Day was just around the corner when Chao Tien-lin, a Democratic Progressive Party (DPP) candidate to the legislature, and Greater Kaohsiung City Councilor Chen Hsin-yu published the results of the survey on April 25. The survey was conducted between April 19 and 21 by telephone, interviewing 1,344 mothers from various cities and counties throughout the nation.
Among the interviewed mothers, 67 percent of them believed they were "happy as a mother," while 16 percent were "unhappy as a mother," and 15 percent were "equally happy and unhappy as a mother."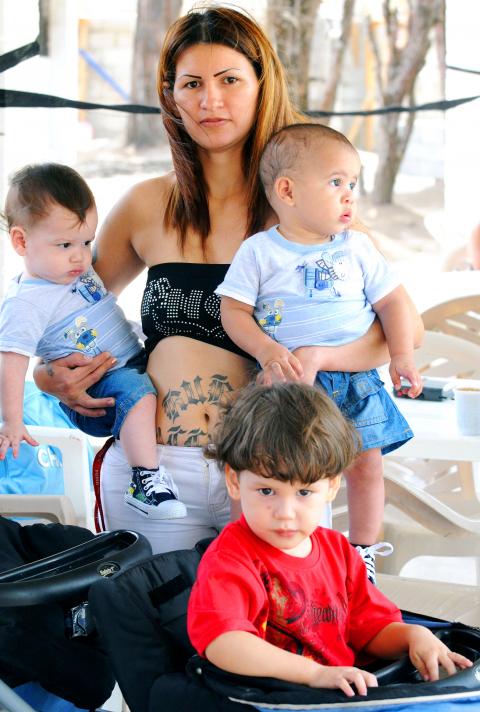 A mother poses with three of her six children during Mother's Day in Honduras, May 8. 一位母親與她六位當中的三位小孩五月八日母親節於宏都拉斯合照。
Photo: AFP
照片:法新社
Distinguishing between different age groups, the younger the mother was the happier she tended to be as a mother. Geographically, an average of 70 percent of mothers living in Taipei City, New Taipei City and Keelung City, as well as Taoyuan, Hsinchu and Miaoli counties were "happy" as mothers, which was a far higher percentage than other areas across the nation.
Twenty-four percent of the interviewees said "no" when asked "Would you still have children if you were given a second chance?" As many as 48 percent of the "unhappy" mothers answered "no" while 15 percent of the "happy" mothers also gave a negative response.
Among the mothers who answered "no," 37 percent of them said that the decision would ease their economic burden, while 29 percent said raising a child was too "difficult," and 16 percent said it was because they desired a "less restriced lifestyle." Meanwhile, five percent of them were concerned that they would not be able to endure the pain of losing their child in the future. Chao Tien-lin said that a heavy economic burden and feeling exhausted that comes with taking care of a child are the main factors influencing a mother's decision about having children.
(LIBERTY TIMES, TRANSLATED BY TAIJING WU)
「重新選擇,會不會生小孩?」民調顯示約有百分之二十四的母親回答「不會」,且越不快樂的母親回答「不會」的比率越高。
母親節前夕,民進黨立委參選人趙天麟與高雄市議員陳信瑜上週一公布民調,該民調於四月十九日至二十一日進行電話訪問,有效樣本為一千三百四十四名全國各縣市母親。
百分之六十七的受訪母親覺得「當媽媽快樂比較多」、百分之十六認為「不快樂比較多」、百分之十五認為「快樂與不快樂皆有」。
以年齡層區分,年紀越輕的母親認為快樂的比率越高;若以地區區分,北北基與桃竹苗的母親快樂比率較高,平均達百分之七十。
問到「重新選擇,會不會生小孩?」高達百分之二十四的母親選擇「不會」,其中覺得不快樂的母親回答「不會」比率高達百分之四十八,即使自認為快樂的母親,也有百分之十五選擇「不會」生小孩。
在回答「不會」生小孩的母親中,百分之三十七的母親認為經濟負擔可降低、百分之二十九覺得養孩子辛苦、百分之十六認為生活會比較自在、百分之五則擔心會承受失去小孩的痛苦。趙天麟指出,沉重的經濟壓力與精疲力竭照顧是母親選擇會不會生小孩的主因。
(自由時報記者侯承旭)
Publication Notes
TODAY'S WORDS 今日單字
1. survey n.
民意調查,調查 (min2 yi4 diao4 cha2, diao4 cha2)
例: The demographic survey found some interesting tendencies among lower income families.
(人口調查結果發現低收入家庭中有趣的傾向。)
2. average n.
平均 (ping2 jun1)
例: The average of 6, 8 and 16 is 10.
(六、八,與十六的平均是十。)
3. exhausted adj.
精疲力竭的 (jing1 pi2 li4 jie2 de5)
例: I am exhausted because I have not slept in three days.
(我極度精疲力竭是因為三天沒睡。)
Comments will be moderated. Keep comments relevant to the article. Remarks containing abusive and obscene language, personal attacks of any kind or promotion will be removed and the user banned. Final decision will be at the discretion of the Taipei Times.