Elite Japan nuclear workers race to stop meltdown 福島勇士 用生命對抗核災
The 180 emergency workers at Japan's crippled Fukushima Dai-ichi nuclear power complex are emerging as public heroes in the wake of a disaster spawned by an earthquake and a tsunami.
"I don't know any other way to say it, but this is like suicide fighters in a war," said Keiichi Nakagawa, associate professor of the Department of Radiology at the University of Tokyo Hospital.
Small teams of the still-anonymous emergency workers rush in and out for 10 to 15 minutes at a time to pump sea water into the plant's overheated reactors, monitor them and clear debris from explosions. Any longer would make their exposure to radioactivity too great.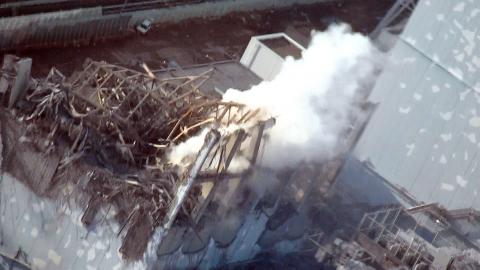 Photo of steam rising from the number three reactor of Fukushima Dai-Chi power plant in Okumamachi, Fukushima Prefecture is shown on Thursday. 福島縣福島第一核能發電廠三號反應爐 ,上週四冒出蒸氣。
Photo: EPA
照片:歐新社
Even at normal times, workers wear coveralls, full-face masks with filters, helmets and double-layer gloves when they enter areas with a risk of radiation exposure. Some of them carry oxygen tanks so they don't have to inhale any radioactive particles into their lungs.
The highest reading among various locations that had to be accessed by the workers hit 600 millisieverts, equal to several years of the daily exposure limit, according to statistics released by Tokyo Electric Power Company.
Millisieverts (msvs) measure exposure to radiation, which can cause cancer and birth defects. Severe exposure can cause burns and radiation sickness — nausea and vomiting and harm to blood cells.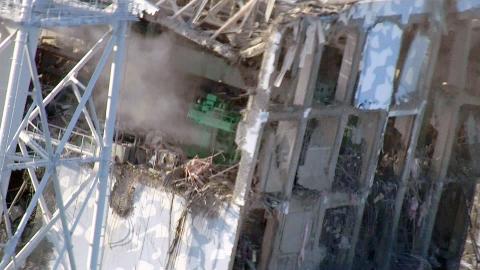 Photos of steam rising from the number four reactor of Fukushima Dai-Chi power plant in Okumamachi, Fukushima Prefecture is shown on Thursday. 福島縣福島第一核能發電廠四號反應爐,上週四冒出蒸氣。
Photo: EPA
照片:歐新社
Tony Irwin, an Australian-based nuclear consultant, said the normal dose for a radiation worker is 20 msvs a year, averaged over five years, with a maximum of 50 millisieverts in any one year.
"So they would be trying to rotate people to make sure they're within that limit. Now many countries have an emergency limit of 100 msvs a year," he said. "They'll wear radiation monitors, so they can see exactly what they're getting on a real time basis."
Yet on Wednesday, Japan's Ministry of Health Labor and Welfare raised the maximum legal exposure for nuclear workers to 250 msvs from 100 msvs. It described the move as "unavoidable due to the circumstances."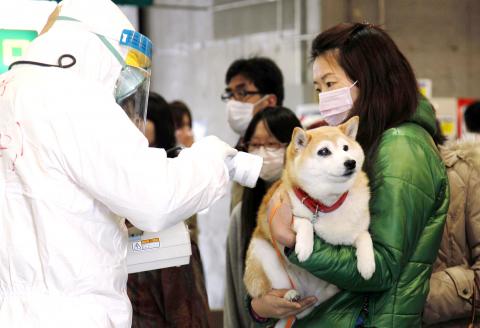 An official in a full radiation protection suit scans an evacuated woman and her dog with a Geiger counter to check radiation levels in Koriyama City, Fukushima Prefecture, about 60km west of the crisis-hit Tokyo Electric Power Co (TEPCO) Fukushima nuclear plant on Wednesday. 一位身著防輻射裝備的官員,上週三在福島縣郡山市用蓋革計數器偵測一位從災區撤離的女士與她的狗體內的輻射量。
Photo: AFP
照片:法新社
The workers' challenges last week have included struggling for hours to open a pressure-release valve and allow water to enter the reactors. When a worker left the scene for a short period, the water flow ceased and fuel for pumps bringing up the water ran out.
The workers also have had to walk around the area to measure radioactivity in each place they were supposed to enter, and remove contaminated debris. They also struggle with broken equipment and a lack of electricity.
"The thing I've been concerned about right now are the workers. They are at a tremendous risk," said Don Milton, a doctor who specializes in occupational health at the University of Maryland.
Milton noted reports that some workers have already shown signs of acute radiation sickness. That would be even worse than it sounds because "the sooner it comes on after exposure, the worse it is."
(AP)
福島第一核能發電廠一百八十位緊急救援工人,在地震與海嘯釀災後,已被視為公眾英雄。
東京大學醫學部放射線醫學科的中川慶一副教授表示:「應該沒有比形容他們如戰爭中視死如歸的勇士更好的說法了。」
這群無名緊急救援英雄以十到十五分鐘為單位,輪流趕進趕出廠房,替過熱反應爐灌注海水、監控它們並且清除爆炸後留下的殘骸。待超過限定的時間,就會讓他們暴露在過高的輻射劑量。
即便在平常時期,當工作人員進入有輻射汙染危險的區域,都會穿戴工作服、全罩過濾式頭罩、防護帽、與雙層手套。有些工人會攜帶氧氣筒以防止將任何放射性粒子吸入肺部。
根據東京電力公司的一份統計,在不同廠區偵測到最高的輻射值是每小時六百毫西弗,這是多年來每日暴露上限的總和。
毫西弗(msvs)表示偵測到的輻射暴露,它可致癌並且造成嬰兒缺陷。嚴重暴露可以造成灼傷與輻射病症─噁心、嘔吐與血液細胞受損。
澳洲核能顧問東尼‧爾文說核電廠工人每年不能接受超過二十毫西弗的核輻射。這是五年的平均值,而其中任何一年不可超過五十毫西弗。
他說,「這就是為什麼這些人要輪班,以確保他們能維持在規定的暴露限度內。現在許多國家已將緊急時期的限度調高到每年一百微西弗。」他說,「他們穿戴輻射偵測器,這樣可以即時看到確切的輻射值。」
日本勞動和福利健康部週三把工人允許接收的最大輻射量從原來的一百毫西弗提高到兩百五十毫西弗。此舉被描述為「因情勢所需,在所難免。」
這些工人上週的挑戰,包含耗時數小時開啟洩壓閥讓水進入反應爐的任務。當工人短暫離開現場,注水就會停止且打水幫浦的燃料也會用盡。
工人也要巡視廠區,偵測他們每個該去地方的輻射量,並且清除受(輻射)污染的殘骸。他們要與破損機器抗衡,還要克服沒有電力的工作環境。
專攻職業傷害的美國馬里蘭大學博士唐‧米爾頓說:「我一直以來擔憂的就是工人。他們冒著極大風險。」
米爾頓提醒一些報導說,有些工人已出現急性輻射症狀。實際狀況比聽起來還糟,因為「越早出現症狀,越不樂觀。」
(美聯社/翻譯:林亞蒂)
Publication Notes
TODAY'S WORDS 今日單字
1. clear v.
清除 (qing1 chu2)
例: Look at the mess on your desk, you'll have to clear it before we can start working.
(看看你亂七八糟的書桌上,你將必須清除它我們才能開始工作。)
2. average n.
平均 (ping2 jun1)
例: If we look at his 100 goals averaged out over four seasons, he has scored an average of 25 goals each season.
(如果我們看他四季踢進一百顆球,平均每季就踢進二十五顆球。)
3. acute adj.
急性的 (ji2 xing4 de5)
例: It is very serious, he is in acute need of medical attention.
(情況嚴重,他急需就醫。)
Comments will be moderated. Keep comments relevant to the article. Remarks containing abusive and obscene language, personal attacks of any kind or promotion will be removed and the user banned. Final decision will be at the discretion of the Taipei Times.