Colonial era Buddhist engraving found on demolition site 拆房發現日治「托腮盤腿」觀音石碑
A stone tablet dating from the Japanese colonial era was recently discovered during the demolition of an old property in Kaohsiung. The tablet features an engraving of Guanyin, the Buddhist goddess of mercy and compassion, sitting in a relaxed posture. The engraving is said to invigorate all who see it. Because the unusual discovery is likely to be classified as either a historical monument or artifact, the Department of Cultural Affairs ordered the landowner to immediately suspend work on the site, and historians and academics have been invited to appraise the tablet.
An official at the Department of Cultural Affairs said that the effigy of the relaxed Guanyin is also known as Cintamanicakra Avalokitesvara. It is completely different to effigies of Guanyin normally found in Taiwan's temples, and probably belongs to a branch of Japanese Buddhism. The Department of Cultural Affairs is currently looking for experts on Japanese Buddhism to shed light on the discovery. The sculptor's name is missing from the engraving so at the moment there's no way of assessing its artistic value, and only its historical value can be assessed at the moment.
How the tablet is managed in future will depend on whether it is deemed to be a historical monument or an artifact. If it is deemed to be a historical monument, it will either remain at the current site or be moved elsewhere. If it's deemed to be an artifact, it will be moved to a museum and put on display.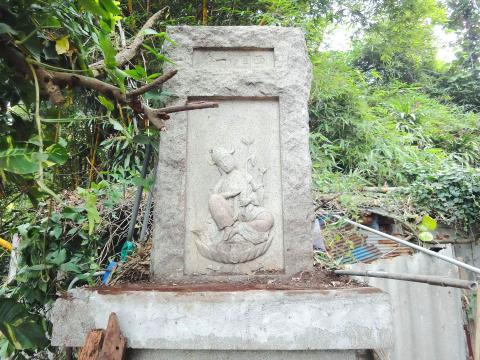 A stone tablet featuring an engraving of Guanyin, the Buddhist goddess of mercy and compassion, is pictured on a Kaohsiung demolition site on Dec. 11. 這張十二月十一日攝於高雄某拆除工地的照片,是石碑上雕刻的觀音像,觀音代表慈悲與憐憫。
PHOTO: YANG CHING-CHING 照片:自由時報記者楊菁菁
Senior historian Hu Chu-chuan said that he isn't sure of the origin of the tablet, but that such effigies are common in Japanese Buddhism. He said that Japanese Buddhism has many branches, and it is normal to find such Buddhist ima-ges in mountain temples and beside quiet mountain trails.
Although the gender of Guanyin images generally isn't specified, Hu said this particular one has an element of femininity about it. A touch of pink decoration on the crossed legs makes this carving something seldom seen in Taiwanese Buddhism.
The tablet stands on a 3m-high plinth, half of which is buried underground. There has been speculation that the tablet is a gravestone, and perhaps a body is buried below. The tablet might also mark the location of a Buddhist place of worship, but at the moment there is still no way of knowing for certain.
(LIBERTY TIMES, TRANSLATED BY TAIJING WU)
高雄市近日拆除一間老舊房舍,卻意外發現日治時期石碑,上面刻劃「托腮盤腿」觀音,美妙神韻讓觀者如沐春風。由於這個不尋常的發現牽涉到古蹟或古物的保存,文化局要求地主立即停工。目前正尋求文史工作者及歷史學者鑑定。
文化局官員表示,這尊「托腮盤腿」觀音像也稱為聖如意輪觀音,形象與台灣廟宇中的觀音像截然不同,應該是日本佛教獨樹一格發展。文化局正在尋找瞭解日本佛教的學者鑑定。石碑上沒有雕刻家的署名,無法判別其藝術價值,目前只能鎖定歷史價值來討論。
無論是古蹟還是古物,都有不同的處理方式。若經鑑定為古蹟,可現地保存或移地保存兩種方式;若是古物就可移到博物館典藏展覽。
資深文史工作者胡巨川表示,他不清楚「托腮觀音」的原由,以日本佛教來看,這是很自然也很普遍的雕像,日本佛教有分宗分派,尤其是蓋在山上修行的道觀,幽靜的步道兩旁都是不同型態的佛像,而且神情活潑。
雖然觀音像的性別大多中性,但他說,例如這尊「托腮盤腿」觀音展現女性俏皮的一面,盤腿處還特別有粉紅釉彩,呈現觀音像穿著上的變化,這都是台灣佛教界中難得一見。
石碑下連著石塔,塔高三公尺,一半掩在土石中,只露出塔的上半部,因此究竟這石碑是否為墓碑?塔下是否有埋葬往生者?還是修行者建立的佛教觀世音膜拜上香的地點,目前還無法釐清。
(自由時報記者楊菁菁)
Publication Notes
TODAY'S WORDS 今日單字
1. demolition n.
拆除 (chai1 chu2)
例: The demolition of the old dormitory is scheduled to begin today.
(舊宿舍預計今天拆除。)
2. branch n.
分支 (fen1 zhi1)
例: Harry's family belongs to an orthodox branch of Judaism.
(哈利的家人屬於猶太教中的正宗教義分支。)
3. femininity n.
女性特質 (nu3 xing4 te4 zhi2)
例: The summer collection is all about femininity and sexiness.
(夏季時裝焦點在女性的特質與性感魅力。)
Comments will be moderated. Keep comments relevant to the article. Remarks containing abusive and obscene language, personal attacks of any kind or promotion will be removed and the user banned. Final decision will be at the discretion of the Taipei Times.