Sunday Science: Balloon rockets 週日科學:氣球火箭
This week we're going to build a rocket which will transport cargo and demonstrate Newton's third law. This experiment is mess-free, but be sure to be careful where you construct it. Make sure that it's not in a place where people might walk into it.這一週,我們要來製造火箭。這種火箭可以用來運貨,也可以證明牛頓第三運動定律喔。實驗過程不會一團亂,但還是要慎選製造火箭的地點,不要在別人會經過的地方造火箭喔!
Balloon rockets氣球火箭
What you will need
Sticky tape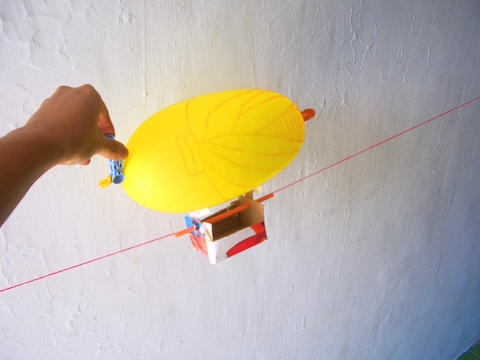 PHOTO: CATHERINE THOMAS, TAIPEI TIMES
A balloon (a long skinny one or shiny one works best)
A clothes peg
A strawv
An old cereal box (or some thin cardboard/stiff paper)
A paper or plastic cup
A long piece of fishing line (Be very careful with this as it is very hard to see once hung up. Smooth string will also work fine.)
Some small items to use as cargo
Scissors
A stopwatch or a watch with a second hand (optional)
*Blow up the balloon to check how big it is. Secure the mouth with the clothes peg.
*Using the cereal box, tape and straw, build a small container to carry your cargo. Think about the size of your balloon and cargo. NOTE: The straw will have the fishing line threaded through it to create the track for your rocket, so include it in a way that allows this!
*Thread the fishing line through the straw.
*Attach the container to the balloon using the tape. Don't use much tape on the balloon.
*Take one end of the fishing line and tape it to the wall at around chest height (be careful, the tape might remove paint from walls.)
*You can either attach the other end of the line to something or hold it. NEVER leave fishing wire up when you are not there. It can cause accidents.
*Put your cargo in the container. Unclip the clothes peg and watch your rocket go. If you have problems check the Further Ideas box.
所需物品:
一個膠布

一個氣球(長條狀或表面磨光的為佳)

一只衣夾子

一根吸管

一個不要的麥片盒(或是薄的厚紙板)

一個紙杯或塑膠杯

一條長的釣魚線(小心使用,因為釣魚線懸掛後就不容易看清楚;你也可以使用圓滑的硬線)

充當貨物的一些小物品

剪刀

一只碼錶或是有秒針的手錶(非必要)

*把氣球吹到適當大小,再用衣夾子把氣球口夾緊。

*用麥片盒、膠布和吸管製造一個裝貨物的小容器。想一想氣球與貨品應該多大才適合。(註︰釣魚線會通過吸管,做為氣球的軌道,所以要想一想吸管的位置該如何擺置!)

*將釣魚線穿過吸管。

*用膠帶把容器貼到氣球上。別貼太多膠帶在氣球上。

*拿起釣魚線的一端,把它貼在牆上距你胸部高度的地方。(小心膠帶可能會讓牆壁掉漆。)

*在釣魚線的另一端繫上物品,或是用手抓住。當你不在場時,絕對別把釣魚線懸起,可能會發生意外。

*把貨物放入容器中。鬆開衣夾子,看火箭飛衝。

(翻譯︰賴美君)
Publication Notes
Vocabulary 今日單字
1. rocket n.
火箭(huo3 jian4)
2. Newton n.
牛頓(niu2 dun4)
3. construct v.t.
建造(jian4 zao4)
4. cargo n.
貨物(huo4 wu4)
5. secure v.t.
使牢固(shi3 lao2 gu4)
6. container n.
容器(rong2 qi4)
7. thread v.i./v.t.
穿(線等)(chuan1)
8. compress v.t.
壓縮(ya1 suo1)
9. particle n.
粒子(li4 zi3)
10. reaction n.
反應(fan3 ying4)
Publication Notes
What's the Science?科學原理
The air in the balloon is compressed. Air particles don't like to be squeezed together in a small space, so when they have the chance to escape into a larger, less-crowded space they do so very quickly. This causes the ballon to shoot off. Newton's third law is "for every action there is an equal and opposite reaction." So the action of the air escaping out of the ballon makes the reaction — the balloon and cargo being pushed forward — happen.
氣球內部的氣壓很大。空氣粒子不喜歡一起擠在小空間裡,所以當有機會跑到更寬廣的空間時,就會迅速跑出來。這就是氣球飛衝的原因。牛頓的第三運動定律為「作用力與反作用力」,所以當空氣跑出氣球時,就會產生反作用力︰氣球和貨物會一起向前推進。
Publication Notes
Science Journal 科學日誌
What powers a real rocket? How do you think you can power your rocket without using any gas or electricity? How much weight do you think your rocket might be able to carry? How do you expect the rocket to behave if it is carrying something heavy? Something light? Why do you think that you need to use fishing wire or smooth string for this experiment? Do you think that changing the shape or the size of the balloon will change the way the rocket acts?
真正的火箭動力為何?你認為可以用汽油或電力來發動你的火箭嗎?你覺得自己的火箭可以承擔多大的貨重?假如你的火箭搭載重物,你預計它會如何飛起?搭載輕物呢?你認為在實驗中使用釣魚線或圓滑硬線的原因是什麼?你認為改變氣球的形狀或大小會改變火箭飛行的狀況嗎?
Comments will be moderated. Keep comments relevant to the article. Remarks containing abusive and obscene language, personal attacks of any kind or promotion will be removed and the user banned. Final decision will be at the discretion of the Taipei Times.