American clothes shoppers buy more online 美國人網路購衣 呈成長趨勢
Americans spent more online on clothing than on computers for the first time in history, a survey showed on May 14.
The survey conducted by National Retail Federation's online unit, Shop.org, found apparel, accessories and footwear sales hit US$18.3 billion (NT$604 billion) in 2006, ahead of the long-running sector leader of computer hardware and software, with sales of US$17.2 billion (NT$567 billion).
"Apparel retailers have overcome a number of hurdles to encourage shoppers to buy clothing and accessories online," said Scott Silverman, executive director of Shop.org.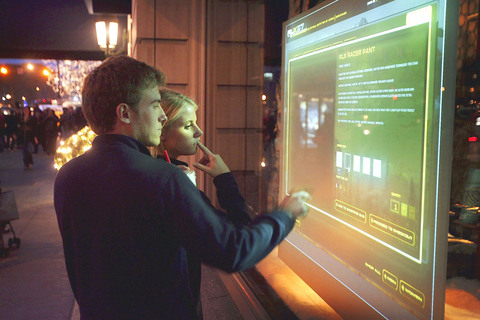 Drew Johnson, left, and Mack Sawicki, right, try "cyber shopping" with an interactive window display outside the Ralph Lauren store along the Magnificent Mile shopping district in Chicago, Illinois, Nov. 27, 2006.去年十一月二十七日在伊利諾州芝加哥市的「華麗一英里」購物區,朱爾.強生(左)與瑪可.索維琪(右)在Ralph Lauren的商店外,試著用互動展示窗進行「網路購物」。
PHOTO: AFP
"Retailers are doing such a great job online that in some cases it's easier to find and buy clothing on the web than it is in a store."
The report said apparel retailers have encouraged online sales through free or discounted shipping and easy exchange policies. They also are using technologies on their sites where customers can zoom and rotate merchandise or see the item in different colors before buying.
The survey predicted online apparel sales in 2007 will make up around 10 percent of all clothing sales.
According to a report prepared by Forrester Research, 2007 online sales including travel are expected to rise 18 percent to US$259.1 billion (NT$8.5 trillion) after a 25 percent jump in 2006.
"As consumers flood the Web to purchase merchandise and research products, online retail is moving full speed ahead," said Sucharita Mulpuru of Forrester Research.
Another sign that e-commerce has come of age is that profitability throughout the sector has stabilized. Eighty-three percent of respondents to the survey reported profitability and 78 percent said they were more profitable than in 2005.(AFP)
五月十四日出爐的調查顯示,美國人上網購衣所花的錢破天荒比上網買電腦商品還多。
美國零售業聯盟的網站Shop.org之調查發現,去年衣服、配件與鞋類的網路銷售額達到一百八十三億美元(新台幣六千零四十億元),超越了一向獨占鰲頭的電腦軟硬體類,其銷售額為一百七十二億美元(新台幣五千六百七十億元)。
Shop.org執行主任史考特.席爾曼說︰「衣服零售商已克服萬難,鼓勵消費者上網購買衣服與配件。」
「零售商的網路成效良好,所以有時候上網尋得並購買衣飾比在商店容易。」
報告中說,衣服零售商透過免運費、運費優惠或換貨方便等政策,鼓勵民眾上網消費。他們也在網站上運用科技,讓消費者可以縮放並旋轉商品圖片,或在購物前觀看商品的其他顏色。
這份調查預測,今年上網購衣的銷售額將佔總服飾銷售的一成。
根據市場研究公司Forrester Research的報告,去年包含旅遊商品在內的網路銷售暴漲25%後,今年預計將成長18%,達到兩千五百九十一億美元(新台幣八兆五千億元)。
Forrester Research的蘇察莉塔.穆普拉說︰「消費者湧入網站購買商品與研究產品時,線上零售就全速衝刺。」
電子商務時代已到來的另一個象徵就是,服飾業的營利已趨於穩定。調查中83%受訪者都說有獲利,且有78%說自己的生意比二○○五年時好。
(法新社/翻譯︰賴美君)
Publication Notes
TODAY'S WORDS 今日單字
1. apparel n.
服飾 (fu2 shi4)
例: Nike apparel has been selling well lately as people rush to buy their favorite team's jerseys and hats.
(耐吉服飾最近銷路創佳績,民眾爭相購買最愛球隊的衣服與帽子。)
2. hurdle n.
障礙 (zhang4 ai4)
例: The main hurdle to getting this job is my lack of experience.
(我得到這份工作與否的主要障礙是缺乏經驗。)
3. zoom v.i. /v.t.
縮放 (suo1 fang4)
例: The director told the cameraman to zoom in on the main actor during this scene.
(導演告訴攝影師,這一景要給男主角特寫。)
4. stabilize v.i. /v.t.
呈穩定 (cheng2 wen3 ding4)
例: The market was volitile for a week, but quickly stabilized.
(股市動盪了一星期,但很快就回穩。)
Publication Notes
Say What? 說說看
flood 淹沒
As used in this article, flood is a verb that means to cover or to fill: "My house was flooded with guests during my birthday party." The most common use of flood is to describe when water, normally from a heavy rain, rises and covers the land. "When the typhoon came last week, even some third floor apartments were flooded."
Flood can also describe being overwhelmed after receiving too much of something: "Our office was flooded with packages after the mailman made his delivery."
本文中「flood」當動詞用,意指淹沒或填滿。例如︰「我在家中辦生日派對,屋子裡都是客人」。「flood」最普遍的用法就是描述大水(往往是大雨造成)暴漲淹沒土地。例如︰「颱風上週來襲時,甚至連三層樓的公寓都淹水」。
「flood」也可以用來描述東西排山倒海而來︰「郵差送件來後,我們辦公室快被包裹淹沒」。
Publication Notes
OUT LOUD 對話練習
Courtney: Do you want to go shopping this weekend?
Kristen: No thanks. I buy most of the things I need online now.
Courtney: Even clothes? I always thought it was too hard to tell if they will fit without trying them on.
Kristen: In some cases that's true, but the Web site I use for clothes provides a lot of measurements, which helps.
Courtney: Imagine that. Make sure to e-mail me that link.
寇特妮:你週末想去購物嗎?
克莉絲坦︰沒打算,謝謝。我現在幾乎都上網買東西。
寇特妮:連衣服也是嗎?我一直覺得沒試穿很難知道合不合身。
克莉絲坦︰有時候的確如此,但我上的購衣網站會提供衣服的三圍尺寸,還頗有幫助的。
寇特妮:真不可思議。要寫電子郵件告訴我網址喔。
imagine that 真不可思議
If someone says imagine that, he means whatever you just said is very surprising or incredible. For example: "John said he was going on a trip to 50 different countries next year. Imagine that."
假如有人說「imagine that」,是指你提到的事情讓人相當意外或不可思議。例如︰「約翰說他明年要到五十個國家旅行。真不可思議」。
Comments will be moderated. Keep comments relevant to the article. Remarks containing abusive and obscene language, personal attacks of any kind or promotion will be removed and the user banned. Final decision will be at the discretion of the Taipei Times.