Great food in space 太空中的美食?
Astronauts aboard the International Space Station (ISS) have been feasting on gourmet food designed by top French chef Alain Ducasse, the European Space Agency (ESA) reported Friday.
Ducasse, working with ESA and France's National Centre for Space Studies (CNES), created special dishes that could be used for "celebratory meals" for long-term missions in space.
Last Sunday, the ISS crew got their first taste of the five-star offerings, which were packaged in tins and prepared to strict hygiene standards, ESA said in a press release. All the crew had to do was heat the tins in the ISS' oven.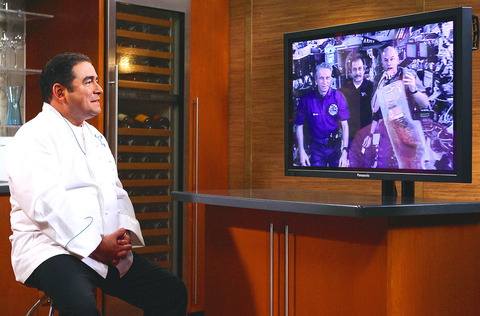 Emeril Lagasse, the first famous chef to make food for space, talks to the ISS crew. 首位製作太空食物的艾默里•萊加斯和國際太空站的航員對談。 (照片:美聯社)
PHOTO: AP
The main dishes included quails roasted in Mardian wine, red tuna with candied Menton lemon, "Riviera-style swordfish" and breast of duck with capers.
For dessert, Ducasse came up with semolina cake with dried apricots, rice pudding with candied fruit and a "space" version of a cake called far Breton, which originates in France's western region of Brittany.
German astronaut Thomas Reiter, who arrived aboard the orbiting outpost five months ago, said the food was exquisite, and pointed out that good meals provided astronauts with an important morale boost.
"Food is something which gives us a break. It is something where we find some joy and we are really trying to take some time for our meals," said Reiter.
He regretted, though, one missing item: "It would taste much better if we had some wine with it as well!"
Ducasse's menus contrast with the first food consumed in space by Soviet cosmonauts and US astronauts around 45 years ago, which were bland mixes squeezed out of aluminium tubes like toothpaste. (AFP)
歐洲太空局星期五指出,國際太空站的太空人已開始享用由法國頂級廚師亞倫.杜卡斯所精心烹調的美食。
杜卡斯和歐洲太空局,以及法國國家太空研究中心合作,製作出「慶典料理」等級的特殊膳食,供長期太空任務使用。
歐洲太空局在新聞稿中表示,上週日國際太空站全體人員首次品嚐到以罐頭包裝、經過嚴格衛生標準核准的五星級禮遇。太空站的太空人只要用國際太空站裡的烤箱加熱罐頭即可食用。
主餐包括馬迪安酒烘鵪鶉、紅鮪魚搭配蒙頓檸檬糖、里維耶拉式劍魚和鴨胸佐酸豆。
甜點方面,杜卡斯創造出粗麥蛋糕加乾杏仁、米布丁搭配水果糖,以及太空版的「far Breton(不列塔尼布丁蛋糕)」。這種蛋糕起源自法國西部不列塔尼區。
五個月前才登上繞軌前哨站的德國太空人湯姆斯.李特表示伙食很精緻,並指出美味的餐飲是太空人重要的士氣來源。
李特說︰「食物能給我們喘息的空間,讓我們能在其中找到一點快樂。我們真的希望可以花一點時間用餐。」
不過他感嘆少了一樣東西︰「若能搭配一些酒會更美味!」
杜卡斯的菜單,和四十五年前蘇聯及美國的太空人初次在太空享用的餐點不太一樣,相較之下,他們吃的食物是從牙膏般的鋁管擠出來,平淡又無味的混合物。(法新社╱翻譯︰鄭湘儀)
Publication Notes
Today's Words 今天單字
1. quail n.
鵪鶉 (an1 chun2)
例: If you go quail hunting, be sure to shoot carefully.
(獵鵪鶉時請謹慎開槍。)
2. exquisite adj.
精緻的 (jing1 zhi4 de5)
例: The Christmas dinner was an exquisite meal, with dozens of dishes.
(聖誕晚餐是擁有十幾道菜色的精緻餐點。)
3. consume v.i. /v.t.
消耗 (xiao1 hao4)
例: I will try to consume as little electricity as I can.
(我會儘可能減少用電量。)
4. bland adj.
枯燥乏味的 (ku1 zao4 fa2 wei4 de5)
例: The decorations in the room were bland, and quite boring.
(房間的裝潢枯燥且有點無趣。)
Comments will be moderated. Keep comments relevant to the article. Remarks containing abusive and obscene language, personal attacks of any kind or promotion will be removed and the user banned. Final decision will be at the discretion of the Taipei Times.