Globe trotting: Belgium 世界走透透 - 比利時
The Kingdom of Belgium is world-renowned for its beers, chocolates, waffles and gothic cathedrals. Read on to find out more about the country which is home to the European Union and NATO and is sometimes referred to as the cockpit of Europe.
比利時王國以啤酒、巧克力、鬆餅與哥德式大教堂享譽全球。讓我們一起來發掘這個歐洲聯盟與北大西洋公約組織總部所在、有時更被冠上「歐洲戰場」的國家之更多風貌。
A closer look 說古論今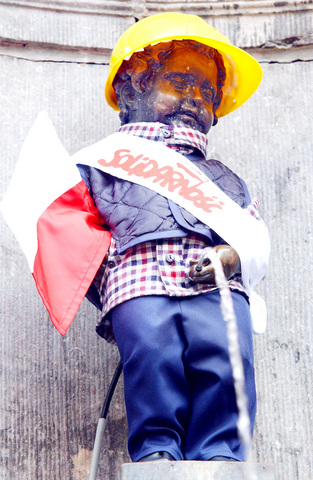 The Manneken Pis, Brussels, dressed up to represent the ship workers of Gdansk, Poland. September 14, 2005. 今天九月十四日,布魯塞爾的尿尿小童裝扮成波蘭格但斯克的造船工人。 (照片:美聯社)
PHOTO: AP
The region which currently forms Belgium has been home to many famous artists from the Renaissance and Baroque periods. There is a gothic cathedral or church in every one of its major cities and towns. It is also famed for its examples of Romanesque, Renaissance and Baroque architecture. The inventor of the saxophone, Adolphe Sax also hails from Belgium. Another famous export is "The Adventures of TinTin," a cartoon which was first published in the French Language newspaper Le Vingtieme Siecle in 1929.
However what draws most tourists to Belgium is its beer. A quirk in its licensing laws forbade the selling of spirits in pubs until as recently as the 1980's. The result was lovingly crafted beers which have become world famous for their taste, fermentation methods and strength. Belgium boasts the largest locally-produced variety of beers in the world with over 500 regulars and another 500 one-offs. Each of these has its own special glass, selected carefully so that the shape brings out the best in taste and aromas. Especially famous are the Trappist beers which are brewed from scratch in one of only seven authorized monastaries.
No trip to Belgium would be complete without visiting a local cafe on a winding street, sitting at table on the pavement sipping on a local beer and perhaps indulging in the national dish of mussels or steak with French fries (which the Belgians lay claim to the invention of) and lettuce.
現今比利時境內的這個地區孕育了許多文藝復興與巴洛克時期的知名藝術家。每一個重要城市與鄉鎮都擁有一座哥德式大教堂。比利時也以羅馬式、文藝復興與巴洛克時期的建築典範聞名。發明薩克斯風的阿道夫.薩克斯也是比利時人。另一個風靡全球的外銷品是連環漫畫《丁丁歷險記》,它於一九二九年首度刊登在法文報紙《小二十世紀報》。
不過,最吸引遊客來到比利時的就是啤酒。早在一九八○年代以前,販酒法規竟然禁止酒吧販售烈酒。結果是,釀造精良的啤酒因其口感、發酵方式與濃度享譽國際。比利時以生產全球種類最繁多的國產啤酒自豪,有五百多種一般啤酒與五百多種特殊啤酒。每一種啤酒都有精心挑選的專屬杯子,如此一來,杯子形狀才能將啤酒的口感與風味發揮到淋漓盡致。其中,尤其以在全國僅有七家獲得釀酒牌照的修道院之一所釀造的「修道院啤酒」最聞名遐邇。
到比利時旅遊,若未造訪當地蜿蜒巷弄中的咖啡館、坐在路邊桌旁品嚐當地啤酒,或是來道貽貝或佐以薯條(比利時人宣稱是薯條始祖)與萵苣的牛排等當地菜餚,就不能說是盡興而歸了。 (翻譯︰賴美君)
Publication Notes
About Belgium 國家概況
Size: 30,528 km2 or 6/7 the size of Taiwan
Location: Western Europe
Border countries: France, Germany, Luxembourg, Netherlands
Capital: Brussels
Population: About 10.5 million
Languages: Dutch, French and German
Government: Federal parliamentary democracy under a constitutional monarchy, compulsory voting system.
Currency: Euro; 1 euro = NT$ 42
面積:三萬零五百二十八平方公里,約為台灣的七分之六。
位置:西歐
鄰國:法國、德國、盧森堡與荷蘭
首都:布魯塞爾
人口:約一千零五十萬人
語言:荷蘭語、法語和德語
政體:君主立憲下的聯邦內閣制民主,強制投票制。
貨幣:歐元,一歐元約等於新台幣四十二元。
Comments will be moderated. Keep comments relevant to the article. Remarks containing abusive and obscene language, personal attacks of any kind or promotion will be removed and the user banned. Final decision will be at the discretion of the Taipei Times.