Graffiti: making a comeback 塗鴉重現江湖
For decades, a war has been fought over graffiti between "taggers," the people who write graffiti, and city authorities. Now that graffiti has its own exhibition in a New York museum, it looks like graffiti can finally come in off the streets.
Through Sept. 3, the Brooklyn Museum is organizing a show called "Graffiti" featuring 22 giant works painted on everything from fabrics to subway doors. All the pieces were submitted by collector Sidney Janis, who gathered them over the past decade.
The exhibit also features two blank walls for visitors to experiment with their own graffiti designs.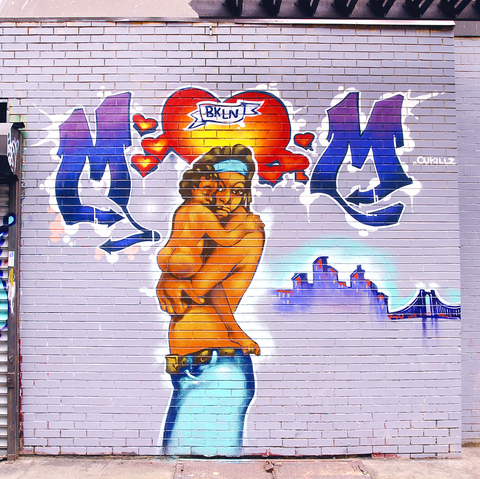 Graffiti on the side of a building in northern Manhattan, New York. 紐約曼哈頓北部一棟建築側面的塗鴉。 (照片:法新社)
PHOTO: AFP
"Graffiti has become a legitimate art form, appearing in galleries and private collections. Witness the transformations," the museum announces in a statement greeting visitors.
For the Brooklyn Museum, this exhibition is also a chance to bring new people into the museum.
"It's part of the museum's mission to reach out to all of our audience, not just the traditional museum audience, but to reach out to a new audience that might not necessarily think of coming to the museum," said spokeswoman Sally Williams.
Brooklyn Museum is trying "to serve the underserved audience," she said. Graffiti has been a popular sight in New York since the 1960s, but it became much less common during the 1990s, and has all but vanished from the subway system after the city covered subway cars in a coating that spray-paint won't stick to.
But graffiti has made a small comeback in the past couple of years after taggers started making their markings with acid -- forcing city hall to pass a law making it illegal to sell acid to anyone under 21.
(AFP)
數十年來,「太哥」(塗鴉者)和市府當局之間的戰火不斷,如今紐約一座博物館卻舉辦了塗鴉展,看來塗鴉終於能登大雅之堂。
展期至九月三日為止,布魯克林博物館籌辦一場名為「塗鴉」的展覽,由收藏家西德妮?珍妮絲提供過去十年的收藏,展出二十二幅大型作品,作畫材料從紡織品到地鐵門,無所不包。
展場也特別設置兩面空白牆壁供參觀民眾實驗自己的塗鴉設計。
博物館在一項迎賓的聲明中宣示:「塗鴉已然成為正統的藝術形式,各畫廊和私人均有收藏。讓我們一同見證藝術轉型的過程」。
對布魯克林博物館來說,這次展覽也為博物館帶進新的群眾。
女發言人莎莉?威廉絲表示:「這是博物館的任務之一,把觸角延伸至我們所有的群眾,不只是傳統的博物館群眾,更要觸及到不見得想進博物館的新群眾。」
她指出,布魯克林博物館試圖「服務被冷落的觀眾」。自一九六○年代以來,塗鴉一直是紐約市廣受喜愛的風景,但一九九○年代期間,塗鴉變得極不常見,市府在地鐵車廂塗上噴漆無法黏附的漆層後,塗鴉幾乎從地鐵交通系統中消失。
但是過去幾年來,「太哥」開始以酸劑當顏料作畫後,塗鴉便悄悄地捲土重來,迫使市府通過一項法案,禁止販售酸劑給未滿二十一歲之青年。
(法新社翻譯︰鄭湘儀)
Publication Notes
Today's Words 今天單字
1. exhibition n.
展覽 (zhan3 lan3)
例: The city of LA hosted a food exhibition to show the world what its restaurants had to offer.
(洛杉磯市藉舉辦美食大展向世界證明該市餐廳的真本事。)
2. submit v.i./v.t.
呈遞 (cheng2 di4)
例: Please submit your papers by Monday.
(請在星期一前繳交你的作業。)
3. legitimate adj.
合法的 (he2 fa3 de5)
例: Unless you have a legitimate excuse, you must take the exam.
(除非你有正當理由,否則必須參加考試。
4. witness v.t.
目擊 (mu4 ji2)
例: I witnessed the accident, so I had to talk to the police.
(我親眼目睹那場意外,所以必須和警方談話。)
Comments will be moderated. Keep comments relevant to the article. Remarks containing abusive and obscene language, personal attacks of any kind or promotion will be removed and the user banned. Final decision will be at the discretion of the Taipei Times.