Brush your teeth 刷牙
Today, everybody knows that we have to brush our teeth. But not too long ago, that was a new idea.
The first toothbrushes weren't made of plastic like the toothbrushes today are. Back in the 1800s, they were made of animal bones and hair. As you might imagine, they didn't work very well. In 1938, an American company made the first plastic toothbrush.
People started using floss a long time before they started brushing their teeth. Scientists have found teeth from humans who lived thousands of years ago that show that some of them flossed their teeth.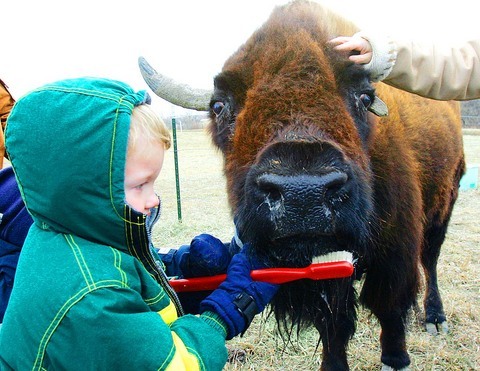 A child brushes a bison's teeth in the US state of Nebraska. 在美國內布拉斯加州,一名孩童幫一頭野牛刷牙。 (照片:美聯社)
PHOTO : AP
As for toothpaste, people have made it out of all kinds of different ingredients throughout history. In America in the 1700s, some people made toothpaste out of bread, and in the 1800s they made it out of charcoal! (Marc Langer, staff writer)
現今,人人都知道要刷牙。不過這可是個在不久之前才出現的新點子。
世上第一隻牙刷並非像今日的牙刷一樣是由塑膠製成的。回溯至十九世紀,牙刷是用動物骨骸與毛髮製成的。你可以想像,它們並不是很好用。一九三八年,美國一家公司率先推出世界上第一隻塑膠牙刷。
早在人們開始刷牙前,就已使用牙線。科學家由數千年前人類的牙齒發現,有些人用牙線剔牙。
至於牙膏,縱觀古今歷史,人們曾使用五花八門的材料來製造牙膏。十八世紀時,有些美國人利用麵包來製造牙膏,而在十九世紀,人們則是用木炭來製造牙膏。
(翻譯:賴美君)
Publication Notes
Today's Word 今日單字
1. floss n.
牙線 (ya2 xian4)
例:I use floss to clean my teeth every night.
(我每晚都用牙線來清潔牙縫。)
2. ingredient n.
材料 (cai2 liao4),原料 (yuan2 liao4)
例:Before we bake a cake, we need to go to the store to buy the ingredients.
(烤蛋糕之前,我們必須先到商店買材料。)
3. charcoal n.
木炭 (mu4 tan4)
例:Sometimes people cook meat by putting it over burning charcoal.
(有時候人們會把肉放在燃燒的木炭上來燒。)
Publication Notes
Quick Quiz
複習測驗
1. In the 1800s, toothbrushes were made of ...
a. charcoal.
b. bone.
c. silk.
d. plastic.
2. A(n) ___ company made the first plastic toothbrush.
a. American
b. French
c. Australian
d. Chinese
Comments will be moderated. Keep comments relevant to the article. Remarks containing abusive and obscene language, personal attacks of any kind or promotion will be removed and the user banned. Final decision will be at the discretion of the Taipei Times.