International visitor numbers rose 7% in 2019
A total of 11.84 million international tourists visited Taiwan last year, a 7 percent increase over 2018, the Tourism Bureau said yesterday.
The growth was the highest since a 23.63 percent rise in 2014 and was largely due to the diversification of the sources of international tourists, it said.
The number of Chinese tourists rose by 0.5 percent to 2.71 million, thanks to a robust increase early in the year, despite Beijing's move in August to block its nationals from visiting Taiwan.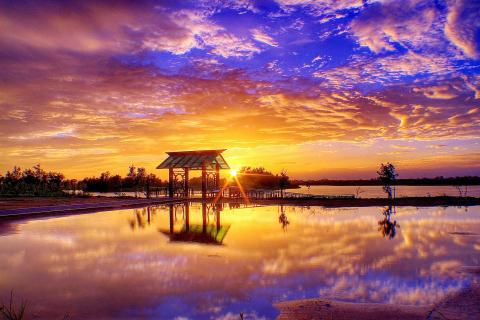 The Yiwu Wet Pond, known as the Sun Moon Lake of Yunlin County, is pictured in an undated photograph.
Photo courtesy of the Yunlin County Tourism and Culture Bureau
The number of Japanese visitors surpassed 2 million for the first time on Dec. 9, while the number of South Korean tourists also increased, the bureau said.
Tourists from 18 nations covered by the government's New Southbound Policy — countries in Southeast and South Asia, as well as Australia and New Zealand — increased by about 6 percent, it said.
"It is not an easy task for the nation to see international visitors grow from 11.07 million in 2018 to 11.84 million last year, as it faced fierce competition from other nations," the bureau said.
"We were steadily developing new sources for international visitors and increasing ways to market our tourism resources. We were also strengthening our competitiveness by having offices set up in markets with high potential, and expanding our cooperation with partners both at home and abroad," it said.
Among the measures aimed at increasing international visitor numbers was a program to provide subsidies for 38 charter flights from Japan and South Korea to Hualien in the fourth quarter, which consequently helped establish direct flights to Taiwan from South Korea's Gangwon Province and Japan's Matsuyama.
The bureau set up branch offices in Ho Chi-Minh City and London, and tour service departments in Moscow, Jakarta, Vancouver, Auckland and Sydney, while bilateral meetings were held with Japan and South Korea in which tour operators discussed plans to increase tourists traveling between the nations, the bureau said.
As part of its efforts to help promote cruise ship tours to Taiwan, it signed a research partnership program with National Kaohsiung University of Hospitality and Tourism, National Kaohsiung University of Science and Technology and National Taiwan Ocean University, the bureau said.
In addition, it has been working with the Asia Cruise Cooperation to promote cruise ship tours to the nation around the world, it added.
"We have integrated resources from different government agencies to highlight the diversity of the nation's tourism resources, the bureau said.
"They include the National Performing Arts Center, the Taiwan Railways Administration, the ministries of the interior, education and economic affairs, as well as Taiwan International Port Corp," it added.
Comments will be moderated. Keep comments relevant to the article. Remarks containing abusive and obscene language, personal attacks of any kind or promotion will be removed and the user banned. Final decision will be at the discretion of the Taipei Times.