Kaohsiung mayor slammed for not inspecting flooding
Kaohsiung Mayor Han Kuo-yu (韓國瑜) drew criticism yesterday when, after parts of the city had become flooded due to heavy rain on Friday, Deputy Kaohsiung Mayor Lee Ssu-chuan (李四川) stepped in for him to inspect most of the city's affected areas.
The city was pummelled by heavy rain on Friday afternoon, with rainfall in some areas reaching 126.5mm, but the floodwater receded from most of the roads in two to three hours, the city government said, adding that the rainfall eased yesterday.
While the flooding caused Han to cancel a presidential campaign stop in Taichung yesterday, he was still not part of the disaster inspections, or part of a second emergency meeting held yesterday morning.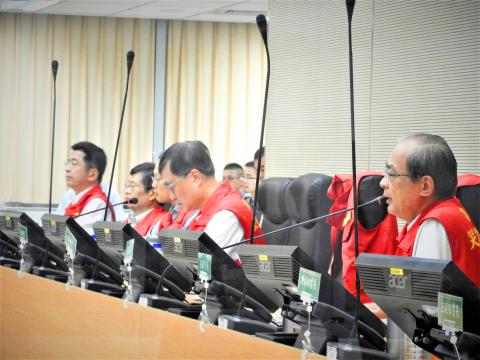 Kaohsiung Deputy Mayor Hung Tung-wei, right — next to an empty chair for the mayor — speaks at a meeting about the city's disaster response to Friday's heavy rainfall in the Kaohsiung Emergency Operation Center yesterday.
Photo: CNA
Asked about Han's absence, Lee said that the emergency had been downgraded after the floods subsided and that he had told Han that he would host the morning meeting.
Lee said that, as Friday's rainfall was more severe than the rainfall on Aug. 23 last year, he had called the second meeting to assess whether the city's dredging and drainage had been adequage.
There has been speculation that Lee would be Han's first pick to run in a mayoral by-election if Han — nominated to be the Chinese Nationalist Party (KMT) presidential candidate — wins the presidential election on Jan. 11 next year.
Asked whether he would run for mayor, Lee responded with a firm no.
The mayor was also criticized for taking part in a dinner with catering businesses on Friday evening after presiding over an initial emergency meeting about the flooding in the city.
Kaohsiung Information Bureau Director-General Anne Wang (王淺秋) yesterday said that Han attended the dinner only after confirming that the flooding had mostly subsided.
Han's attendance at the dinner was part of his official schedule, and not personal entertainment, the Kaohsiung Local Affairs Bureau added in a statement yesterday.
After Han allegedly disappeared for more than 20 hours, he and Lee yesterday afternoon inspected a flooded apartment building in the Kaohsiung's Lingya District (苓雅).
Han complained that many people only criticized him, while Pingtung County and Tainan were also hit by heavy rainfall.
In related news, Han's official account on the messaging app Line went awry on Friday, as one of the Web sites it referred to redirected to a page showing adult videos.
Wang yesterday apologized for the mistake and said that the city government would launch a probe.
"We will fix the situation as soon as possible," Line added on Friday.
Additional reporting by CNA
Comments will be moderated. Keep comments relevant to the article. Remarks containing abusive and obscene language, personal attacks of any kind or promotion will be removed and the user banned. Final decision will be at the discretion of the Taipei Times.