Tsai holds steady on 'status quo' policy
PURE EXCHANGES: The president said she would remain open and positive about city-to-city exchanges, but hopes that they would have no 'political prerequisites'
President Tsai Ing-wen (蔡英文) yesterday said that her cross-strait policy would remain unchanged, despite the Democratic Progressive Party's (DPP) losses in the nine-in-one elections last Saturday, adding that Taiwanese did not vote on cross-strait relations, nor has there been a shift in their general expectation for the future of ties.
Tsai made the remarks when receiving a delegation from the New York-based National Committee on American Foreign Policy at the Presidential Office in Taipei, where she congratulated former US ambassador to Tajikistan Susan Elliott on assuming the presidency of the committee in August.
"Your visit came on the heels of the conclusion of our nine-in-one local elections. I believe you have listened to different opinions about the races, which showed that the people have accumulated discontent over some domestic affairs and reform efforts," Tsai said.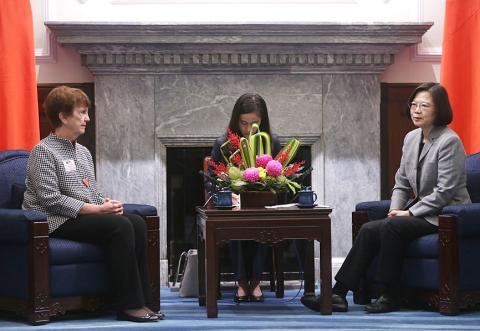 President Tsai Ing-wen, right, meets with former US ambassador to Tajikistan Susan Elliott, left, who was heading a delegation from the New York-based National Committee on American Foreign Policy, at the Presidential Office Building in Taipei yesterday.
Photo: CNA
The president said that her administration has engaged in profound post-election reflection in the hope of ensuring that its reform plans and national development projects could receive more public support moving forward.
"However, it is our belief that the people of Taiwan did not make a choice on the issue of cross-strait policy in the local elections, nor is there a major change [in their expectation for the future of cross-strait ties]," Tsai said.
"As such, our policy to maintain the cross-strait 'status quo' will remain unchanged after the elections," she said.
One day after the elections, China's Taiwan Affairs Office spokesman Ma Xiaoguang (馬曉光) interpreted the results of the elections — in which the China-leaning Chinese Nationalist Party (KMT) took control of 15 of the 22 cities and counties — as "an indicator that most people in Taiwan hope to continue enjoying the benefits that the peaceful development of cross-strait relations could bring."
Amid concerns that the 15 KMT-governed local governments could team up and monopolize cross-strait exchanges to further isolate the DPP government, Tsai said that her stance on cross-strait city-to-city exchanges has always been the same, which is to look at them with an open and positive attitude.
"That said, we hope that there will be no political prerequisites to these city-to-city exchanges. Let exchanges be purely just that and free of the interference of political prerequisites," Tsai said.
Even though the DPP's performance in the elections was disappointing, democratic elections remain Taiwan's most valuable asset, one that sets the nation apart from China, she said.
Taiwan would continue to safeguard the values of freedom and democracy in collaboration with other like-minded nations, she added.
Later yesterday, delegation members met with KMT Chairman Wu Den-yi (吳敦義), who said that the best tactic for Taiwan would be to make peace with China, be friendly toward Japan, and be close to the US and other democratic nations.
"In the future, we will still endeavor to maintain peaceful development of [cross-strait] ties under the premise of the '1992 consensus' and 'one China, different interpretations,'" Wu said, adding that the US is Taiwan's most important partner and that he believed Taiwan-US relations would remain strong regardless of which party is in power.
The so-called "1992 consensus" — a term former Mainland Affairs Council chairman Su Chi (蘇起) in 2006 admitted making up in 2000 — refers to a tacit understanding between the KMT and the Chinese Communist Party that both sides acknowledge that there is "one China," with each side having its own interpretation of what "China" means.
Comments will be moderated. Keep comments relevant to the article. Remarks containing abusive and obscene language, personal attacks of any kind or promotion will be removed and the user banned. Final decision will be at the discretion of the Taipei Times.