Revised energy plan due in two months: official
The nation would no longer aim to become nuclear-free by 2025 in accordance with the result of Saturday's referendum, Executive Yuan spokeswoman Kolas Yotaka said on Tuesday.
One of the 10 referendums Taiwanese voted on asked if they agreed that Article 95, Paragraph 1 of the Electricity Act (電業法), which calls for all nuclear power plants to stop running by 2025, should be abolished.
The results showed that 59.5 percent of the nearly 10 million people who voted are against abolishing nuclear power, Central Election Commission figures showed.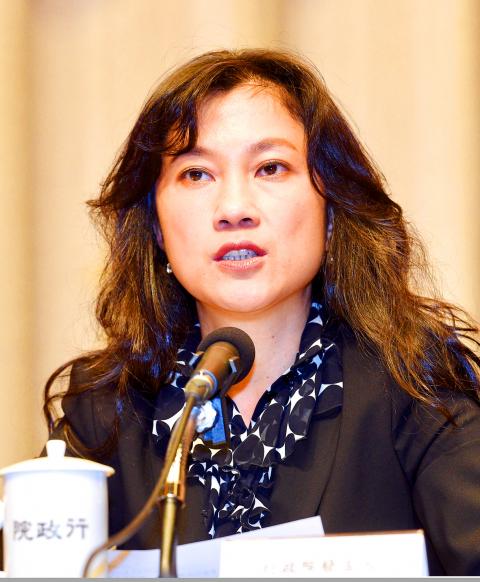 Executive Yuan spokeswoman Kolas Yotaka speaks at a news conference in Taipei on Monday.
Photo: Peter Lo, Taipei Times
The Executive Yuan respects the result and would work with concerned ministries to re-evaluate the nation's energy policies, Kolas said.
As such, the government would no longer regard 2025 as the deadline, she added.
After the 2011 Fukushima Dai-ichi nuclear power plant disaster in Japan, public opinion took a strong turn against nuclear energy, so the Democratic Progressive Party vowed to phase out nuclear power by 2025, Kolas said.
Although nuclear energy produces less air pollution, the problem of handling and storing nuclear waste remains a serious issue, she added.
The plan to realize a non-nuclear homeland would nevertheless remain the government's goal for the foreseeable future, Kolas said.
Minister of Economic Affairs Shen Jong-chin (沈榮津) yesterday said that an updated national energy strategy would be formed in two months.
The Ministry of Economic Affairs has also instructed state-run Taiwan Power Co (台電) to submit a stay-of-decommissioning application for the Ma-anshan Nuclear Power Plant in Pingtung County's Ma-anshan (馬鞍山) to the Atomic Energy Council before July, Shen told reporters on the sidelines of a question-and-answer session at the Legislative Yuan in Taipei.
Ma-anshan's application is the most feasible, as there is still ample time before its original decommission date, he added.
As the schedule is much tighter for the Guosheng Nuclear Power Plant in New Taipei City's Wanli District (萬里), a stay of decommissioning would only be considered when there is a power shortage, Shen said.
In keeping with voters' wishes, the new strategy would prioritize renewable sources, energy conservation and nuclear power, Shen said.
However, the ministry would continue to work with the Executive Yuan to reach a consensus with those affected by the referendum's outcome, he said, referring to opposition voiced by the Pingtung County Government.
Additional reporting by Ted Chen
Comments will be moderated. Keep comments relevant to the article. Remarks containing abusive and obscene language, personal attacks of any kind or promotion will be removed and the user banned. Final decision will be at the discretion of the Taipei Times.