US carrier in Hong Kong; China in Paracels
A US aircraft carrier yesterday docked in Hong Kong, days after a pair of strategic bombers flew over the disputed South China Sea.
The arrival of the USS Ronald Reagan and its battle group in the Asian financial hub came after China rejected a similar request by another US Navy ship amid a spike in tensions between the countries' militaries.
The Reagan's visit is being seen as a friendly gesture ahead of a planned meeting later this month between US President Donald Trump and Chinese President Xi Jinping (習近平) that would mark the first time they have sat down together since the start of a bitter trade dispute.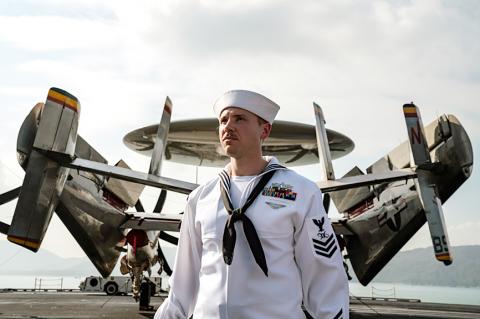 A US Navy sailor stands on board the USS Ronald Reagan as it sits anchored in the Port of Hong Kong yesterday.
Photo: Bloomberg
China has demanded that the US cease military activity of any kind near its island claims in the South China Sea that it has been rapidly fortifying.
The US has said it takes no stance on sovereignty claims, but would continue to sail and operate wherever international law permits.
The US Navy said in a statement that during the Reagan's visit, interactions would take place with Hong Kongers through sports, community relations projects and tours of the carrier. More than 4,400 men and women are usually aboard the ship.
"The abundant growth and prosperity that surrounds us in Hong Kong is what the United States Seventh Fleet seeks to preserve for all nations in this important region," Rear Admiral Karl Thomas, commander of Carrier Strike Group 5, said in the statement.
In comments to Hong Kong media on Tuesday, Thomas said the US and Chinese militaries are able to maintain a professional relationship, despite tensions.
"When we're out at sea, we have a mission to do, and we come out and operate around each other, and we do it professionally," Thomas said.
Meanwhile, US Pacific Air Forces said two B-52s flew over the South China Sea on Monday, calling it a "routine training mission."
The bombers departed Andersen Air Force Base on Guam as part of the US Indo-Pacific Command's continuous bomber presence operations that began in 2004, Pacific Air Forces said in a statement yesterday.
"This recent mission is consistent with international law and the United States' long-standing commitment to a free and open Indo-Pacific," the statement said.
Also this week, China has installed a new platform in the South China Sea on a remote part of the Paracel Islands (Xisha Islands, 西沙群島) that could be used for military purposes, according to recent satellite images reviewed by a US think tank.
The Asia Maritime Transparency Initiative of the Washington-based Center for Strategic and International Studies said that the images showed a "modest new structure" on Bombay Reef (浪花礁), topped by a radome and solar panels.
"The development is interesting given Bombay Reef's strategic location, and the possibility that the structure's rapid deployment could be repeated in other parts of the South China Sea," the group said in a statement on Tuesday.
The purpose of the structures was unclear, but it could be for military use, it said.
"The reef is directly adjacent to the major shipping lanes that run between the Paracels and the Spratly Islands [Nansha Islands, 南沙群島] to the south, making it an attractive location for a sensor array to extend Chinese radar or signals intelligence collection over that important sea lane," the group said.
The Chinese Ministry of National Defense did not respond to a request for comment.
Chinese Ministry of Foreign Affairs spokesman Geng Shuang (耿爽) said China's sovereignty over the Paracel Islands was not in dispute, and there is nothing wrong with China carrying out construction work on its own territory.
"As for the specific situation you mention, I have no understanding of it," Geng told a daily news briefing.
Taiwan and Vietnam also claim the Paracels.
The Vietnamese Ministry of Foreign Affairs did not immediately respond to a request for comment.
Additional reporting by Reuters
Comments will be moderated. Keep comments relevant to the article. Remarks containing abusive and obscene language, personal attacks of any kind or promotion will be removed and the user banned. Final decision will be at the discretion of the Taipei Times.