Thousands march against air pollution
FIVE DEMANDS: Establishing new regulations for coal use would not be feasible, the Kaohsiung environmental bureau said, adding that it already restricts coal burning
Thousands of people yesterday marched in Kaohsiung against air pollution, calling on the city government to regulate coal burning and scrap a planned petrochemical plant near an elementary school.
The march started at Kaohsiung MRT Central Park Station at 1pm, from where protesters made their way to Kaohsiung City Hall.
It was the second of three marches against air pollution planned for this month and drew nearly 5,000 people, event organizer Southern Taiwan Anti-Air Pollution Alliance convener Chen Jiau-hua (陳椒華) said.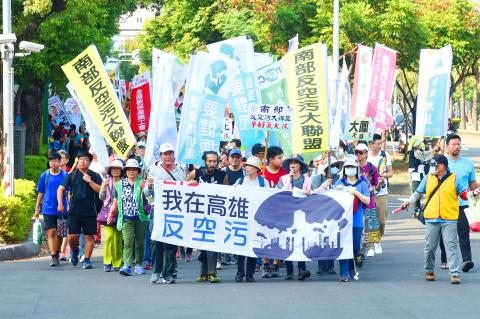 Demonstrators participate in a march organized by the Southern Taiwan Anti-Air Pollution Alliance in Kaohsiung yesterday.
Photo: Wang Jung-hsiang, Taipei Times
The alliance has five demands: that the city government limit local plants' coal use; a trade mechanism between stationary and mobile pollution sources stipulated in the Air Pollution Control Act (空氣污染防制法) be abolished; China Steel Corp (中鋼, CSC) transform its coke wet quenching tower into a dry one; Taiwan Power Co (台電) convert coal-fired units at the city's Sinda (興達) and Dalin (大林) power plants to gas-fired ones; and that Taiwan-Japan Oxo Chemical Industries Inc (曄揚) scrap a plan to build petrochemical plant 200m from an elementary school, it said.
Kaohsiung mayoral candidates Chen Chi-mai (陳其邁) of the Democratic Progressive Party and Han Kuo-yu (韓國瑜) of the Chinese Nationalist Party (KMT) also joined the march.
Proposing several plans to alleviate air pollution, Chen said that if elected, he would re-evaluate the allowable and actual emission levels for local factories, use artificial intelligence to predict and control air quality, establish an air quality regulation committee and transform the heavily polluted Kaohsiung into a green and livable city.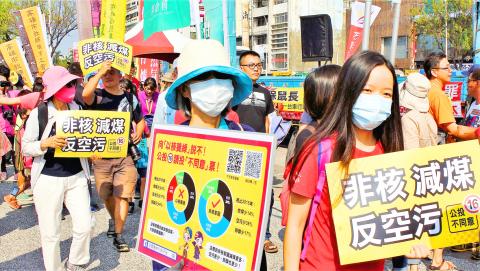 Demonstrators participate in a march organized by the Southern Taiwan Anti-Air Pollution Alliance in Kaohsiung yesterday. The signs read "non-nuclear, lower emissions, no air pollution."
Photo: CNA
Han, along with KMT Tainan mayoral candidate Kao Su-po (高思博), pasted stickers bearing angry facial expressions onto Environmental Protection Administration (EPA) Minister Lee Ying-yuan's (李應元) image in front of city hall.
The EPA and the Kaohsiung Bureau of Environmental Protection both issued statements responding to the appeals.
The Sinda plant's four coal-fired units would be decommissioned by 2023 and 2024 at the earliest, and it would be equipped with three gas-fired units that would become operational from 2023, the EPA said, adding that the Dalin plant is planing to install ultra-supercritical coal-fired units to reduce pollution.
CSC is planning to build a dry coke quenching tower as the alliance has suggested, the EPA said.
The agency did not accept the protesters' request to abolish the pollution trade mechanism, but said it has imposed regulations to regulate the trade and a 10-year sunset clause.
Establishing new regulations for coal use is not feasible, considering that the Yunlin County Government's regulations were not approved by the Executive Yuan and those of the Taichung City Government do not stipulate any penalties for violators, the bureau said.
Instead, it has restricted power plants' coal use by reducing the maximum amount of coal use in their permits, the bureau said.
Since the Kaohsiung City Government's Regulation Standards for Air Pollutants Emitted by Burning Facilities (燃燒設備空氣污染物排放標準) took effect in July, it has required 2,282 facilities to bring their emissions to the level of gas-fired facilities, thereby eliminating 1,900 tonnes of sulfur oxides emissions and 480 tonnes of nitrogen oxides emissions as of September, the bureau said.
State-run factories and top 20 polluters in the city have also eliminated 5,736 tonnes of emissions in the first nine months of this year, it added.
The bureau said it would continue to strictly supervise Taiwan-Japan Oxo Chemical's construction project and require it to continue communicating with local residents.
The company is CPC Corp, Taiwan's (台灣中油) joint venture with Japanese petrochemical firm KH Neochem Co, whose plant is expected to be completed by the end of 2020.
Additional reporting by Tsai Ching-hua
Comments will be moderated. Keep comments relevant to the article. Remarks containing abusive and obscene language, personal attacks of any kind or promotion will be removed and the user banned. Final decision will be at the discretion of the Taipei Times.