US, China trade barbs over S China Sea
Standing side by side, top US officials on Friday urged their Chinese counterparts to halt militarization of the disputed South China Sea, drawing a rebuke from the Chinese for sending US warships close to islands claimed by Beijing in the strategic waterway.
During a round of high-level talks in Washington, the two sides aired in sometimes blunt terms many of their main differences, including a bitter trade dispute, freedom of navigation in Asia-Pacific waters and China's crackdown on its Muslim minority.
Two visiting senior Chinese officials also seized the opportunity to warn publicly that a trade war between the world's two largest economies would end up hurting both sides and to call for keeping channels of communication open to resolve an issue that has unsettled global financial markets.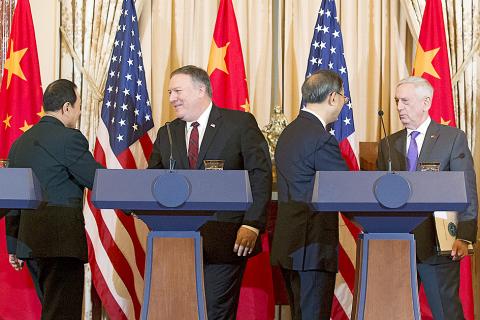 US Secretary of State Mike Pompeo, second left, and US Secretary of Defense Jim Mattis, right, conclude a news conference with Chinese Politburo Member Yang Jiechi, second right, and Chinese State Councilor and Defense Minister General Wei Fenghe, left, following the US-China Diplomatic and Security Dialogue at the State Department in Washington on Friday.
Photo: EPA-EFE
Despite the airing of grievances, the talks appeared aimed at controlling the damage to relations that has worsened in recent months and at paving the way for an encounter between US President Donald Trump and Chinese President Xi Jinping (習近平) at the G20 summit in Argentina at the end of this month.
"The United States is not pursuing a cold war or containment policy with respect to China," US Secretary of State Mike Pompeo told a joint news conference.
Even as the US and China confront difficult challenges, "cooperation remains essential on many issues," he said, citing efforts to persuade North Korea to abandon its nuclear program.
The meeting paired Pompeo and US Secretary of Defense James Mattis with Chinese State Counselor Yang Jiechi (楊潔篪) and Chinese Minister of National Defense Wei Fenghe (魏鳳和).
The annual US-China Diplomatic and Security Dialogue was originally set for Beijing last month, but had been called off amid rising tensions.
Pompeo took aim at China over its continued building of military installations on artificial islands and reefs in the South China Sea, where Taiwan also has claims.
"We have continued concerns about China's activities and militarization in the South China Sea," Pompeo said following the talks. "We pressed China to live up to its past commitments in this area."
Yang said China was committed to "non-confrontation," but that Beijing had the right to build "necessary defense facilities" on what it considers its own territory, and urged Washington to stop sending warships and military planes close to the islands that Beijing claims.
Mattis made it clear that this demand would go unheeded by Washington.
Comments will be moderated. Keep comments relevant to the article. Remarks containing abusive and obscene language, personal attacks of any kind or promotion will be removed and the user banned. Final decision will be at the discretion of the Taipei Times.