China 'seriously challenging peace': Tsai
ENSURING DEMOCRACY: Taiwanese would not move toward conflict due to momentary passion, but nor would they sacrifice the sovereignty of the nation, the president said
President Tsai Ing-wen (蔡英文) in her Double Ten National Day speech yesterday called on China to act as a "responsible large nation" should — assuming a benign rather than quarrelsome role in the Asia-Pacific region and the world — as she vowed to maintain cross-strait peace and the democratic lifestyle of 23 million Taiwanese.
"Taiwan, at the forefront of the West Pacific, is under great pressure," Tsai said.
China has in the past few years resorted to brow beating Taiwanese and restricting Taiwan's international space, which has damaged cross-strait relations and is seriously challenging peace and stability across the Taiwan Strait, Tsai said.
Legislative Speaker Su Jia-chyuan, left, and President Tsai Ing-wen wave Republic of China flags at yesterday's Double Ten National Day ceremony in front of the Presidential Office Building in Taipei.
Photo: Liu Hsin-de, Taipei Times
The redistribution of labor along the international supply chain, resulting from the US-China trade war, has disrupted international trade and increased the geopolitical complexity of the Indo-Pacific region, as well as cross-strait relations, the president said.
Some might demand a tougher stance from the government, while others wish for greater compromise, but Taiwan's best course is to maintain stability in times of radical change, to face China's pressure with equanimity and find a niche for survival, Tsai said.
This has been the government's stance over the past two years, she said, adding that every responsible political figure and political party should resolve to uphold the greater consensus of the public.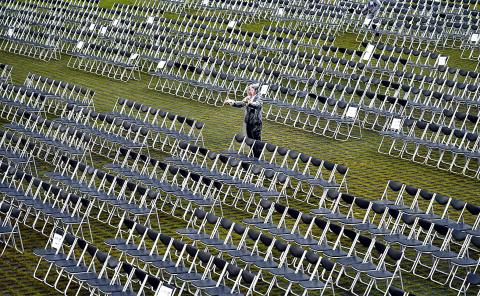 A member of security checks for rain during National Day celebrations in front of the Presidential Palace in Taipei yesterday.
Photo: Sam Yeh, AFP
The free and democratic way of life of 23 million Taiwanese — as well as efforts to ensure the sustainable development of the Republic of China, and maintain peace across the Strait and regional stability — must be continued, Tsai said.
"The government that I lead must show Taiwan's toughness to the world," especially when the world is overreacting to China's rapidly expanding influence, she said.
Any unilateral attempt to change the "status quo" of cross-strait relations would never be accepted by Taiwanese, and any claim contravening universal values would never be recognized or supported by the international community, Tsai said.
Tsai guaranteed that Taiwan would not escalate tensions, but that the nation would not back down or compromise either.
"We will not move toward confrontation and conflict due to momentary passion, or move cross-strait relations toward danger — nor will we turn from the will of the people and sacrifice the sovereignty of Taiwan," Tsai said.
Taiwan cannot afford miscalculations in times of such rapid change, she said.
"The solution is to maintain stability, remain flexible and seek advancement," she said.
A strong nation is a prerequisite for any effective strategy, thus Taiwan must improve its national security and economic health, as well as a social safety net to make Taiwanese stronger, Tsai said.
The niche in which Taiwan can continue to survive is to become an even more indispensable member of the global community, she said.
The challenges that Taiwanese face are not limited to military threats, but also include diplomatic oppression, social infiltration and economic insecurity, she said.
The task at hand is to establish a comprehensive strategy and commence with efforts to strengthen national security, she said.
The first aspect of national security to be addressed is the strengthening of valuable diplomatic ties, and making the nation strategically invaluable, Tsai said.
During turbulent international developments, Taiwan — which is of great strategic importance geopolitically — must be resolute in its defense of democracy and the market economy, she said, adding that these things have served as the basis for Taiwan's economic development and for the nation becoming a model of democratization in Asia, she said.
Facing pressure from China over the past two years, Taiwanese have demonstrated a high degree of resilience and determination in protecting their values, and like-minded nations have increasingly expressed their support, she said.
The second aspect to be addressed is the improvement of the nation's defense capabilities, which involves a multi-tier approach, Tsai said.
Her stance has always been to steadily increase the defense budget each year, she said, adding that the military can satisfactorily defend the nation's sovereign territory.
The third aspect is that the nation have a national security strategy capable of obstructing any attempt, foreign or domestic in origin, from destabilizing Taiwan's economy, or its society, the president said.
Taiwan's democracy must be defended at any cost — the government would not sit idly by if any country attempted to take advantage of that democracy to infiltrate and wreak havoc on Taiwanese society, she said.
Whether through the dissemination of disinformation, unauthorized acquisition of technology-related information, the compromising of information security systems or interference with the political system and elections, anyone proven to have committed such acts would be severely dealt with, she said.
The government has used international cooperation to counter the spreading of disinformation by parties in certain countries, she added.
Tsai said the lighthouse keepers, who were invited to sing the national anthem at yesterday's ceremony, served as an analogy of Taiwan, which is like a beacon.
The nation's democratization has been a light to outshine the darkness that Taiwanese had to pass through, and acts as a guide to all who seek democracies of their own, she said, adding that she hopes the people of Hong Kong and China be inspired by Taiwan.
"When the world sees Taiwan's beauty, we will not be lonely," she said.
"Taiwan will march bravely and resolutely forward. Taiwanese have always come together for the nation, deriving strength from unity," Tsai said.
Comments will be moderated. Keep comments relevant to the article. Remarks containing abusive and obscene language, personal attacks of any kind or promotion will be removed and the user banned. Final decision will be at the discretion of the Taipei Times.