Higher fines for illegal PRC investment
PRIORITY BILL: The proposals stemmed from a 2016 case in which Chinese investors who purchased Tatung Co shares through a Hong Kong firm were fined NT$600,000
The Cabinet yesterday passed draft amendments to the Act Governing Relations Between the People of the Taiwan Area and the Mainland Area (台灣地區與大陸地區人民關係條例) that would increase fines for Chinese or Chinese institutions that illegally invest in Taiwan.
The draft bill has been listed as a priority for the current legislative session.
Under the proposed amendments, any Chinese investor or enterprise that invests in Taiwan without getting permission from the authorities could be subject to a fine ranging from NT$50,000 to NT$25 million (US$1,633.88 to US$816,940), compared with the current range of NT$120,000 to NT$600,000, plus rectification.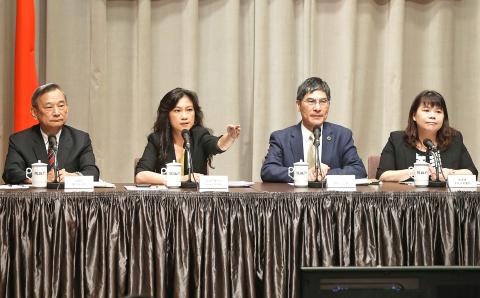 Cabinet spokesperson Kolas Yotaka, second left, speaks at a news conference at the Executive Yuan in Taipei yesterday as, from left, Deputy Minister of Justice Chen Ming-tang, Minister of Science and Technology Chen Liang-gee and Mainland Affairs Council Deputy Minister Lee Li-jane look on.
Photo: CNA
Failure to rectify the matter could lead to consecutive fines until the situation is remedied.
The Mainland Affairs Council was prompted to amend the law by a 2016 case in which Chinese investors purchased about NT$1 billion of Tatung Co (大同) shares through SinoPac Securities (Asia) Ltd (永豐金證券亞洲), a Hong Kong-based brokerage subsidiary of SinoPac Financial Holdings Co (永豐金控), in a breach of the rules governing cross-strait investments, MAC Deputy Minister Lee Li-jane (李麗珍) told a news conference at the Executive Yuan in Taipei.
The Chinese investors were fined just NT$600,000 under Article 93-1 of the act, which drew public protests and calls for change, Lee said.
The fines could also be increased depending on the amount of profits made through investments deemed to be illegal, Deputy Minister of Justice Chen Ming-tang (陳明堂) told the news conference.
"If a Chinese person or institution made more than NT$25 million in profit from such illegal investments, Item 2, Article 18 of the Administrative Penalty Act (行政罰法) would allow the government to raise the fine to the amount of the illegal gain," Chen said.
For instance, if a Chinese investor was found to have made NT$100 million from an illegal investment in Taiwan, they could face a maximum fine of NT$100 million, Chen said.
Under the proposal, any Chinese enterprise allowed to invest in Taiwan that contravenes the rules — such as failure to file financial statements and illegally reinvesting — could face a fine ranging from NT$50,000 to NT$2.5 million, up from the original range of NT$60,000 to NT$300,000.
The proposed amendments include a provision to punish any Chinese enterprise that evades, impedes or refuses inspections by the authorities.
Another provision would allow minor violators of the law to be exempted from fines if they are able to remedy the situation within a specified time period.
Comments will be moderated. Keep comments relevant to the article. Remarks containing abusive and obscene language, personal attacks of any kind or promotion will be removed and the user banned. Final decision will be at the discretion of the Taipei Times.