Korean leaders in show of unity on mountain summit
North Korean leader Kim Jong-un and South Korean President Moon Jae-in yesterday visited the spiritual birthplace of the Korean nation for a show of unity after their summit gave new momentum to Pyongyang's negotiations with Washington.
Kim on Wednesday agreed to shutter the Tongchang-ri missile-testing site in the presence of international observers, a move the US welcomed by saying it was ready for immediate talks aimed at denuclearizing North Korea.
Pyongyang also said it could dismantle its best-known nuclear facility at Yongbyon if the US takes "corresponding measures."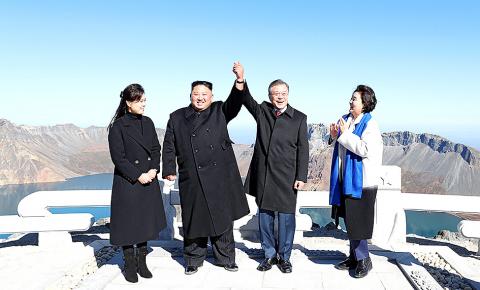 North Korean leader Kim Jong-un, second left, and his wife, Ri Sol-ju, left, pose with South Korean President Moon Jae-in, second right, and his wife, Kim Jung-sook on the top of Mount Paektu, North Korea, yesterday.
Photo: AFP / Pyeongyang Press Corps
There was an important caveat — Moon told reporters on his return to Seoul that the US would need to "end hostile relations with North Korea and provide security guarantees for the regime."
However, the declaration appeared to break the North's logjam with Washington.
US President Donald Trump welcomed the move, tweeting that Kim had "agreed to allow Nuclear inspections, subject to final negotiations."
US Secretary of State Mike Pompeo also praised the "important commitments," saying he had invited his North Korean counterpart for talks next week on the sidelines of the UN General Assembly, and representatives of both sides to meet "at the earliest opportunity" in Vienna — home of the International Atomic Energy Agency.
Washington was ready to "engage immediately in negotiations" to achieve the North's denuclearization by January 2021, Pompeo added.
Kim was hoping for a second summit with Trump "at an early date," Moon said, adding that he would take Trump a message from Kim when he meets him next week.
Experts remain skeptical, saying that closing Tongchang-ri would have no effect on the North's ability to manufacture rockets.
Pyongyang has used several other locations for missile launches. Many also believe the North has other covert nuclear facilities.
"The North Koreans are offering gestures that mimic disarmament," arms control expert Jeffrey Lewis tweeted. "They don't meaningfully constrain North Korea's nuclear program."
Their main purpose was "to appease Trump, so that Moon and Kim can keep their engagement alive," he added.
Yesterday, Moon and Kim, accompanied by their wives, visited Mount Paektu on the Chinese border.
The 2,744m peak is considered sacred by all Koreans as the birthplace of Dangun, the legendary founder of the first Korean kingdom.
According to Pyongyang's narrative, it is also where Kim Jong-un's father, former North Korean leader Kim Jong-il, was born, at a secret camp where his own father, state founder Kim Il-sung, was fighting Korea's Japanese colonial occupiers.
However, historians say that Kim Jong-il was born in the Soviet Union, where his father was in exile.
South Korean tourists flock to see the mountain via China, but only a handful have been granted access from the North Korean side, mostly for research purposes.
Kim and Moon raised their clasped hands aloft on the crater rim as Moon said he hopes many of his compatriots would follow in his footsteps.
Comments will be moderated. Keep comments relevant to the article. Remarks containing abusive and obscene language, personal attacks of any kind or promotion will be removed and the user banned. Final decision will be at the discretion of the Taipei Times.