Academics warn on studying in China
Academics yesterday expressed concern about a growing number of Taiwanese studying in China, calling on the government and the public to beware of Chinese policies specifically favoring Taiwanese students.
The number of Taiwanese who have gone to China to study has risen for three consecutive years from 2,183 in 2015 to 2,567 last year, Mainland Affairs Council data showed.
While not a marked increase, the government and the public should beware of the growing trend at a time when schools nationwide are struggling to recruit students, as China's courting of Taiwanese students is now happening not just at the university level, but also at the high-school level, Tamkang University Graduate Institute of China Studies associate professor Chang Wu-ueh (張五岳) told a news conference held by Taiwan Thinktank in Taipei.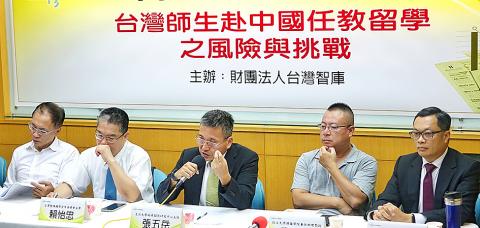 Mainland Affairs Council Deputy Minister Chen Ming-chi, right, and academics in various fields yesterday attend a symposium on the challenges faced by Taiwanese students and teachers studying or working in China held by Taiwan Thinktank in Taipei.
Photo: Liu Hsin-de, Taipei Times
Some Chinese high schools that are considered prestigious have set aside slots for Taiwanese students, who are given priority, he said.
Many leading Chinese universities have introduced preferential admittance regimes for Taiwanese students, evidenced by students scoring an average of 45 in the government-administered General Scholastic Ability Test for university admittance — which uses a 75-point system — being admitted to three top Chinese schools last month, he added.
Students who aim to earn a medical degree in China, which is relatively easier than in Taiwan, should bear in mind that the Physicians Act (醫師法) would bar them from practicing in Taiwan, Chang said.
While studying in China might help people gain a better understanding of Chinese society and prevalent Chinese views on cross-strait relations, it does not seem to have any influence on their political beliefs or their identification with their home nation in the short term, he said, citing "at least 12 studies."
Since Beijing in February introduced 31 measures to attract Taiwanese to work or study in China, several Chinese municipalities have followed up with their own versions, most of which involve providing cash through various channels, Taiwan Thinktank researcher Tung Li-wen (董立文) said.
Such policies are absurd and counterproductive to promoting cross-strait ties, as they put Taiwanese in a privileged class and discriminate against Chinese, he said.
Citing his observations as a former exchange student in China, National Taiwan University graduate student Lin Tzu-yao (林子堯) said that while allowing mediocre Taiwanese students admittance to prestigious Chinese institutions is tempting, the practice is divisive, as it causes hostility by Chinese students toward Taiwanese.
Some classmates who were interested in studying in China took the next flight home after seeing the poor conditions in the dorms at some universities, he said.
Academic freedoms, especially in social studies, are restricted at Chinese universities, where discussion of the Tiananmen Square Massacre remains taboo, he added.
Students who want to use Chinese diplomas as a springboard to higher-ranked US institutions are likely to achieve the opposite effect, as US President Donald Trump's administration has taken a stricter approach when screening Chinese students out of concern for possible theft of US technologies, Lin said.
Comments will be moderated. Keep comments relevant to the article. Remarks containing abusive and obscene language, personal attacks of any kind or promotion will be removed and the user banned. Final decision will be at the discretion of the Taipei Times.