US man accused of Texas sexual assault sought in Taiwan
ON THE RUN? The NIA said it had only received notice from the US about Defense Distributed's Cody Wilson yesterday, but that it would attempt to locate him
The National Immigration Agency (NIA) yesterday confirmed that a US citizen accused of sexual assault of a teen in Texas, who is at the center of a legal battle over efforts to make instructions for 3D printed plastic guns widely available, is in Taiwan.
Cody Wilson, 30, was placed under investigation after a counselor on Aug. 22 told police that a 16-year-old girl who had sought help from the counselor said she was paid US$500 to have sex with Wilson at an Austin hotel, Austin Police Commander Troy Officer told a news conference on Wednesday.
He said Wilson had left for Taiwan after learning that police in Austin were investigating the accusation.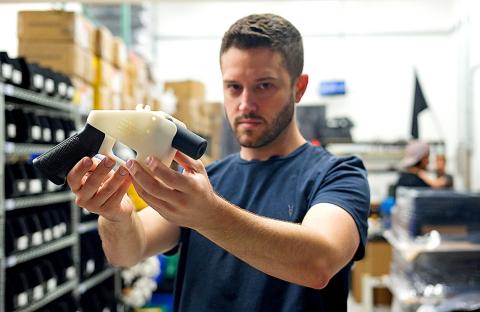 Defense Distributed owner Cody Wilson holds a 3D printed gun called the "Liberator" in his factory in Austin, Texas, on Aug. 1.
Photo: AFP
"Detectives with the Austin Police Department Organized Crime Division filed a warrant for sexual assault for a Cody Rutledge Wilson, white male, 30 years of age," said Officer, who heads the division.
The alleged crime is a second-degree felony punishable by up to 20 years in prison, he said.
"We know Mr Wilson frequently travels for business. We don't know why he went to Taiwan, but we do know before he left he was informed by a friend of the victim that she had spoken to police and the police were investigating him for having sex with a minor," Officer said.
The victim allegedly met Wilson on sugardaddymeet.com, a Web site that bills itself as the "best sugar daddy dating site for attractive women and wealthy men seeking mutually beneficial relationships."
Wilson missed a flight back to the US, and Austin police are "working with national and international law enforcement partners to locate him and bring him to justice," Officer said.
The Criminal Investigation Bureau (CIB) yesterday said that Wilson had entered Taiwan on Sept. 6.
The NIA said it had only received notice from the US about Wilson yesterday, but that it would attempt to locate him.
Taiwan does not have an extradition treaty with the US.
"If the US requests judicial assistance, our relevant government agencies will follow up," the NIA said.
CIB International Criminal Affairs Division Director Kan Yen-min (甘炎民) said the bureau has not received any information from the US side about Wilson and that Interpol has not issued a warrant for him.
The bureau would seek more information about his case, Kan said.
Wilson is the founder of Defense Distributed. He triggered a legal battle in 2015 after he challenged a US government ban on posting the blueprints for printing 3D guns on the Internet, claiming it infringed on his rights to free speech and to bear arms.
US President Donald Trump's administration earlier this year reached a settlement lifting the ban on the blueprint sales, but 19 states and Washington's city government challenged that decision in July, arguing that publishing the blueprints would allow criminals easy access to unregistered weapons.
US District Judge Robert Lasnik in Seattle, Washington, last month ordered Wilson not to post blueprints online.
Wilson said he interpreted the ruling as only barring the free online distribution of the blueprints and began offering the files for sale either online or by mail.
The recommended price per blueprint is US$10, but the buyer is ultimately allowed to name the amount of money they want to pay.
Many of the blueprints on the site have been downloaded thousands of times.
Comments will be moderated. Keep comments relevant to the article. Remarks containing abusive and obscene language, personal attacks of any kind or promotion will be removed and the user banned. Final decision will be at the discretion of the Taipei Times.