PRC residency card prioritized
NATIONAL SECURITY: Other than having Chinese cardholders report to authorities, the Mainland Affairs Council might consider barring them from holding public office
The Mainland Affairs Council's proposed measures to counter China's new residency permit cards for Taiwanese are among the Executive Yuan's priorities for the new legislative session, sources said yesterday.
The council is to propose draft amendments to the Act Governing Relations Between the People of the Taiwan Area and the Mainland Area (臺灣地區與大陸地區人民關係條例) that would require holders of Chinese residency cards to report to authorities, said high-ranking officials who declined to be named, adding that the council has yet to decide whether to bar cardholders from holding public office or national security-related positions.
The draft amendments are to be proposed as a priority bill for the legislative session that begins tomorrow, alongside 41 other priority bills, the officials said.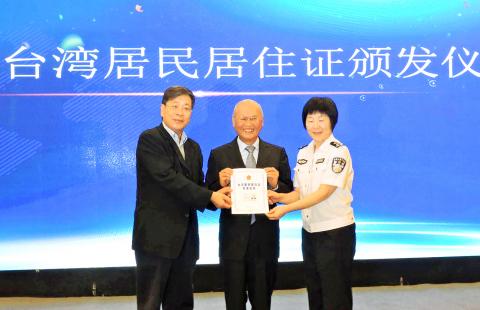 Taiwan Affairs Office and Shanghai police officials yesterday present Lee Mao-sheng, former president of the Shanghai Association of Taiwan, center, with a residency certificate.
Photo: CNA, courtesy of a reader
Premier William Lai (賴清德) is scheduled to hold a briefing with Democratic Progressive Party (DPP) legislators today to discuss bills that should be prioritized in the new session.
The act needs to be amended because China's residency card is designed to evade provisions in the act that bans Taiwanese from simultaneously holding household registrations in Taiwan and China, officials said, adding that China treats residency cardholders as Chinese citizens, although they do not hold household registrations.
The policy is a "united front" ploy and a threat to national security, they said.
The Chinese State Council Information Office on Aug. 16 announced that, starting on Sept. 1, Taiwanese, Hong Kongers and Macanese who have lived in China for more than six months and are legally working, living or studying in the nation would be eligible to apply for a residence card.
Cardholders are granted certain rights and benefits enjoyed by Chinese citizens, such as compulsory education, social insurance and housing subsidies.
DPP Legislator Wang Ting-yu (王定宇) had said he would propose an amendment that would cancel cardholders' household registration in Taiwan, but officials said they would discuss the bill first with legislators.
The council currently has no plan to cancel cardholders' household registration, but that does not mean it never will, they added.
Other national security-related priority bills for the session include amendments to the act to regulate illegal investment activities by Chinese nationals in Taiwan, and to ban high-ranking government officials and retired military officers from attending political events in China for 15 years after their retirement, as well as draft amendments to the Classified National Security Information Protection Act (國家機密保護法), they said.
Also included are the general budget plan for next year and more than 20 economy-related bills, such as draft amendments to the Securities and Exchange Act (證券交易法), the Urban Renewal Act (都市更新條例), the Futures Trading Act (期貨交易法) and the Trademark Act (商標法), they added.
Comments will be moderated. Keep comments relevant to the article. Remarks containing abusive and obscene language, personal attacks of any kind or promotion will be removed and the user banned. Final decision will be at the discretion of the Taipei Times.