Those with PRC cards must be regulated: poll
About 60 percent of respondents in a poll said that holders of new Chinese residency cards should report to and be regulated by the government, the Cross-Strait Policy Association said yesterday.
The poll showed that 59.6 percent of respondents would support a requirement that cardholders report to local authorities, while 30.4 percent disagreed, association president Stephen Tan (譚耀南) told a news conference in Taipei yesterday.
Asked whether they would support the government imposing regulatory measures or restrictions on cardholders, 58.4 percent said they would, whereas 37.4 percent said they would not.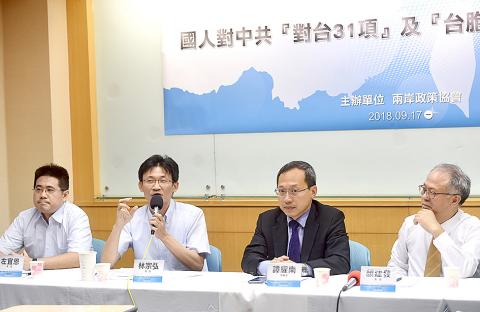 Cross-Strait Policy Association president Stephen Tan, second right, chairs a news conference on new Chinese residency cards and China's 31 incentives with Soochow University assistant professor Tso Yi-en, left, National Tsing Hua University professor Lin Thung-hung, second left, and Chien Hsin University professor Yan Jiann-fa, right.
Photo: Chien Jung-fong, Taipei Times
Fifty-nine percent of respondents said they agreed that applying for the card entails privacy risks, given China's strict surveillance of its citizens, compared with 34.4 percent who disagreed.
When asked whether the residency card would affect Taiwanese voters' political leanings, 47.1 percent of respondents said it would, while 47.2 percent said it would not.
The poll found that 60.9 percent of respondents knew about China's residency cards for Taiwanese, while only 42.9 percent said they knew about the so-called "31 incentives" aimed at attracting Taiwanese professionals and businesses unveiled by China's Taiwan Affairs Office in February.
Of the respondents, 58.1 percent said the incentives threaten Taiwan's sovereignty, as well as businesses and people, while 35.7 percent said they disagreed.
A majority of respondents agreed that the government should improve the nation's competitiveness by launching initiatives to reward talent and bolster industrial innovation as countermeasures against China — with 82.6 percent saying they agreed and 12.6 percent saying they disagreed.
Meanwhile, 74.8 percent said they agreed that the government should improve its regulation of cross-strait exchanges, including measures to protect trade secrets and review mechanisms for cross-strait visits, compared with 18.9 percent who disagreed.
Asked whether the Republic of China represents the "status quo," the "bottom line of the nation's sovereignty" and the most agreed-upon term to represent Taiwanese, 68.3 percent said they agreed, while 20.4 percent disagreed.
A majority of respondents agreed with the statement regardless of their political leanings, Tan said.
The poll results suggest that people are apprehensive about China's measures, National Taiwan Normal University Graduate Institute of Political Science professor Fan Shih-ping (范世平) said.
"While more than 20,000 Taiwanese are said to have applied for the residency card, it is a small number, given that there are 1 million Taiwanese businesspeople and students living in China," he said.
Most Taiwanese have not applied due to privacy and taxation concerns, he said, adding that some are worried their fingerprints might be shared with intelligence agencies, even though the Taiwan Affairs Office has said they would not.
That more than 30 percent of respondents opposed the government regulating cardholders suggests that the government needs to raise awareness of the risks involved in applying for the card, Chien Hsin University of Science and Technology Department of Business Administration professor Yan Jiann-fa (顏建發) said.
"The government should explain them to the public in more detail. After all, these are unilateral policies from China and the devil is in the details," he said.
The poll was conducted by telephone from Tuesday to Saturday last week and collected 1,071 valid samples.
Comments will be moderated. Keep comments relevant to the article. Remarks containing abusive and obscene language, personal attacks of any kind or promotion will be removed and the user banned. Final decision will be at the discretion of the Taipei Times.