Myanmar hands Reuters reporters seven years in jail
Two Reuters journalists accused of breaching Myanmar's state secrets law while reporting on a massacre of Rohingya Muslims were yesterday jailed for seven years, fueling further international outrage a week after the army was accused of genocide.
Wa Lone, 32, and Kyaw Soe Oo, 28, who have been held in Yangon's Insein prison since their arrest in December last year, were charged with violating the Official Secrets Act, a British colonial-era law that carries a maximum sentence of 14 years.
The case has sparked an outcry among the international community, calling it an attempt to muzzle reporting on last year's crackdown by Myanmar's security forces on the Muslim Rohingya minority in Rakhine State.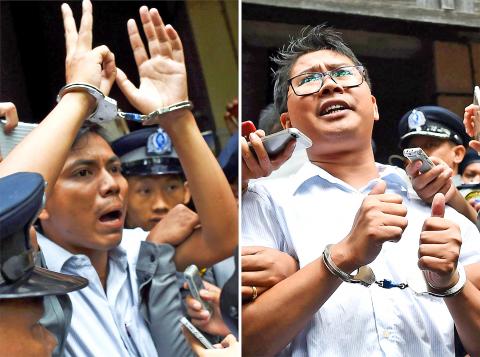 A combination photo shows journalists Kyaw Soe Oo, left, and Wa Lone being escorted by police after their sentencing by a court to jail in Yangon, Myanmar, yesterday.
Photo: AFP
Army-led "clearance operations" drove 700,000 Rohingya into Bangladesh, carrying with them widespread accounts of atrocities — rape, murder and arson — by Burmese police and troops.
The reporters denied the charges, insisting they were set up while exposing the extrajudicial killing of 10 Rohingya Muslims in the Rakhine village of Inn Din in September last year.
They had told the court they were arrested after being invited to dinner by police in Yangon, who handed them documents.
As they left the restaurant, the pair were detained for possessing classified material.
However, Judge Ye Lwin was unmoved by their testimony.
"The culprits intended to harm the interests of the state, and so they have been found guilty under the state secrets act," he told the packed Yangon court.
"They are sentenced to seven years in prison each," he said.
Kyaw Soe Oo's wife wept after the judge delivered the verdict.
As they were led to the waiting prison van, the handcuffed pair, both Burmese nationals, gave brief, but defiant statements on the court steps.
"The government can detain us in the prison but ... don't close the ears and eyes of the people," Kyaw Soe Oo said.
Wa Lone, who gave a defiant "thumbs-up" to the massed ranks of reporters, said: "We will face it [the verdict] with stability and courage."
Defense lawyer Khin Maung Zaw said an appeal would be lodged as soon as possible against the verdict, which Reuters denounced as based on "false charges."
"Today is a sad day for Myanmar ... and the press everywhere," Reuters editor-in-chief StephenAdler said in a statement, adding that the outcome was "designed to silence their reporting and intimidate the press."
The UN in Myanmar and the EU joined the growing chorus of calls for the reporters' release.
Rights groups decried the verdict as a sign of enduring repression in a country meant to be edging toward a more open and democratic future after almost a half-century of army rule.
The ruling "sends a stark warning to other journalists in the country of the severe consequences that await should they look too closely at military abuses," Tirana Hassan, Amnesty International's director of crisis response, said in a statement.
"This amounts to censorship through fear," Hassan said.
The army has published its version of events at Inn Din village, conceding the Rohingya men were killed while in custody, but saying it was a one-off case of abuse by a mixture of security forces and ethnic Rakhine locals.
Comments will be moderated. Keep comments relevant to the article. Remarks containing abusive and obscene language, personal attacks of any kind or promotion will be removed and the user banned. Final decision will be at the discretion of the Taipei Times.