Government, DPP snub lawmaker over his comments against Chinese spouses
The government believes that no ethnic group should be subjected to discrimination, Executive Yuan spokeswoman Kolas Yotaka said yesterday, after a Democratic Progressive Party (DPP) lawmaker's remarks about Chinese spouses stirred up controversy.
DPP Legislator Tsai Yi-yu (蔡易餘) on Wednesday said on Facebook that Beijing's bullying of Taiwan justified the government's differential treatment toward Chinese spouses.
Chinese spouses may apply for Republic of China citizenship after staying married to a Taiwanese for six years, while spouses from other nations can do so after only four years.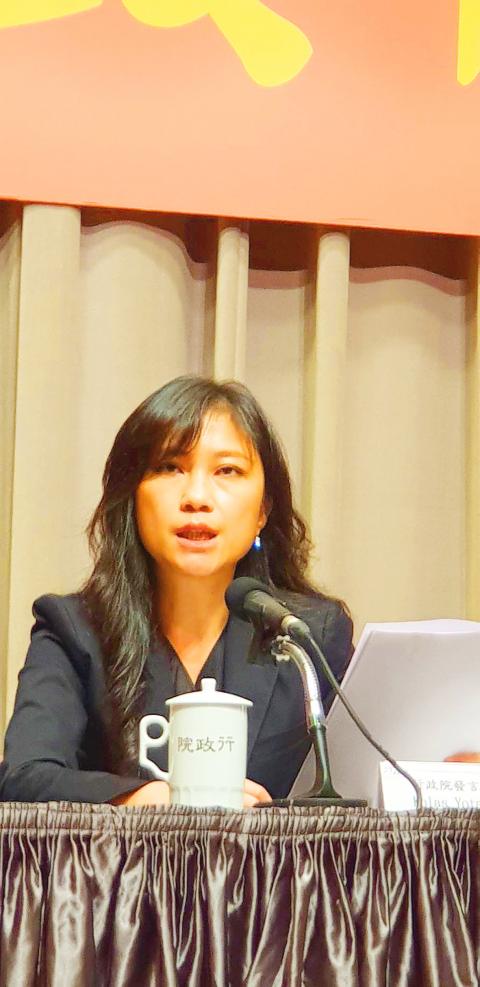 Cabinet spokeswoman Kolas Yotaka speaks at a news conference in Taipei in an undated photograph.
Photo: Lee Hsin-fang, Taipei Times
Tsai made the remark in response to a proposal by Chinese Nationalist Party (KMT) Taipei mayoral candidate Ting Shou-chung (丁守中), who earlier in the day urged the government to subject all foreign spouses to the same requirements when applying for a national identification card regardless of their nationality.
"Why would a Taipei [mayoral candidate] talk about this? Besides, China's endless string of bullying against Taiwan — from its stripping of Taichung's right to host the first East Asian Youth Games to its pressuring of international airlines to change their designations for Taiwan — have made Chinese spouses deserving of differential treatment," Tsai said.
Tsai later deleted the post.
The DPP does not agree with Tsai's discriminatory comments, party spokeswoman Rosalia Wu (吳思瑤) said on Friday.
"All new immigrants, including Chinese spouses, who live in Taiwan and fight for Taiwan are our family members," Wu said in a statement.
KMT Chairman Wu Den-yih (吳敦義) yesterday called for equal treatment for all foreign spouses.
"Whether they are from China or other nations, foreign spouses should be treated equally and justly," Wu said.
The KMT has been pushing for legal amendments to achieve that goal, but such bills have yet to clear the Legislative Yuan, Wu said, adding that he hopes Chinese spouses would receive equal treatment when cross-strait tensions abate.
Accusing the DPP of distancing itself from Tsai, KMT caucus deputy secretary-general William Tseng (曾銘宗) said that Tsai should apologize for his discriminatory remarks and urged the DPP to punish him.
Laws regulating the immigration and naturalization of foreign spouses do not apply to Chinese spouses, whose status is governed by the Act Governing Relations Between the People of the Taiwan Area and the Mainland Area (台灣地區與大陸地區人民關係條例).
Additional reporting by CNA
Comments will be moderated. Keep comments relevant to the article. Remarks containing abusive and obscene language, personal attacks of any kind or promotion will be removed and the user banned. Final decision will be at the discretion of the Taipei Times.