US destroyers sail through Taiwan Strait
STRATEGIC ACTION: The passage is aimed at drawing a line to prevent China from changing the 'status quo' in the Taiwan Strait, a source familiar with the matter said
Two US guided-missile destroyers, the USS Mustin (DDG-89) and the USS Benfold (DDG-65), transited the Taiwan Strait and Taiwan's southern exclusive economic zone earlier yesterday on an apparent northeasterly course, the Ministry of National Defense said last night.
The ministry in a news release said that the Republic of China Navy monitored the passage of the two Arleigh Burke-class destroyers in accordance with regulations.
Military personnel remain vigilant and are at their stations, the ministry said, adding that it is confident of its capability to maintain regional stability and protect the nation.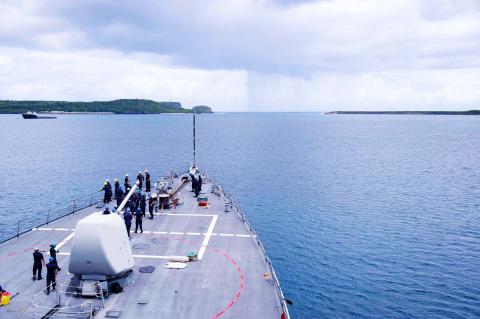 The US Navy's Arleigh Burke-class guided-missile destroyer USS Benfold (DDG-65) departs from Apra Harbor in Guam on June 11.
Photo: EPA
The crossing follows a statement by US officials last month that the US was considering sending warships through the Strait.
As far as is known, US Navy ships last crossed the Strait under then-US president George W. Bush in 2007, when the aircraft carrier USS Kitty Hawk and its battle group sailed through the waterway.
The Presidential Office last night said that Taiwan has always valued peace and stability in the Strait and in the region.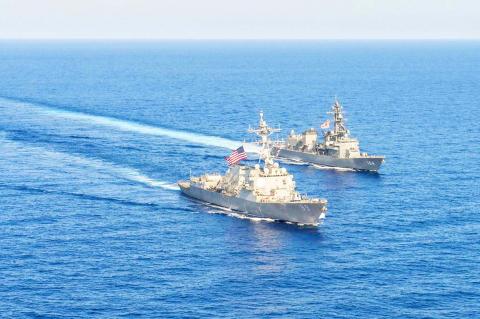 The US Navy's Arleigh Burke-class guided-missile destroyer USS Mustin (DDG 89), front, transits in formation with Japan Maritime Self-Defense Force ship JS Kirisame (DD 104) during a training in South China Sea on April 21, 2015.
Photo: Reuters
As a responsible member of the international community, Taiwan will continue to work to maintain the "status quo" with China and to ensure peace, prosperity and development in the Asia-Pacific region, it said.
The passage of US military vessels through the Strait and the USS Ronald Reagan previously patrolling the South China Sea are strategic preventive actions adopted by the US under its Indo-Pacific strategy, an anonymous source familiar with the matter said.
The purpose is to draw a line to prevent China from damaging the regional "status quo," as Beijing attempts to challenge it, the source said.
The American Institute in Taiwan was not available for comment as of press time last night.
Additional reporting by Stacy Hsu
Comments will be moderated. Keep comments relevant to the article. Remarks containing abusive and obscene language, personal attacks of any kind or promotion will be removed and the user banned. Final decision will be at the discretion of the Taipei Times.