Rescue of Thai team fraught with challenges
Rescuers braced for a difficult evacuation for 13 members of a Thai youth soccer team found alive in a cave nine days after they went missing, as a phone cable was hurriedly fed into the underground chambers in the hope of allowing them to speak to their families for the first time since their ordeal began.
The 12 young boys and their coach were discovered rake thin and hungry on a mound of mud surrounded by water late on Monday, ending an agonizing search that captivated a nation.
A team of Thai Navy SEAL divers — including a medic — has joined them on the bank, while rescuers pour over evacuation plans from the Tham Luang cave complex in northern Thailand before heavy rains return and raise the water level.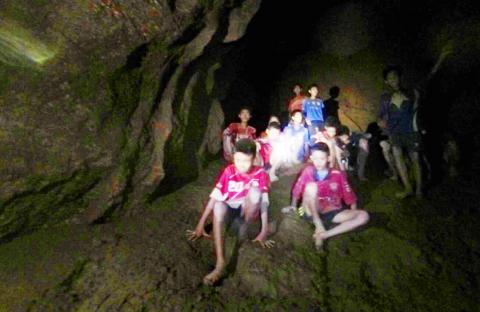 An undated handout photo released by the Royal Thai Army yesterday shows the missing 13 members of a youth soccer team, including their coach, moments after they were found inside the Tham Luang cave in Chiang Rai Province, Thailand.
Photo: EPA
Much-needed food and medical supplies — including high-calorie gels and paracetamol — yesterday reached the group as rescuers prepared for a prolonged extraction operation.
"A telephone line will be installed tonight... They [the boys] will be able to talk with their families via military phone," Chiang Rai Province Deputy Governor Passakorn Boonyarat told reporters late yesterday.
He refused to speculate on how long they might be trapped, but said that while there are enough provisions for four months, anyone fit and able to leave the cave would be evacuated as soon as possible.
"Any boys who are ready can come out first," he said, as rescuers mapped out the complex logistics of moving 13 weak and inexperienced divers out of a partially submerged cave.
Time may be against them given the region's incessant monsoon rains.
The boys were discovered at about 10pm on Monday by British divers about 400m from where they were believed to be stranded several kilometers inside the cave.
As the first footage of the kids spread across social media early yesterday, jubilation erupted across a nation that has been glued to each twist of the massive rescue operation.
Video posted on the Thai Navy SEAL Facebook page shows one of the boys asking the rescuers to "go outside."
In response the British diver says: "No, no not today.... Many, many people are coming... We are the first."
"We called this 'mission impossible' because it rained every day ... but with our determination and equipment we fought nature," Chiang Rai Governor Narongsak Osottanakorn said.
The harrowing task of getting the boys out is fraught with challenges.
An experienced SEAL diver takes about six hours to navigate the rugged, flooded kilometers-long course toward the entrance.
Experts say the risks of panic, drowning or an accident are high for young, scared and physically drained divers trying to negotiate the tight, winding passages.
If diving proves impossible, there is an outside chance a hole can be drilled into the cave to evacuate them or they will have to wait for waters to recede and walk out — the longest of the options.
Relatives led the outpouring of joy at the dramatic discovery of the boys perched on the muddy bank.
"I'm so relieved, though I still don't have the chance to see him... I want to tell him I'm still here waiting," Kieng Khamleu said of her son Pornchai Khamleung inside the cave.
Another parent said he could hardly believe the good news.
"It's unimaginable. I've been waiting for 10 days, I never imagined this day would come," the father of one of the boys said.
Comments will be moderated. Keep comments relevant to the article. Remarks containing abusive and obscene language, personal attacks of any kind or promotion will be removed and the user banned. Final decision will be at the discretion of the Taipei Times.