North Korea steps up production of uranium fuel: NBC
US intelligence agencies believe that North Korea has in recent months increased its production of fuel for nuclear weapons at multiple secret sites, National Broadcasting Corp (NBC) reported, citing unidentified US officials.
The NBC report quoted US officials who said they believe that North Korean leader Kim Jong-un might try to hide the facilities as he seeks more concessions in nuclear talks with the US.
The intelligence assessment, which had not previously been reported, seemed to counter the sentiments expressed by US President Donald Trump, who tweeted after his June 12 summit with Kim in Singapore that there was no longer a nuclear threat from North Korea, NBC said.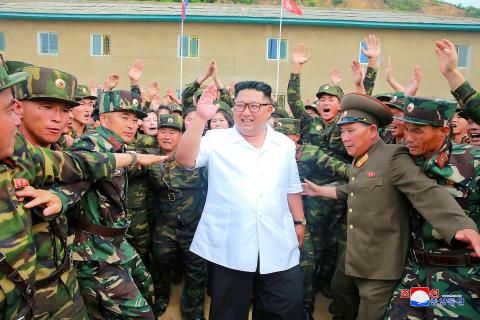 North Korean leader Kim Jong-un inspects Unit 1524 of the Korean People's Army in an undated photograph released yesterday.
Photo: Reuters / Korean Central News
"Analysts at the CIA and other intelligence agencies don't see it that way, according to more than a dozen American officials who are familiar with their assessments and spoke on the condition of anonymity," it reported.
"They see a regime positioning itself to extract every concession it can from the Trump administration, while clinging to nuclear weapons it believes are essential to survival," it added.
The White House declined to comment on the report.
US Secretary of State Mike Pompeo and South Korean Minister of Foreign Affairs Kang Kyung-wha on Friday discussed next steps following the summit.
The Financial Times reported that Pompeo hopes to visit Pyongyang in the second week of this month.
"There was a delay, but I think he has now got the agreement to go," former US National Security Council director of Asian affairs Victor Cha told the Guardian. "They have to put meat on the bones of the Singapore statement. Pompeo is under pressure to get something before August, when the exercises were going to start."
The report comes a week after US Secretary of Defense Jim Mattis suspended the Ulchi-Freedom Guardian exercises, as well as two other war games with South Korean armed forces that were scheduled to take place over the next three months.
Comments will be moderated. Keep comments relevant to the article. Remarks containing abusive and obscene language, personal attacks of any kind or promotion will be removed and the user banned. Final decision will be at the discretion of the Taipei Times.