US lawmaker calls for formal ties with Taiwan
US Representative Dana Rohrabacher on Wednesday submitted a resolution to the US House Committee on Foreign Affairs calling on the US government to resume diplomatic relations with Taiwan and abolish Washington's long-held "one China" policy.
"The [US] president should abandon the fundamentally flawed 'one China policy' in favor of a more realistic 'one China, one Taiwan policy' that recognizes Taiwan as a sovereign and independent country, separate from the Communist regime in China," Rohrabacher's resolution said.
The resolution also urged the US president to begin the process of resuming normal diplomatic relations with Taiwan.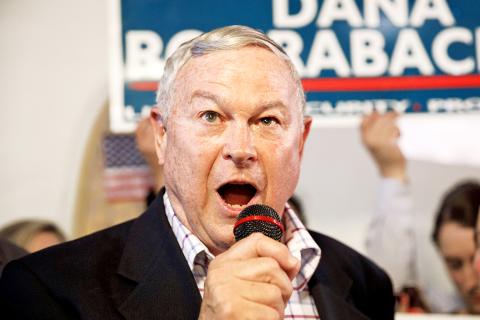 US Representative Dana Rohrabacher speaks during a primary election watch party in Costa Mesa, California, on June 5.
Photo: Bloomberg
In addition, the US president, the US permanent representative to the UN and other relevant US officials should "aggressively support Taiwan's full participation in the UN and any other international organization of which the US is a member, and for which statehood is a requirement for membership," the resolution said.
Rohrabacher said in the resolution that China has been using the "one China" policy to block Taiwan's membership and full participation in international organizations and events, but the policy is "effectively obsolete, and does not reflect the obvious reality that Taiwan has been an independent and sovereign country for over half a century."
Rohrabacher is a founding joint chair of the US Congressional Taiwan Caucus, which was formed on April 9, 2002.
Similar resolutions were introduced in 2005 by then-US representative Tom Tancredo, in 2007 and in 2009 by then-US representative John Linder, and in 2012 and 2013 by US Representative Michael McCaul, the Washington-based Formosan Association for Public Affairs said.
"The resolution affirms that the Taiwan Relations Act and the Six Assurances form the cornerstone of US-Taiwan relations," the association said in a statement.
"The Taiwanese people brought about their momentous transition to democracy some 30 years ago, but US policy did not adapt to that new reality," association president Mike Kuo (郭正光) said in the statement. "By normalizing relations with Taiwan, the US would set a shining example for other countries to emulate."
Asked to comment, Department of North American Affairs Deputy Director-Deneral Regine Chen (陳慧蓁) yesterday said that any friendly moves made by friends in the US are welcomed by the government.
"We will continue to work closely with our friends in the US Congress over the latest developments regarding the proposal," she said.
Additional reporting by CNA
Comments will be moderated. Keep comments relevant to the article. Remarks containing abusive and obscene language, personal attacks of any kind or promotion will be removed and the user banned. Final decision will be at the discretion of the Taipei Times.