AIT likely to move in September, Moy says
The American Institute in Taiwan's new compound in Taipei's Neihu District (內湖), which will bring all of its divisions under one roof for the first time since the institute was established in 1979, is expected to become operational in September, AIT Director Kin Moy said yesterday.
During an interview with International Community Radio Taipei (ICRT), Moy reiterated that although the dedication ceremony for the complex is scheduled for Tuesday next week, the actual move would take place later.
"We are looking at, I am projecting here a little bit, the beginning of September when we will actually move," Moy said, adding that it was likely to fall right around the US' Labor Day, the first Monday in September.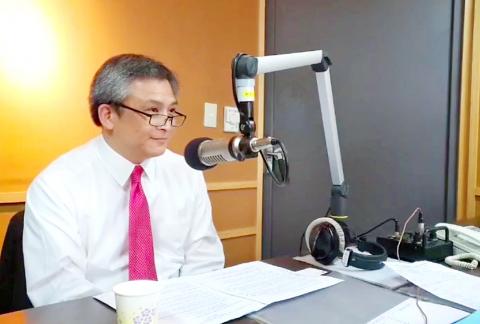 American Institute in Taiwan (AIT) Director Kin Moy smiles during an interview with International Community Radio Taipei (ICRT) yesterday, as he announced that the AIT's new compound in Taipei's Neihu Distict would likely start operating in September.
Photo: screen grab from ICRT's video stream
The AIT's central role is helping and protecting the interests of US citizens in Taiwan, which sees about 79,000 US citizens visiting or living here on any given day, through services including issuing passports and helping US voters register, Moy said.
It also offers assistance to Taiwanese who are interested in studying in the US, Moy said.
The AIT handles 10,000 passport applications by US citizens, 34,000 non-immigrant visas, and 2,000 immigrant and student visas annually.
The AIT's new compound is a five-floor building that has a "distinctive" design and is much bigger than its current premises, which is one of the reasons why it decided to move in the first place, Moy said.
When he gave President Tsai Ing-wen (蔡英文) a preview tour a few weeks ago, one of her comments was that "it [the architecture] is very American," Moy said.
"[I guess] it just gives you that American feel, a kind of relaxed feel, or feelings where people are welcomed, people are humorous and people are just having a good time," Moy said jokingly.
Meanwhile, AIT spokeswoman Sonia Urbom dismissed a Reuters article that cited anonymous US officials as saying that the institute would also commemorate the compound's unveiling in September.
Reuters said that as the dedication ceremony coincides with a summit in Singapore between US President Donald Trump and North Korean leader Kim Jong-un, it was unlikely that Washington would send top officials to the Taipei event.
The ceremony is to be the first major public event related to Taiwan-US relations since the March 16 enactment of the US' Taiwan Travel Act, which encourages high-level visits by US and Taiwanese officials.
"There are no plans to commemorate AIT's new office complex aside from the dedication ceremony on June 12," Urbom said.
When asked for comments on the AIT's new facility, a US Department of State spokesperson on Monday said in an e-mail that the compound reflects the "enduring friendship" between Washington and Taipei.
"The new AIT office complex is a demonstration of the United States' strong commitment to and enduring friendship with Taiwan," the spokesperson said. "Through AIT, the United States and Taiwan share values and enjoy close cooperation on a wide range of regional and global issues."
No list of US guests to attend the ceremony has been drawn up yet as preparations are ongoing, the spokesperson said.
Additional reporting by CNA
Comments will be moderated. Keep comments relevant to the article. Remarks containing abusive and obscene language, personal attacks of any kind or promotion will be removed and the user banned. Final decision will be at the discretion of the Taipei Times.