Wu resigns as minister of education
'SLANDER AND INSULTS': 'I hope my departure will put an end to all irrational attempts to interfere with the ministry's efforts to promote education policies,' Wu Maw-kuen said
Minister of Education Wu Maw-kuen (吳茂昆) yesterday said he has resigned from his post, becoming the nation's shortest-serving education minister.
Since he took office on April 19, he has been accused of illegally obtaining NT$176 million (US$5.87 million) in research bonuses from National Dong Hwa University while serving as its president, stealing a patented technology owned by the university, illegally working as an adviser at three institutions in China and illegally attending a summit held by Hong Kong University of Science and Technology (HKUST) in China's Hangzhou while he served as National Science Council minister.
Wu had previously explained that the research bonuses had been given to him due to an administrative error and denied all the other allegations except for attending the summit in Hangzhou.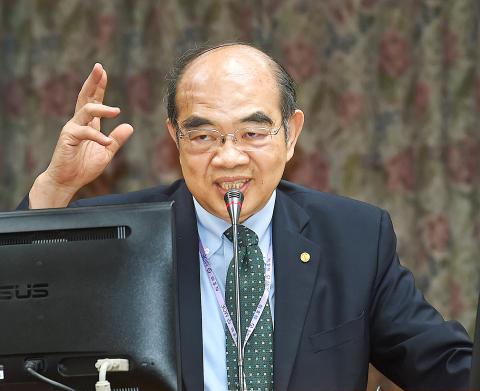 Then-minister of education Wu Maw-kuen, who resigned yesterday, reports to the legislature's Education and Culture Committee on Thursday last week.
Photo: Fang Pin-chao, Taipei Times
In a lengthy statement issued yesterday afternoon, Wu said he had verbally resigned over the weekend and that the Executive Yuan has already approved it.
Since he was appointed the education minister, certain media outlets have repeatedly tried to slander him, while certain legislators of the opposition parties attempted however they could to humiliate him and portray him as a person of few admirable qualities, he said in the statement.
"I have never faced more slander and insults in my life than I did in the past one-and-a-half months. What really worries me is the trouble these false accusations have caused my colleagues at the ministry and the harm they have caused the Cabinet, as well as the work delays they have led to," he said.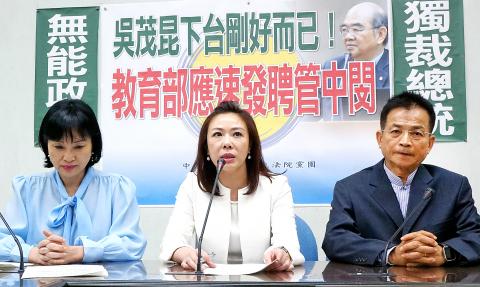 Chinese Nationalist Party legislators hold a news conference in Taipei yesterday, calling on the Ministry of Education to approve Kuan Chung-ming's election as president of National Taiwan University following yesterday's resignation of minister of education Wu Maw-kuen.
Photo: Chu Pei-hsiung, Taipei Times
Consequently, he decided to resign to Premier William Lai (賴清德), "following the highest moral standard," he said, adding that Lai has already approved his request.
"I hope my departure will put an end to all irrational attempts to interfere with the ministry's efforts to promote education policies and allow my colleagues to move forward with their work," he said.
Many thought he was appointed as minister to prevent National Taiwan University's (NTU) elected candidate, Kuan Chung-ming (管中閔), from being appointed the school's president, but that is not true, he said.
Academic integrity is the foundation of universities and university presidents must be examined based on a high moral standard, he said, adding that the ministry has handled the university's case based on facts instead of personal preference.
With regard to the HKUST summit on high tech that he was accused of illegally attending in October 2005, Wu said that he had applied for permission in advance, as required by the regulations, but the Executive Yuan "neither approved nor disapproved."
Wu said that he decided to attend the summit because it was held on a Saturday and Sunday, and he wished to help promote Taiwanese technology by meeting foreign officials responsible for policies on technological development.
Then-HKUST president Paul Chu (朱經武) — who was his teacher — had personally invited him to attend, he said.
Following his resignation, the National Federation of Teachers' Unions and 30 other parents' associations and education groups issued a joint statement, praising the Executive Yuan for "heeding people's voices and taking responsibility."
Many of the groups had participated in a demonstration outside the Executive Yuan on May 17 to demand that Wu step down.
Wu was announced as the new minister on April 16 after former minister Pan Wen-chung (潘文忠) resigned over what he said were political manipulations and slander directed at the ministry amid accusations that he was deliberately stalling the appointment of Kuan due to the latter's political leaning.
Wu's swift resignation after only taking over the helm of the education ministry for 41 days went to show that he had been appointed for the sole purpose of blocking Kuan's appointment as NTU president, Chinese Nationalist Party (KMT) Culture and Communications Committee deputy director-general Hung Meng-kai (洪孟楷) said yesterday.
Wu's statement of resignation failed to clarify the allegations that the opposition party has made against him, Hung said, urging President Tsai Ing-wen (蔡英文) to allow Kuan to assume the NTU presidency as soon as possible so as to free education from political influence.
Additional reporting by Stacy Hsu
Comments will be moderated. Keep comments relevant to the article. Remarks containing abusive and obscene language, personal attacks of any kind or promotion will be removed and the user banned. Final decision will be at the discretion of the Taipei Times.