New Taipei City couple dies in apparent murder-suicide
The New Taipei City Police Department has opened an investigation into a possible murder-suicide of a couple after finding the woman's dismembered remains in the garden of the couple's apartment complex on Sunday night and the man dead by apparent suicide yesterday morning.
The apparent victim is a woman surnamed Huang (黃), 27, and an inquiry has been opened into her deceased boyfriend Chu Chun-ying (朱峻穎), 28, who is the only suspect, the police said.
The Haishan Precinct initially handled the case as a missing person investigation when the Huang family on Wednesday afternoon filed a report saying that Huang and Chu had been missing since that Monday. Chu's parents on Saturday also filed a report with the police that their son was missing.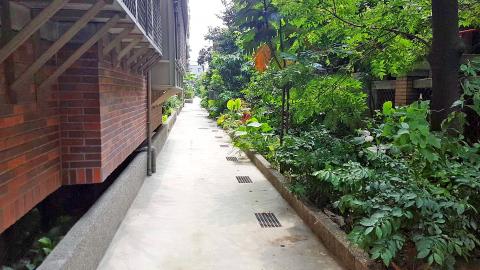 The communal garden of an apartment block in New Taipei City's Banciao District, where a woman's dismembered remains were discovered by the police in a suspected murder-suicide, is pictured yesterday.
Photo: CNA
Fearing foul play, the police on Sunday evening searched the couple's residence in Banciao District (板橋) and unearthed seven bags containing body parts from the garden.
Huang's family members have identified her by her severed head, police said.
At 5:47am yesterday, police received a report from members of the public that a man was hanging dead in an abandoned building by the Taipei Hospital in New Taipei City's Sinjhuang District (新莊).
The man was later identified as Chu, who appeared to have committed suicide, the police said.
The police recovered a note from Chu's trouser pocket that repeated the phrases: "What I did was wrong," "Mom, Dad, I am sorry" and "she lied to me."
Investigators had first tried to locate the couple through their cellphones, police said, but added that the devices were unreachable and the service provider said there was nothing it could do.
Surveillance cameras showed that Huang on May 20 entered the residence with Chu and never exited the premises, the police said.
The surveillance footage showed Chu late on Monday night to early on Tuesday last week burying laden garbage bags in the communal garden, police said.
Investigators searched the couple's home after viewing the footage.
Huang's brother had on Saturday posted a message on Facebook asking for people's help, saying that Huang was missing and that he believed Chu, a some-time boxing trainer who worked at fitness gyms in the Taipei metropolitan area, had been an abusive boyfriend.
The family became alarmed after Huang went missing from her job at a US-owned firm, Huang's brother said, adding that Chu supposedly worked for Internet fitness celebrity Holger Chen (陳之漢).
Police also told the Huang family that Chu was mentally disturbed, and had a history of violence and narcotics trafficking, Huang's brother said.
The Huang family provided the media with screen grabs of a private conversation that Huang had with a friend on the messaging app Line, where Huang discussed her troubled relationship with Chu, her desire to communicate with him, and shared that she was mulling a break-up.
Huang told her friend that Chu "had gone crazy" and "he is sick," to which her friend replied: "Do not waste breath talking [to Chu]. He might cut your body to pieces. Then I will have to send this conversation to some prosecutor."
Chen yesterday said that Chu once applied to work for his gym, but had never completed the training and was therefore not employed by him.
Huang's apparent murder is the second high-profile case of deadly violence against women and dismemberment in the past week.
On Sunday, a Taoyuan man, Chen Teng-ko (陳登科), was arrested for allegedly murdering and dismembering his wife.
Additional reporting by CNA
Comments will be moderated. Keep comments relevant to the article. Remarks containing abusive and obscene language, personal attacks of any kind or promotion will be removed and the user banned. Final decision will be at the discretion of the Taipei Times.