Biotech 'next NT$1tn industry'
HSINCHU SPEECH: The VP said cultivating personnel would be key as he addressed the inauguration of an R&D and training program between the ITRI and Merck KGaA
The government has set sights on biotechnology as the nation's next NT$1 trillion (US$33.6 billion) industry, Vice President Chen Chien-jen (陳建仁) said yesterday.
Biotechnology is part of the government's efforts in industrial innovation, which is at the top of President Tsai Ying-wen's (蔡英文) agenda for industrial restructuring to boost global competitiveness.
The "five plus two" industries refer to the government's seven development projects aimed at transforming the nation's economic and industrial structures, including projects related to the "Asian Silicon Valley" development plan, as well as the biotech, green energy, aviation, smart machinery and defense industries.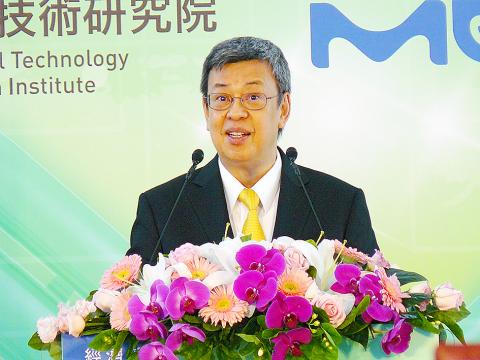 Vice President Chen Chien-jen delivers a speech yesterday at the Industrial Research Institute of Taiwan's Guangfu campus in Hsinchu to mark the launch of a collaboration program between the institute and the German firm Merck KGaA.
Photo: CNA
The production value of the local biotech industry stood at NT$315 billion in 2016, up from NT$298.6 billion in 2015, according to the Ministry of Economic Affairs.
Cultivating personnel in precision medicine, one of the fastest growing segment in the biomedicine in the past few years, would be crucial to the endeavor, Chen said in a speech at the inauguration of a research and development (R&D) and training collaboration program between the government's Industrial Technology Research Institute (ITRI, 工研院) and Germany-based pharmaceutical and life science giant Merck KGaA.
ITRI and Merck in March signed a memorandum of understanding for program to set up an innovation campus at the institute's Guangfu campus in Hsinchu.
The partnership, which is to continue for 18 months, is aimed at cultivating 120 high-end biotech professionals in one year.
Merck is to introduce manufacturing technologies for antibody-drug conjugates, helping Taiwanese companies prepare to meet stringent requirements and enter advanced international pharmaceutical markets.
Across the globe, major precision medicine initiatives have been launched, such as the UK's 100,000 Genomes Project in 2014 to improve diagnostic technology through genome sequencing, and the US' 21st Century Cures Act in 2016 to allow faster approval process to encourage innovation-oriented research in pharmaceuticals and medical devices, Chen said.
The ITRI's Industrial Economics and Knowledge Center estimated the global precision medicine market at US$38.9 billion in 2015, with the market projected to see continued compound annual growth rate of 12.3 percent and reach US$69.5 billion in 2020.
Meanwhile, the TPEX's Bio Index, which has become a hub for local biotechnology firms, has rallied from about 133 points at the beginning of this year to close at 156.07 points yesterday in Taipei trading.
Recent highlights for Taiwan's biotech industry include TaiMed Biologics Inc (中裕新藥), whose HIV/AIDS treatment, Trogarzo, has begun sales in the US, while a number of health insurance carriers are anticipated to begin covering treatments, the company said last month.
Comments will be moderated. Keep comments relevant to the article. Remarks containing abusive and obscene language, personal attacks of any kind or promotion will be removed and the user banned. Final decision will be at the discretion of the Taipei Times.