Taiwan happy with US response to PRC
IDENTITY: The Presidential Office and the Ministry of Foreign Affairs yesterday issued statements after the US rebuked Beijing over its demand to US airlines
The Presidential Office yesterday expressed gratitude to the US for its concern over China's request to US and international airlines to change how they refer to Taiwan, while Washington's action drew mixed response from others in Taiwan.
Taiwan would continue to support and strive for regional stability and cross-strait peace, despite Beijing's constant efforts to suppress its international space, Presidential Office spokesman Sydney Lin (林鶴明) said.
The White House on Saturday issued a statement denouncing China's demand that US and foreign airlines change how they identify Taiwan, Hong Kong and Macau on their Web sites.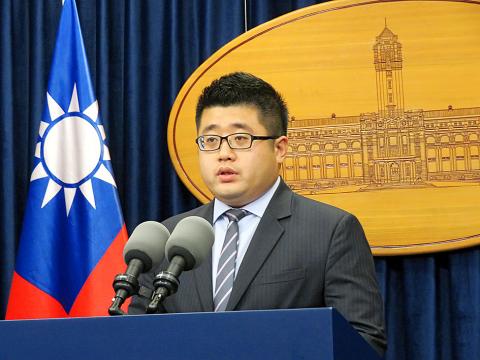 Presidential Office spokesman Sydney Lin speaks at a news conference at the Presidential Office Building in Taipei on Feb. 14.
Photo: Lee Hsin-fang, Taipei Times
The statement came after the Chinese Civil Aviation Administration on April 25 sent a letter to American Airlines, United Airlines and 24 other airlines, enjoining them to remove all descriptions of Taiwan as a country from their Web sites and promotional materials.
Ministry of Foreign Affairs spokesman Andrew Lee (李憲章) yesterday said China's efforts to control private firms in other countries was "arbitrary and ill-intentioned."
The international community must take the issue seriously and have the courage to defy such unreasonable demands, he said.
However, Chinese Nationalist Party (KMT) Legislator Lee Yen-hsiu (李彥秀) said that while it might appear that US President Donald Trump is defending the sovereignty of the Republic of China, anything Trump does has the US' interests as his priority.
The US and China are competing against each other, and Taiwan could easily become the US' chess piece, the lawmaker said.
Alexander Huang (黃介正), an associate professor at Tamkang University's Graduate Institute of International Affairs and Strategic Studies, said that for the US, China asking US-based airlines to remove "Taiwan" from lists of countries is considered interference in its internal affairs.
"Eighty percent of the US' reaction is due to the US' consideration of itself as a great power and only 20 percent is a friendly gesture to Taiwan," cable news channel TVBS quoted Huang as saying.
In related news, Josh Rogin, a columnist who covers foreign policy and national security for the Washington Post, Bloomberg and Foreign Policy magazine, in an online article on Saturday on the Post's Web site said the Civil Aviation Administration's letter "mischaracterizes US government policy by saying 'the one-China policy of your government.'"
"The United States does not have a one-China policy. Washington acknowledges Beijing's position that there is one China that includes Taiwan and the United States takes no stance on that question. The US government is not going to agree that Taiwan is part of the People's Republic of China, and neither should American companies," Rogin wrote.
"The Chinese Communist Party can be forgiven for believing it can use a version of its social credit system on American companies. Nobody has pushed back on this so far. The White House is pledging to start doing that now. It's a recognition that, as a White House official told me, 'China is out of control,'" Rogin wrote.
Comments will be moderated. Keep comments relevant to the article. Remarks containing abusive and obscene language, personal attacks of any kind or promotion will be removed and the user banned. Final decision will be at the discretion of the Taipei Times.