Haiti, Honduras could be next, Lin Yu-fang says
Haiti and Honduras are likely the next in line to break off ties with Taiwan, diplomatic sources said yesterday, after the Dominican Republic on Monday switched diplomatic recognition to Beijing.
Three of Taiwan's current and former diplomatic allies in Latin America have jointly set up representative offices in China and one of them is Haiti, former Chinese Nationalist Party (KMT) legislator Lin Yu-fang (林郁方) told a news conference in Taipei.
"The other two are Panama and the Dominican Republic, which have severed ties with Taiwan and switched diplomatic recognition to China," said Lin, who is convener of the KMT-affiliated National Policy Foundation's Foreign and Defense Affairs Division.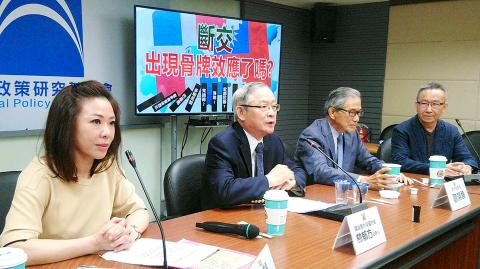 From left, Chinese Nationalist Party (KMT) caucus secretary-general Lee Yen-hsiu, former legislator Lin Yu-fang and former minister of foreign affairs Francisco Ou attend at a news conference in Taipei yesterday.
Photo courtesy of the National Policy Foundation
Lin said that Haiti could be the next ally to switch, despite Minister of Foreign Affairs Joseph Wu's (吳釗燮) dismissal of the possibility on Tuesday on the grounds that Haitian Minister of Foreign Affairs Antonio Rodrigue visited Taipei from Sunday to yesterday.
Even though Rodrigue's visit is expected to be followed by a visit by Haitian President Jovenel Moise, the main purpose of the visits could be to negotiate a financial deal, which usually signals ar a "final rip-off" attempt before jumping ship, Lin said.
Echoing Lin's views, former ambassador to Haiti Yang Cheng-ta (楊承達) said the Dominican Republic's severance of ties with Taiwan would likely influence its neighbor.
"It goes without saying that demands will be made during Moise's upcoming visit, or maybe both sides have already closed a deal. In either case, the amount of money involved could be an astronomical figure," Yang said.
Lin also singled out Honduras, whose bilateral trade with China is several times that with Taiwan.
"The truth is, ever since China snapped up Panama [in June last year], none of our diplomatic allies in Latin America are considered safe," Lin said.
Taiwan has 10 allies in Latin America and the Caribbean — Haiti, Honduras, Belize, El Salvador, Guatemala, Nicaragua, Paraguay, Saint Lucia, Saint Christopher and Nevis, and Saint Vincent and the Grenadines.
Former minister of foreign affairs Francisco Ou (歐鴻鍊) said the government should also keep a close eye on Burkina Faso.
"Chinese Minister of Foreign Affairs Wang Yi (王毅) has expressed the hope that no [African countries] would be absent from the China-African Cooperation Summit in September, saying that he wants to take a 'family photo' with everyone," Ou said.
That President Tsai Ing-wen (蔡英文) made a state visit to only one of the nation's two African allies, Eswatini, last month serves as a warning that ties with Burkina Faso could be on shaky ground, he said.
Comments will be moderated. Keep comments relevant to the article. Remarks containing abusive and obscene language, personal attacks of any kind or promotion will be removed and the user banned. Final decision will be at the discretion of the Taipei Times.