US includes Taiwan on list for online IPR piracy
RAMPANT PIRACY: Illicit streaming devices continue to post a direct threat to content creators, sports leagues and live performances, the US' 'Special 301 Report' said
The Office of the US Trade Representative's Special 301 Report released on Friday included Taiwan in a list of nations for online intellectual property rights (IPR) piracy.
While Taiwan was removed from the report's watch list in 2009, the latest edition indicated that there is still rampant piracy in the nation.
Illicit streaming devices "continued to post a direct threat to content creators, sports leagues and live performances, as well as legitimate streaming, on-demand and over-the-top media service providers," the report said.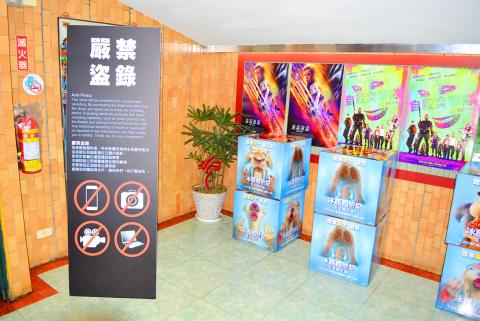 A sign at Chang Hwa Cinemas in Changhua City warns against illegal recording at the theater on July 8, 2016.
Photo: Sean Chao, Taipei Times
The Special 301 Report is an annual review conducted by the office under Section 301 of the Trade Act of 1974 on the global state of IPR protection and enforcement. It identifies trade barriers in other nations faced by US companies and products in IPR, such as copyright, patents and trademarks.
Regarding online IPR violations, the report said "the proliferation of camcords" continues to be an urgent trade problem.
"Illicit camcording is the primary source of unauthorized copies of newly released movies found online," the office said.
Argentina, Brazil, Chile, China, Hong Kong, Indonesia, Mexico, Peru, Singapore and Vietnam were also named for putting up trade barriers through rampant IPR piracy through illicit streaming devices.
"Economies like Brazil, Ecuador, Peru and Taiwan do not effectively criminalize unauthorized camcording in theaters," the report said.
The office urged those nations to adopt laws and enforcement practices to prevent illicit camcording.
The office recognized Taiwan's enactment of an amendment last year to the Pharmaceutical Affairs Act (藥事法) that has provided a mechanism for early resolution of potential patent disputes.
The law was designed to notify interested parties of marketing requests or approvals for follow-on pharmaceuticals in a manner that could allow them to resolve patent disputes as early as possible, the office said.
China remained on the report's "priority watch list" for the 14th consecutive year.
The list identifies countries that have the most onerous or egregious acts, policies, or practices in IPR violation.
China's continued presence on the priority watch list reflected its failure "to implement promises to strengthen IP [intellectual property] protection, open China's market to foreign investment, allow the market a decisive role in allocating resources and refrain from government interference in private sector technology transfer decisions," the report said.
China was also placed on a Section 306 monitoring list for an alleged move to force foreign companies to transfer technology.
The office placing a country in the Section 306 monitoring list could be seen as Washington issuing an ultimatum, as the US could take retaliatory measures against its trading partner if progress is not made.
In addition to China, the office also included Algeria, Argentina, Canada, Chile, Colombia, India, Indonesia, Kuwait, Russia, Ukraine and Venezuela on the priority watch list.
Comments will be moderated. Keep comments relevant to the article. Remarks containing abusive and obscene language, personal attacks of any kind or promotion will be removed and the user banned. Final decision will be at the discretion of the Taipei Times.