Transitional justice is the next step for Taiwan, Tsai says
President Tsai Ing-wen (蔡英文) yesterday stressed the importance of transitional justice, saying that it is the most important step following the democratization of Taiwan.
It is important the nation gets transitional justice right, Tsai said at an event hosted by the Deng Liberty Foundation at Chinpaoshan Cemetery (金寶山) in New Taipei City to commemorate democracy activist Deng Nan-jung (鄭南榕).
"While the world already associates Taiwan with democracy, there is one missing element, namely achieving transitional justice," she added.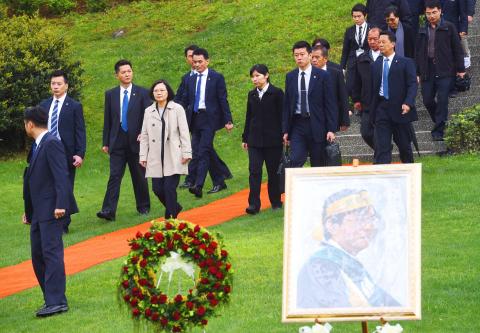 President Tsai Ing-wen, fourth left, attends a memorial ceremony in New Taipei City's Chinpaoshan Cemeteray to commemorate democracy activist Deng Nan-jung yesterday, which has been designated Freedom of Speech Day in Deng's honor.
Photo: Peter Lo, Taipei Times
"The process — which is rooted in uncovering the truth, taking responsibility and social reconciliation — is one her administration has long championed," she added.
The Legislative Yuan passed the Act on Promoting Transitional Justice (促進轉型正義條例) in December last year. It requires the government to set up a committee to implement transitional justice measures.
The first thing the transitional justice promotion committee would do once established is research what happened when the then-Chinese Nationalist Party (KMT) regime governed the nation under martial law from 1945 until 1992, Tsai said.
The appointed committee nominees are to undergo legislative review before their confirmation.
The committee measures up to the transitional justice teams of other nations, Tsai said, adding that she looks forward to lawmakers' support of its members.
"Whether Taiwan could be a democratic nation was something Deng cared about deeply," Tsai said, adding that he would likely find it comforting knowing that Taiwan was ranked among the world's "free" nations this year in Freedom House's annual report, in which Taiwan garnered an aggregate score of 93 out of 100, up two points from last year.
On April 7, 1989, Deng, then editor-in-chief of Freedom Era Weekly (自由時代週刊), set himself alight as heavily armed police attempted to break into his office following 71 days of self-imposed isolation after he was charged with sedition for the stance his magazine took against the government after it published a draft Taiwan Republic Constitution in 1988.
In 2016, the Executive Yuan declared April 7 Freedom of Expression Day to commemorate Deng's death.
Comments will be moderated. Keep comments relevant to the article. Remarks containing abusive and obscene language, personal attacks of any kind or promotion will be removed and the user banned. Final decision will be at the discretion of the Taipei Times.