President Tsai to depart for Swaziland on April 17
President Tsai Ing-wen (蔡英文) on April 17 is to embark on a five-day trip to Swaziland, one of the nation's two African diplomatic allies, the Ministry of Foreign Affairs said yesterday.
Minister of Foreign Affairs Joseph Wu (吳釗燮) said at a news conference at the Presidential Office that Tsai would head a delegation of officials on an official visit to the south African nation.
This year marks the 50th anniversary of Swaziland's independence and its establishment of diplomatic relations with Taiwan, as well as the 50th birthday of Swazi King Mswati III, which makes it an ideal time to visit, Wu said.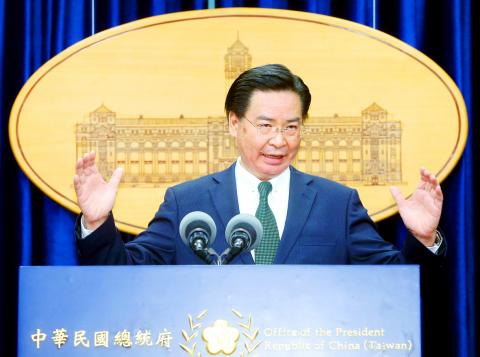 Minister of Foreign Affairs Joseph Wu yesterday gestures at a news conference at the Presidential Office about President Tsai Ing-wen's trip to Swaziland.
Photo: CNA
The delegation is to travel on direct flights to and from the nation, with no stopovers, he said.
During their time in the kingdom, the officials would not only meet with Swazi officials, but would also inspect many of the medical, agricultural and educational initiatives that Taiwan has undertaken in the nation, he said.
Tsai would also meet with the overseas Taiwanese community and businesspeople in southern Africa, he added.
The announcement came two days after a Presidential Office source revealed that the visit had been planned.
While China has been investing heavily in Africa, Wu assured reporters that the nation's diplomatic ties with Swaziland and Burkina Faso — its other ally on the continent — remain stable.
The minister said that Tsai would not visit Burkina Faso on this occasion because the nation has its own important international events to attend to and would be unable to receive the president during her time in Africa.
Burkina Faso nonetheless remains very eager for Tsai to visit, while the ministry has invited Burkinabe President Roch Marc Christian Kabore to visit Taiwan.
Comments will be moderated. Keep comments relevant to the article. Remarks containing abusive and obscene language, personal attacks of any kind or promotion will be removed and the user banned. Final decision will be at the discretion of the Taipei Times.