Taiwanese film banned from Chinese theaters
AND CUT: Chinese have boycotted one of Taiwanese actor Lawrence Ko's movies and his part was cut from another over allegations that he supports Taiwanese independence
The screening of the Taiwanese film Missing Johnny (強尼‧凱克), produced by director Hou Hsiao-hsien (侯孝賢), has been indefinitely suspended in China after furor broke out on Chinese social media over claims that its male lead, Lawrence Ko (柯宇綸), supports Taiwanese independence.
The Chinese distributor of the film, China Film Co (中國電影), on Monday said in a statement that the film, originally scheduled for release on April 14, has been put on hold until further notice.
China Films did not give a reason for the delay, but the announcement closely followed public outcry over an online article accusing Ko of supporting Taiwanese independence.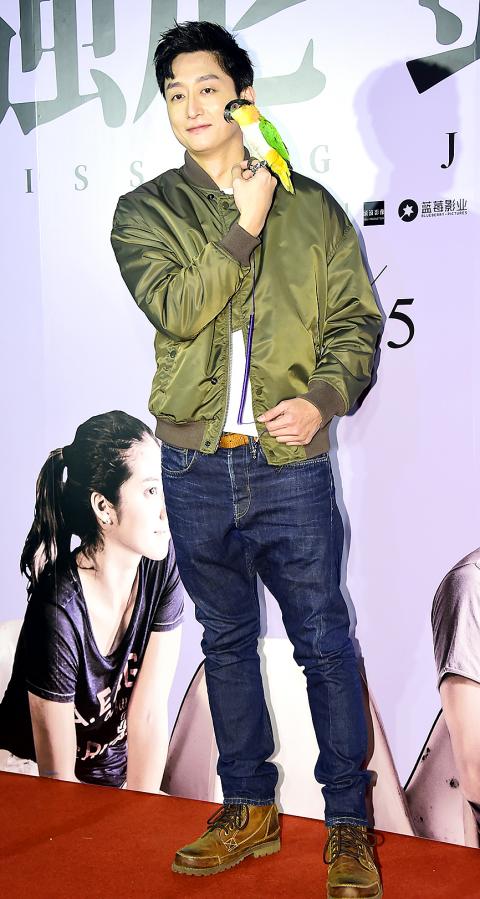 Lawrence Ko, the lead actor of the Taiwanese film Missing Johnny, attends the movie's premiere in Taipei on Dec. 14 last year.
Photo: Pan Shao-tang, Taipei Times
"Pro-Taiwanese independence entertainer Lawrence Ko's movie is screening on April 13. Are you going to let it happen?" the article said.
The article slammed Ko for having participated in the 2014 Sunflower movement, in which student-led protesters took over the Legislative Yuan's main chamber to protest the government's handling of a proposed cross-strait service trade agreement.
The article also accused Ko of having publicly criticized former Chinese Nationalist Party (KMT) chairman Wu Po-hsiung's (吳伯雄) "one country, two regions" cross-strait relations framework, saying that President Tsai Ing-wen (蔡英文) praised Ko for his remarks in 2012.
The Chinese poster for the Taiwanese film "Missing Johnny" is pictured in an undated photograph.
Screen grab from Weibo
The article sparked social media posts and memes panning Ko's alleged independence views, many of which were drawn from media reports and social media posts.
Ko was described in one post as: "the scion of a prominent, pro-Taiwan independence family in the entertainment industry and the son of New Power Party member Ko I-chen (柯一正)."
Another post said Lawrence Ko "joined all of the activism events that are anti-China, pro-Taiwan independence, anti-cross-strait service trade agreement and anti-curriculum guideline adjustment."
Lawrence Ko has been repeatedly subjected to political backlash in China since last year.
The Village of No Return (健忘村), in which he had a role, was last year boycotted due to film director Chen Yu-hsun's (陳玉勳) political views.
Detective drama Theory of Ambitions (風再起時) was also singled out by Chinese netizens for boycott because it includes a cameo by Lawrence Ko, but it is suspected that Chinese theaters are to screen a regional cut that omits him from the film.
China's Taiwan Affairs Office Minister spokesman An Fengshan (安峰山) yesterday said the Chinese government "would not permit the release of films in China whose production include entertainers who hold pro-Taiwan independence views and propagate pro-Taiwanese independence speech."
"The problem regarding the theatrical release of Missing Johnny has been set aside," he said.
Additional reporting by CNA
Comments will be moderated. Keep comments relevant to the article. Remarks containing abusive and obscene language, personal attacks of any kind or promotion will be removed and the user banned. Final decision will be at the discretion of the Taipei Times.