US commitment to Taiwan continues unchanged: official
The US on Thursday said that its policy and commitment toward Taiwan remain unchanged, despite the removal of the Republic of China (ROC) national flag from two US government Web sites.
The US remains committed to its "one China" policy based on the Three Joint Communiques and the Taiwan Relations Act, US Department of State spokeswoman Heather Nauert said at the Foreign Press Centers in Washington.
"We consider Taiwan to be a vital partner, a democratic success story and a force for good in the world. Taiwan shares our values and has earned our respect, and continues to merit our strong support," she said.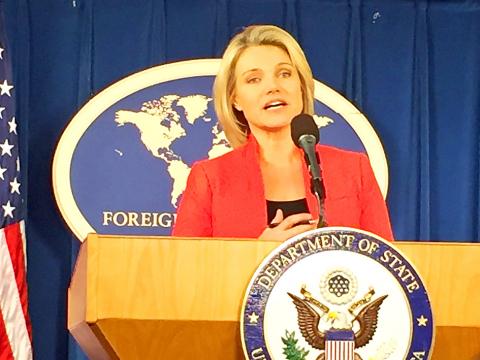 US Department of State spokeswoman Heather Nauert speaks at a news conference at the Foreign Press Centers in Washington on Thursday.
Photo: Nadia Tsao, Taipei Times
Despite her words, there was no explanation as to why the US removed the flag from the government Web sites.
Presidential Office spokesman Sidney Lin (林鶴明) said the US is Taiwan's most important partner in the international community, adding that the long-standing good relations between the two nations are of great importance to Northeast Asia.
Lin also expressed appreciation for US support of Taiwan in all fields, saying that as a constructive member of the global community, Taiwan would continue to contribute to peace and prosperity in the region.
Local media on Wednesday reported that the ROC flag had been removed from the official Web sites of the US Department of State's Bureau of Consular Affairs and the Office of the US Trade Representative, causing the Ministry of Foreign Affairs to protest the unexpected move.
Ministry spokesman Andrew Lee (李憲章) said Taiwan is "disappointed" by the removal of its national flag from the Web sites, and called such a move "unthinkable" and "unacceptable."
Taiwan has expressed its grave concern over the matter to Washington, he said.
Over the past few months, Taipei has held talks with Washington over its decision to remove the ROC flag from the department's Web site in September 2017, he added.
Comments will be moderated. Keep comments relevant to the article. Remarks containing abusive and obscene language, personal attacks of any kind or promotion will be removed and the user banned. Final decision will be at the discretion of the Taipei Times.